Trade summit | Patty proves them wrong | Sinéad's passion
Friday, July 28, 2023
---
LOCAL
► From the Seattle Times — Seattle hosts a major trade summit with a long list of challenges (by Jon Talton) — The Asia-Pacific Economic Cooperation meetings will begin this weekend at the Seattle Convention Center and continue through Aug. 21. With trade and geopolitical tensions between China and the United States, along with Russia's invasion of Ukraine, these are fraught times.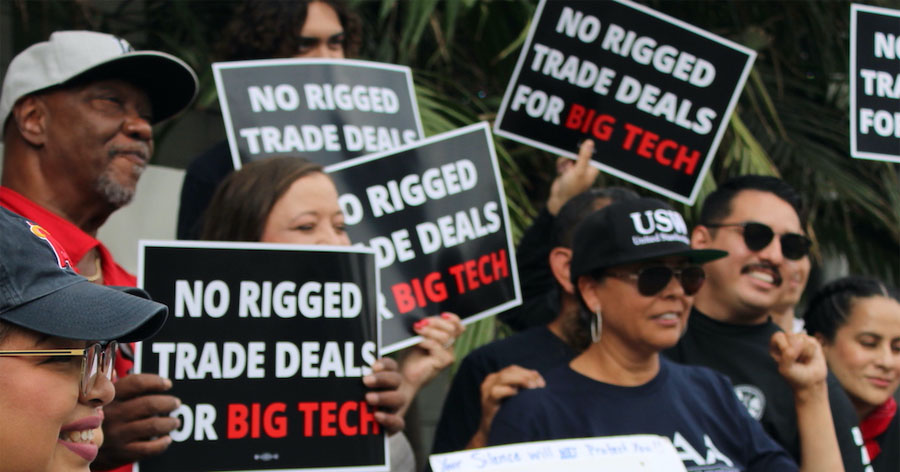 FROM The Calendar at The Stand:
SATURDAY — The Washington Fair Trade Coalition and other partners are hosting several counter-mobilization events during the Asia Pacific Economic Forum (APEC) meetings in Seattle. A Trade Justice Workshop on the status of the ongoing Indo-Pacific Economic Framework (IPEF) trade negotiations will be held at 1 p.m. on Saturday, July 29 at University of Washington's Architecture Hall, Room 147, 3943 Stevens Way in Seattle. Get details and RSVP.
SUNDAY — The Washington Fair Trade Coalition and other partners are hosting several counter-mobilization events during the Asia Pacific Economic Forum (APEC) meetings in Seattle. A Rally and March to put "People Over Profits" will begin at 2 p.m. on Sunday, July 30 at Cal Anderson Park, 1635 11th Ave. in Seattle. Get details and RSVP.
► From the Peninsula Daily News — Dearth of child care barrier to holding job — Options for child care are limited in Clallam County, and while the state Department of Commerce has programs available to assist businesses with providing child care, the lack of providers continues to present challenges.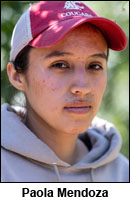 ► From NPR — As these farmworkers' children seek a different future, who will pick the crops? — By 6 in the morning, Paola Mendoza has pulled her hair back under a baseball cap and donned a long-sleeved sweatshirt to report to her summer job on a farm in Washington's Yakima Valley, known for its apples, pears and hops. Mendoza is not there to pick fruits or vegetables. She's a research intern working on a project to improve irrigation systems. She spends her days staking the fields and collecting samples alongside her boss, Alan Schreiber, who also employs her mother. Patricia Mendoza has worked on Schreiber's farm for more than 20 years. She spends her days weeding, thinning, planting and hand-harvesting crops. During peak harvest, she used to work as many as 70 hours a week. Her earnings have helped provide the family with a decent living. But from the time Paola was young, both her mom and her dad — also a farmworker — were clear about one thing: They did not want her future to be on a farm.
► From the Cascadia Daily News — Demand skyrockets at food bank serving Whatcom farmworkers — The Agape Service Project is focused on supporting the majority-Latino farmworkers of Whatcom County and their families who cannot afford to buy food after spending hours sweating in the fields, hand-picking berries and other crops. This summer, Agape is facing unprecedented demand, leading the food bank to consider expanding its services to a year-round schedule.
---
AEROSPACE

► From the Seattle Times — House votes to speed approval of safety fixes to Boeing jets despite critics — A sweeping piece of aviation legislation passed last week by the U.S. House includes an obscure amendment that allows airliners to continue flying with partial safety upgrades, even though they don't fully meet current safety standards. Boeing and other airplane manufacturers lobbied for the change.
► From the PSBJ — Boeing CEO says new X-plane design could be used for commercial flights — Dubbed the X-66A, the project is a joint effort with NASA that aims to reduce critical carbon emissions. It will do so by testing an all-new wing structure, along with other engine and materials upgrades, with test flights planned as early as 2028.
---
THAT WASHINGTON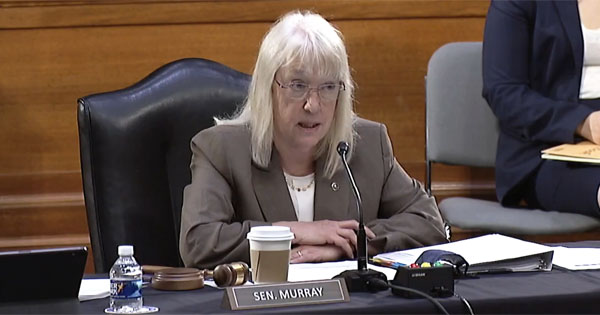 ► From the Washington Post — Patty Murray leads Democrats' charge toward funding showdown with House GOP — As chair of the powerful Appropriations Committee, Sen. Patty Murray (D-Wash.) figures to be a key presence in a fall showdown with House Republicans, who have overseen a highly partisan process with deep cuts that were not part of a spring deal between President Biden and House Speaker Kevin McCarthy (R-Calif.). A key to Murray's career has been having opponents who underestimate her, in both her campaigns and her legislative deals.
"How many times have I been told 'You can't do something'? I mean, a million times. I've been told that so many times. I guess, to me, it's like: Prove them wrong."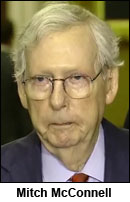 ► From the NY Times — As McConnell tries to convey business as usual, his future is in doubt — Sen. Mitch McConnell's alarming freeze-up at a news conference on Wednesday, as well as new disclosures about other recent falls, have shaken his colleagues and intensified quiet discussion about how long he can stay in his position as minority leader, and whether change is coming at the top.
► From the Washington Post — Sen. Feinstein appears confused during vote, prodded to say 'aye'
► From NPR — Biden rolled out some new measures to respond to extreme heat as temperatures soar — The president directed the Department of Labor to issue a hazard alert for dangerous conditions in industries like agriculture and construction, where workers face a greater risk of injury and death from extreme heat — and the department plans to boost inspections in those sectors, he said.
► From the Keystone — Striking workers could get federal food benefits under new bill from Sen. Fetterman
► From the Washington Post — Trump charged with seeking to delete security footage in documents case — Prosecutors announced additional charges against Donald Trump on Thursday in his alleged hoarding and hiding of classified documents at Mar-a-Lago, accusing the former president and a newly indicted aide of trying to keep security camera footage from being reviewed by investigators and bringing the number of total federal charges against Trump to 40.
---
NATIONAL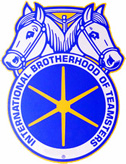 ► From MSNBC — The UPS-Teamsters deal is collective bargaining at its finest (by Hamilton Nolan) — As meaningful as the Hollywood strikes are, the Teamsters not having to strike may have sent an even more profound message. The UPS contract will not be official until Teamsters members vote on whether to accept it, a process that will take several weeks; but UPS's very decision to offer the Teamsters this deal tells us a lot about corporate America's reading of the balance of power in our never-ending class war. The Teamsters successfully forced a $200 billion corporation into the defensive crouch that is usually reserved for workers who are trying to protect themselves from an employer's economic might.
The Stand (July 25) — Teamsters announce historic contract at UPS
► From Jacobin — The strike is one of workers' most powerful weapons against exploitation — Hollywood writers and actors are on strike together for the first time in over 60 years, and they could be joined soon by a UAW strike at one of the "Big Three" automakers. It's a good time to remember: the strike is one of workers' greatest weapons.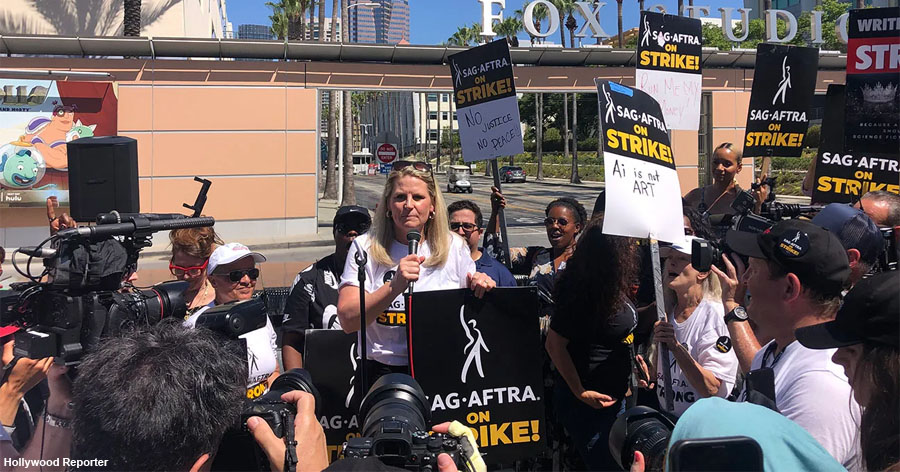 ► From the Hollywood Reporter — AFL-CIO President Liz Shuler to studios: 'Come to your senses' and 'get back to the table' — "The writers and the performers are holding the line for all of us, especially when it comes to the use of technology and artificial intelligence," Shuler said after delivered a speech to striking members of the WGA and SAG-AFTRA in front of Fox Studios in West Los Angeles. At the picket, she was joined by California Labor Federation's executive secretary-treasurer Lorena Gonzalez Fletcher and L.A. County Federation of Labor president Yvonne Wheeler.
The Stand — SAG-AFTRA Strike Support Rally on Friday at Seattle Gas Works Park
► From Deadline — Women leaders of WGA, SAG-AFTRA and AFL-CIO join picket line outside Fox Studios in L.A.
► From the LA Times — California Democrats ramp up pressure on Hollywood studios over actors' strike
► From HuffPost — Emmy Awards delayed as Hollywood writers, actors continue strikes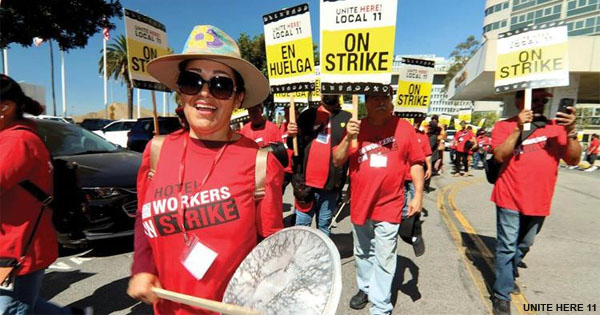 ► From the Pasadena Weekly — Third wave of hotel strikes reaches Pasadena, derailing operations — The third wave of hotel strikes hit hotels in Pasadena as cooks, room attendants, dishwashers, servers, bellmen and front desk agents at the Hyatt Place Pasadena and Hilton Pasadena walked out. The workers are part of UNITE HERE Local 11, which first authorized the strikes in June with the hope that a series of walkouts would inspire better wages, health care benefits and adjusted workloads.
► From Reuters — American Airlines pilots reach deal to match gains at rival United
► From the People's World — American Airlines flight attendants begin strike authorization vote
► From the AP — Mounting job vacancies push state and local governments into a wage war for workers — Public employers across the U.S. have faced struggles to fill jobs, leading to one of the largest surges in state government pay raises in 15 years. Many cities, counties and school districts also are hiking wages to try to retain and attract workers amid aggressive competition from private sector employers.
► From HuffPost — — THE PERSUADERS (5-part series on union-busters)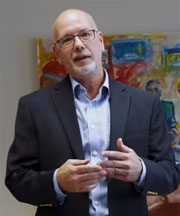 Part 4 — How a union official becomes a 'union buster' — The son of a union leader, Joe Brock served as president of Teamsters Local 830 in Philadelphia before he lost a contentious election and was ousted from office. Since then, he has been working union campaigns from the other side. He belongs to a prolific subgroup of "persuaders" who were once part of the labor movement but now work against it as consultants-for-hire.
Part 3 — When immigrants try to organize, their employers know who to call
Part 2 — Inside Corporate America's favorite 'union busting' firm
Part 1 — Workers wanted a union. Then the mysterious men showed up.
---
T.G.I.F.
► This week we lost Irish singer and truthteller Sinéad O'Connor, who died at 56. She bravely used her fame to speak out on issues related to child abuse, women's and human rights, racism and other socio-political issues, as well as her own trauma and mental health struggles. But in America, she is probably best known for tearing up a photo of the Pope on Saturday Night Live in 1992. She had no regrets, writing in her biography:
"Everyone wants a pop star, see? But I am a protest singer. I just had stuff to get off my chest. A lot of people say or think that tearing up the Pope's photo derailed my career. That's not how I feel about it. … It wasn't derailed. It was re-railed."
The Entire Staff of The Stand couldn't find a live performance of our favorite Sinéad O'Connor song. So we'll share this badass performance of her biggest hit (written by Prince) so you can see she poured the same passion into her music that she did into her politics. Rest in Power, Sinéad.
---
The Stand posts links to Washington state and national news of interest every weekday morning by 10 a.m.
Short URL: https://www.thestand.org/?p=118607
Posted by
David Groves
on Jul 28 2023. Filed under
DAILY LINKS
. You can follow any responses to this entry through the
RSS 2.0
. Both comments and pings are currently closed.