Legislative stall; no amnesty outrage; 'guvmint' saved Detroit…
LEGISLATIVE NEWS:
►  From AP — Stalemate over workers' comp stalls State Legislature — The House and Senate — siding with labor and business, respectively — have pushed competing proposals that won't get consideration in the opposing chamber. (Also see The Stand's May 6 posting — Senate: No budget until workers' comp is cut, and then TAKE ACTION: Contact Senate: No benefrit cuts! Pass budget and go home!)
► At The Slog — Special session is wrong time to debate workers' comp reform (by Goldy) — Let the serious work of completing this budget be done. There will be plenty of time next session for the legislature to further harm the lives of working people on behalf of big business.
►  In today's Olympian — State workers lose furlough battle — A judge ruled against the Washington Federation of State Employees on Friday, finding it was legal for the Legislature to require 10 unpaid furlough days last year for more than 24,000 workers. The federation sued over the constitutionality of the furlough bill and over what it saw as an impairment of a contract for 2009-11 that already had no cost-of-living pay raises and called for other worker concessions. The judge rejected both main union arguments.
►  In today's Spokesman-Review — State workers' union sues DSHS, claims 'effort to privatize child welfare' — The Washington Federation of State Employees, the largest union representing state workers, has filed a lawsuit in Thurston County Superior Court seeking to stop the Department of Social and Health Services from privatizing child welfare. DSHS maintains it is merely implementing a law that requires the department's Children's Administration to consolidate its numerous state contracts based on performance standards and measurable outcomes.
► At Washington State Wire — Senate looks to cut performance audit program that just delivered $321 million — A tax-amnesty program that raised an astonishing $321 million originated with a suggestion from state Auditor Brian Sonntag. And just as his much-despised performance-audit program scores its greatest success ever, a Senate budget proposal begins the process that could dismantle it.
► In today's Spokesman-Review — Tax amnesty a windfall, but where's the outrage? (Jim Camden column) — No one questioned the motives of those 8,888 companies – which included 428 unregistered businesses that never paid taxes and got right with the state over an average bill of $50,000. No one called them tax cheats, or deadbeats, or any other pejorative term. Their slate is wiped clean and no one even knows who they are. Compare that to revelations that some welfare recipients have been selling their food stamp cards for cash, or swiping their electronic benefits transfer cards at the ATMs in casinos, bars and strip joints. (That didn't) cost the state hundreds of millions of dollars. Yet the demand for reform was loud and swift; legislation was drafted, hearings held, outrage voiced and a DSHS honcho resigned for suggesting that going after such miscreants might not be cost-effective.
---
LOCAL NEWS:
►  At SeattlePI.com — Study: Mandatory sick leave would get ill workers out of restaurants — The report by the Economic Opportunity Institute says many of the 190,000 people working in Seattle without paid sick leave work in restaurants and grocery stories and expose people to diseases when they go to work when ill. A mandatory sick leave program would also increase employee retention, the report says. (Also see The Stand's May 9 posting — Paid sick leave sought for workers in Seattle.)
►  In the P.S. Business Journal — Boeing: Ten years now in Chicago — As wrenching as the headquarters loss was for Washington pride 10 years ago, the move to Chicago hasn't reduced Boeing's presence in the state. In fact, a larger share of Boeing's work force, 46 percent, is in the Puget Sound area than a decade ago.
►  In the P.S. Business Journal —747-8 delay and Boeing's dwindling wiggle room — Boeing is halting movement on its 747-8 production line for a month to allow workers to catch up, adding further delay to a program already two years late.
►  In Sunday's (Everett) Herald — Green jobs have been slow to grow — Millions of dollars have flowed into Snohomish County as part of a national effort to create a green workforce. But the demand for those workers hasn't lived up to expectations, leaving recently trained residents searching for jobs that don't exist.
---
NATIONAL NEWS:
►  In today's Washington Post — Rescuing Detroit: No news about government's good news (E.J. Dionne column) — Allowing the market to operate without any intervention by government would have wiped out a large part of the auto industry based in Midwestern states. This irreversible decision would have damaged the economy, many communities and tens of thousands of families. But you won't see a news conference where the bailout's foes candidly acknowledge how mistaken they were.
►  In today's NY Times — Battle over health care shifts to appellate courts — A five-week flurry of federal appellate hearings on the constitutionality of the Obama health care law kicks off Tuesday, beginning the second round of a race to the Supreme Court among a multitude of litigants (including State AG and gubernatorial wannabe Rob McKenna) eager to strike down Obama's signature domestic achievement.
►  At Talking Points Memo — Without Medicare privatization, GOP budget won't eliminate deficit — If you strike the Medicare plan from the GOP budget — authored by Rep. Paul Ryan (R-WI) (and supported by ALL Washington Republicans, despite the polls) — it doesn't achieve fiscal balance anymore.
►  In today's NY Times — Democrats see strategy to end Big Oil's tax breaks — Linking two of the politically volatile issues of the moment, Senate Democrats say they will move forward this week with a plan that would eliminate tax breaks for big oil companies and divert the savings to offset the deficit.
►  In today's Bellingham Herald — State farmers fear pesticide rules will devastate harvests — Farmers and growers are sounding alarms, fearful that regulators in Washington, D.C., want to make it more difficult for them to spread chemicals on their land. They're found allies in House Republicans, who are moving to ease the rules and strip some of the power from the EPA.
EDITOR'S NOTE: This article describes efforts to protect the blackfooted-ferret, the northern spotted owl, the Red Hills salamander and the Alabama lampmussel. No mention of the farmworker.
►  In The Hill — Employment report spurs battle over public vs. private sector jobs — The private sector is hiring; governments are firing; and political leaders are battling over what that means.
►  Today in The Onion — Budget mix-up provides nation's schools with enough money to properly educate students — As a result of a clerical error, $80 billion earmarked for national defense was accidentally sent to the Department of Education, furnishing schools with the necessary funds to buy new textbooks, offer more academic resources, hire better teachers, promote student achievement, and foster educational excellence — an oversight that apologetic officials called a "huge mistake."
---
The Stand posts links to Washington state and national news of interest every weekday morning by 9 a.m. Make this electronic "clip service" your first stop of the morning to get O.P.P. news and opinion. (Other People's Press.) These links are functional on the date of posting, but sometimes expire.
---
WASHINGTON IS A UNION STATE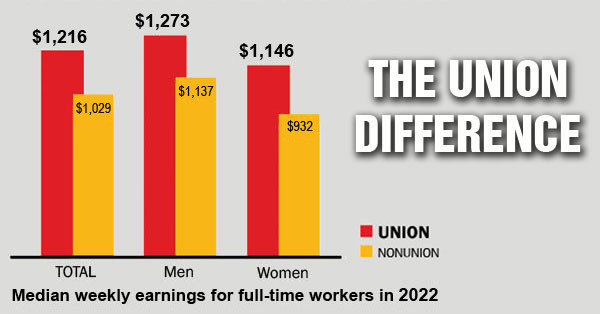 CHECK OUT THE UNION DIFFERENCE in Washington state: higher wages, affordable health and dental care, job and retirement security.
FIND OUT HOW TO JOIN TOGETHER with your co-workers to negotiate for better working conditions and respect on the job. Or go ahead and contact a union organizer today!