Budget/debt deals, GOP beatdown, Boeing "restart"…
---
LEGISLATIVE NEWS:
►  In today's Seattle Times — Lawmakers strike budget deal; teacher pay cut — State lawmakers appear to have cleared the roadblocks to wrapping up their work by the end of the special legislative session Wednesday. Legislators released details of a state budget on Tuesday that cuts teacher and state-worker pay, slashes higher education spending, and scales back social-service and health programs to close a $5.1 billion budget shortfall. The House passed the measure Tuesday night. It now goes to the Senate. (Also see coverage in the Kitsap Sun and Olympian.)
►  At TheOlympian.com — Repeal of big bank tax exemption gets 52-vote majority, but fails — Majority Democrats in the House brought their long-awaited tax-exemption to a floor vote. The bill tying new revenues from big banks to a reduction in pupil-to-teacher school ratios failed, despite getting a 52-42 majority vote because it required at two-thirds majority or 66 votes. Four Democrats crossed over to vote with Republicans in opposition Reps. Christopher Hurst of Enumclaw, Troy Kelley of Tacoma, Mark Miloscia of Federal Way and Sharon Wylie of Vancouver.
►  In today's News Tribune — Lawmakers agree to gradual limit on state debt — The Legislature's negotiators reached a deal Tuesday that will create a lower debt limit but won't tie lawmakers' hands by enshrining it into the state constitution – something a bipartisan crew in the Senate wanted but Democrats who control the House rejected. The deal doesn't go nearly as far as senators wanted, but it goes far enough to win their support for a robust capital-construction budget – one that includes $1.1 billion in bonds.
►  In today's Kitsap Sun — Senate OKs ferry reform, surcharge bill — The Senate voted 36-9 to approve the bill. The House approved the bill last weekend, and it now goes to Gov. Chris Gregoire. (More background on the bill here.)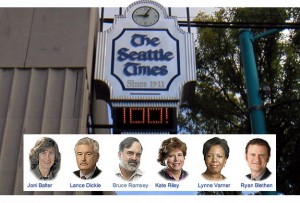 ►  In today's Seattle Times — Finally, Legislature enacts workers' compensation reform (editorial) — Blah, blah, %$!#ing blah.
EDITOR'S NOTE — For the SIXTH time, the Times editorial board Association of Business advocates for lower workers' comp taxes, this time taking a victory lap following Monday's debacle. Memo to all of you House Democrats who voted for the governor's "reform:" I hope you weren't expecting any props from the Times-AWB crowd. They are calling your $1.2 billion in cuts a "small first step," complaining that it took too long, and congratulating the Governor and Roadkill "Democrats" for legislating like Republicans. These people will not be satisfied until the safety nets for injured and laid-off workers are not only weakened, but completely disassembled. Jump off this Ayn Rand bandwagon now and save your consciences! (And maybe your political careers, too…)
---
MORE NEWS OF OVER-REACHING CONSERVATIVES:
►  In today's NY Times — Democrat wins seat in conservative NY district — Democrats scored an upset in one of New York's most conservative Congressional districts on Tuesday, dealing a blow to the national Republican Party in a race that largely turned on the party's plan to overhaul Medicare. The results set off elation among Democrats and soul-searching among Republicans, who questioned whether they should rethink their party's commitment to the Medicare plan, which appears to have become a liability heading into the 2012 elections.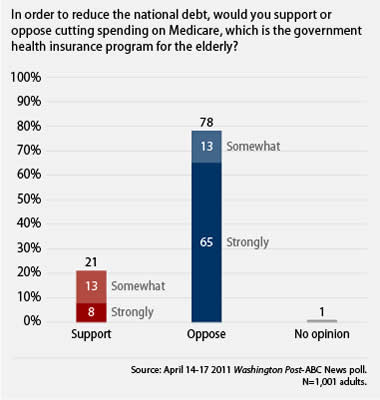 EDITOR'S NOTE — Every Republican member of Congress from Washington state supported Rep. Ryan's plan to cut Medicare and turn it into a voucher program. In fact, Rep. Jaime Herrera Beutler continues to reiterate her support for it.
►  In today's NY Times — GOP on defensive as voters resist medicare plan — When they proposed just last month to overhaul Medicare, House Republicans were confident that the wind of budget politics was at their backs and that the country's looming fiscal problems provided justification to reshape the social welfare system. When polls and angry town hall meetings suggested that many voters were opposed to the Medicare overhaul, party unity and optimism gave way to a slow-motion backtracking. Now, Democrats are hoping that the plan's toxicity among voters will give them a shot at retaining control of the Senate and, in their most vivid dreams, taking back the House majority.
---
BOEING NEWS:
►  In today's (Everett) Herald — Boeing chief hoping for better relations with Machinists as contract talks near — "We're trying to hit the restart button and see if we can get there," said Jim McNerney, Boeing's chief executive, during a company investors conference Tuesday. "We are not going to try to squeeze the union to death, I hope they don't try to do the same to us," he said. As for the company's engineers, Boeing is trying to give more weight to their comments and advice. "We have completely changed the voice and scope of our engineering function in our company. … We think it got too diluted, particularly out here," McNerney said.
►  In today's Seattle Times — Boeing will build next 787's first horizontal tails in Seattle — Boeing Commercial Airplanes chief Jim Albaugh said Boeing has decided the horizontal tails on the next version won't be made in Italy, as they are for the initial 787-8 model. Engineers will perfect the method for producing the horizontal tail at the Development Center beside Boeing Field, and will do early production runs there to mature the process.
---
LOCAL NEWS:
►  In today's Yakima H-R — Wapato teachers, parents protest layoff notices — Teachers upset about recent layoff notices in response to the state's budget crisis are asking Wapato school administrators to look elsewhere to make cuts.
►  In today's Bellingham Herald — Whatcom County exec Kremen won't run for re-election — Pete Kremen has announced he will not run for re-election in November, citing health reasons. His decision means the county will have a new leader for the first time in more than 15 years.
►  Today's county unemployment news — Clark (10.5%▼), Cowlitz (11.9%▼), King (7.9%▼), Kitsap (7.7%▼), Pierce (9.8%▼), Snohomish (9.4%▼), Thurston (8.1%▼), Tri-Cities (7.3%▼), Whatcom (8.4%▼), Yakima (10.3%▲)
---
NATIONAL NEWS:
►  In the UK Guardian — Dominique Strauss-Kahn and the union maid — The hotel housekeeper who was allegedly assaulted by this man, the former IMF chief and leading candidate to be president of France, is represented by a union. This is an important part of the story because it is likely that Strauss-Kahn's alleged victim might not have felt confident enough to pursue the issue with either her supervisors or law enforcement agencies, if she had not been protected by a union contract. The vast majority of hotel workers in the United States, like most workers in the private sector, do not enjoy this protection. This matters because under the law in the United States, an employer can fire a worker at any time for almost any reason.
►  At TPM — Female Democratic senators attack GOP budget's harsh toll on women — "They have put one thing above anything else: cutting health care for women," said Sen. Patty Murray (D-WA). "Last month they almost shut down the entire federal government in an attempt to cut off funding for health care programs for women and girls."
►  In today's Washington Post — Moonlighting blamed for air traffic controller fatigue — Young air traffic controllers who make up almost a third of the workforce have had to work two or three jobs to compensate for a 30% wage cut imposed during the Bush administration, the head of their union (NATCA) told a Senate committee Tuesday.
►  In today's NY Times — States collect more taxes, but troubles remain — States had strong growth in tax collections during the first quarter of the year, but still collected less money than they did before the recession began, according to preliminary data released Tuesday.
►  In today's Washington Post — Labor's Hail Mary pass (Harold Meyerson column) — The primary source of labor's frustration has been the consistent inability of the Democrats to strengthen the legislation that once allowed workers to join unions without fear of employer reprisals. Now, out of desperation, the AFL-CIO and SEIU are looking outside the workplace for members by conducting door-to-door canvassing of working-class neighborhoods. It signals a strategic shift by American labor. Since labor law now effectively precludes workplace representation, unions are turning to representing workers anywhere and in any capacity they can. It's time, they've concluded, for the Hail Mary pass.
---
The Stand posts links to Washington state and national news of interest every weekday morning by 9 a.m. Make this electronic "clip service" your first stop each morning! These links are functional on the date of posting, but sometimes expire.
---
Short URL: https://www.thestand.org/?p=1298
Posted by
David Groves
on May 25 2011. Filed under
DAILY LINKS
. You can follow any responses to this entry through the
RSS 2.0
. Both comments and pings are currently closed.