Democratic base roadkill, it's still about the jobs…
---
LEGISLATIVE NEWS: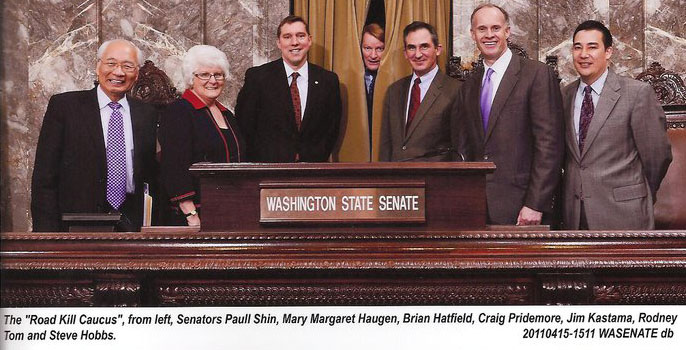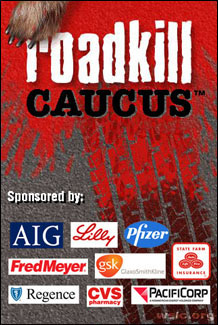 ►  In The Stranger — Screwing the pooch (and we're the pooch) (By David Goldstein) — "I wish we did raise taxes," said Senate Ways and Means Committee Chair Ed Murray (D-Seattle), "but we didn't have the votes." Not even the simple majority necessary to refer a tax package to the ballot? According to Murray, "roadkill" senate Democrats — these are moderates who caucus with Dems but often vote with the GOP — threatened to cross the aisle to write a budget with the Republicans, essentially forcing the Democratic majority to almost totally cave. You know, what daily newspaper editorial boards like to call "bipartisanship."
►  In The Stranger — The Eyman backlash — A small band of Democrats in the State House is laying the groundwork for a potential lawsuit to challenge the constitutionality of Tim Eyman's I-1053, which passed handily last fall and requires a two-thirds majority in both houses for any tax increase. That requirement was a major contributor to this session's all-cuts budget, and yet, says Rep. Jamie Pedersen (D-Seattle), "most lawyers who have looked at this question come to the same conclusion: It is not constitutional."
►  In today's Seattle Times — State budget cuts hit classes that lead to jobs — The Legislature last month sliced $84 million from the community- and technical-college budgets for the next biennium, while authorizing 12%-a-year tuition increases for the next two years. Even before the cutbacks, classes at many of the state's two-year schools had waitlists. Now, as the schools look for ways to trim further, it's becoming likely that those waiting lists will grow still longer as classes are cut from the schedule. And some programs will be phased out altogether.
---
LOCAL NEWS:
►  In today's Spokesman-Review — Pyrotek moving jobs from Mexico to Spokane Valley — Pyrotek Inc. is using about $75,000 in state assistance money to hire and train 20 area workers. It will also use another $75,000 in state money to relocate production equipment from Pyrotek's plant in Apodaca, Mexico. The company considered Idaho, Pennsylvania and Tennessee before moving the work back to Spokane.
---
POLITICAL NEWS:
►  In today's NY Times — Employment data may be key to president's job — No American president since Franklin Delano Roosevelt has won a second term in office when the unemployment rate on Election Day topped 7.2%. Seventeen months before the next election, it is increasingly clear that President Obama must defy that trend to keep his job. Roughly 9% of Americans who want to go to work cannot find an employer.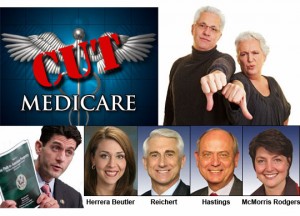 ►  At TPM — Poll: Conservatives, Republicans oppose Ryan's Medicare plan — Among conservatives, 54% are opposed. Among current seniors — who would not be affected by the changes in the Ryan Medicare plan — a full 74% are opposed, even after they're told that Ryan's plan affects Americans 55 years of age and younger.
EDITOR'S NOTE — Every Republican member of Congress from Washington state supported Rep. Ryan's plan to cut Medicare and turn it into a voucher program. In fact, Rep. Jaime Herrera Beutler continues to reiterate her support for it.
►  At TheOlympian.com — Denny Heck files for new campaign for Congress — Denny Heck lost his bid for Congress in the 3rd district last year, but he's back in the running. "I'm running," says the Democrat politician-turned-entrepreneur, who filed papers with the FEC last month so he can begin collecting funds for a new campaign – in a congressional district to be named later.
►  In today's Washington Post — Republicans continue to be own worst enemy (Harold Meyerson column) — For even as Republicans have imperiled themselves on the national level (by supporting Ryan's Medicare plan), they also seem to be committing political hara-kiri in one statehouse after the next. Republican governors who took office this year or last — the ones as determined as Ryan to do a wholesale rewrite of America's social contract — have approval ratings that we normally associate with strains of bacteria.
EDITOR'S NOTE — Meyerson reports that polls indicate Wisconsin Republican Gov. Scott Walker would lose election to either of two Democrats. Walker's approval rating is down nine points to 43% since he launched his campaign against public employee unions. But then again, Survey USA reports that Washington Democratic Gov. Chris Gregoire's approval rating as of April 20 was 37%.
►  At TPM — Wisconsin Republican: I hope public employees are asleep on recall day — Wisconsin state Sen. Dan Kapanke, a Republican facing a recall election in the battle over Gov. Scott Walker's anti-public employee union legislation, might come to regret some of the language he used to fire up local Republicans.
---
NATIONAL NEWS:
►  In today's Seattle Times — Why an economic double-dip isn't out of the question (Jon Talton column) — The nation's two-track economic recovery is now in danger precisely because of its dual nature. Track one includes record corporate profits, record cash on hand in corporate treasuries, too-big-to-fail banks fully restored, CEO compensation back in the stratosphere. But track two was a different journey: Housing collapse without end, real unemployment around 16% and poor levels of job creation, with stagnant or falling real wages.
►  From Bloomberg — Raising taxes no 'kiss of death' for job growth, history shows — Cutting taxes creates jobs, and raising taxes destroys them. That's the view of policymakers, from President Obama to his Republican adversaries. But the evidence from the last two decades suggests that conventional wisdom is wrong. In the five years after a $241 billion tax increase in 1993, the U.S. economy created more than 15 million jobs and grew at an average annual rate of 3.8%. In the five years after President Bush's 2001 tax cuts, the economy added about 6.5 million jobs and grew at an annual 2.7% pace.
►  In today's NY Times — Shareholders approve Massey Energy sale to Alpha –The former federal mine safety chief who led the West Virginia inquiry says Alpha's retention of senior Massey executives "certainly doesn't help make a dramatic and abrupt change in safety culture… The question for the new owners is where is the strong message that this heralds a new day in mine safety and health?"
►  At Politico — Health reform lawsuit in jeopardy? — A federal appeals panel questioned Wednesday whether a conservative legal center's constitutional challenge to the law's requirement to buy insurance is still valid after the revelation last week that a key plaintiff had already bought health insurance.
---
The Stand posts links to Washington state and national news of interest every weekday morning by 9 a.m. Make this electronic "clip service" your first stop each morning! These links are functional on the date of posting, but sometimes expire.
---
Short URL: https://www.thestand.org/?p=1570
Posted by
David Groves
on Jun 2 2011. Filed under
DAILY LINKS
. You can follow any responses to this entry through the
RSS 2.0
. Both comments and pings are currently closed.