AFT budget protest, weak job growth, 'AFGE Yes!'…
---
LEGISLATIVE NEWS:

►  At SeattlePI.com — Claws come out as community college faculty, students protest budget cuts — The new budget has community colleges losing $85 million over the next two years. and two 12% tuition increases have been approved for 2011 and 2012. Educators gathered Thursday at Seattle Central CC said they don't expect that to change — not this year. They're worried about next year and the year after that, when it's likely state funding to higher education will be slashed deeper. "We're not going to see a turn-around and a reinvestment," said Karen Strickland, a SCCC instructor and president of the faculty union, AFT  Seattle.
►  At the Slog — As deep cuts threaten programs, community colleges look to future budget battles — Strickland says that faculty has been warned to "plan on cutting every year from here on out." Her union's plan? A two-year campaign to educate lawmakers about the economic necessity of investing in our state's community college system.
►  In today's Columbian — Gregoire: "A" for lawmakers — In a surprisingly upbeat speech to Vancouver-area business leaders, the governor said lawmakers from both parties surprised everyone with their tenacity and willingness to compromise and take hard votes. They tackled high unemployment insurance premiums, reformed workers' compensation and addressed unfunded liabilities in the state pension fund. Those reforms already are benefiting businesses, the governor said.  The downside, she said, is that 18,000 employees of state government and local school districts have lost their jobs during the recession, and another 4,000 may join the ranks of the jobless as a result of cuts in the 2011-13 budget.
EDITOR'S NOTE — Yeah, a few thousand more families lose their jobs… but still, an "A!"
►  In today's Yakima H-R — Area's Republican legislators give session mostly positive reviews — It was a good year for bipartisanship in some parts of the Legislature, Republican legislators from Central Washington said Thursday.
EDITOR'S NOTE — "Bipartisanship" is a one-way street in Washington. Can anyone identify one instance of a group of Republican "moderates" (the Buzzkill Caucus?) breaking ranks with their leadership on a significant issue to side with Democrats in the spirit of bipartisanship? For that matter, can anyone identify one moderate Republican?
►  In today's Kitsap Sun — Bainbridge councilwoman Hilary Franz may seek Rolfes' House seat — The environmental attorney and mother of three young boys will decide in the coming week whether to run for the State House or a second term on the Bainbridge City Council.
►  In today's Columbian — Sen. Benton missed 2nd most floor votes in recent sessions –The Vancouver Republican missed 79 of 648 floor votes, saying he misses votes to meet with constituents, negotiate with House members, and to take a stroll around the Campus and "smell the wonderful flowers."
EDITOR'S NOTE — OK, I made that last one up.
---
TODAY IN CONTRACTING OUT:
►  In today's Seattle Times — 14 UW students arrested in protest over Sodexo contract — Fourteen students were arrested at the University of Washington on Wednesday evening on charges of criminal trespass after they refused to leave a building that was closed, part of protests over the UW's contract with food-services provider Sodexo. A student coalition has been urging the university to cancel its contract with Sodexo, alleging the company has violated human rights. Two human-rights groups, Human Rights Watch and TransAfrica Forum, have released reports alleging that Sodexo uses intimidation tactics to discourage unionizing and denies their workers breaks or full pay.
►  In today's News Tribune — WSDOT to contractor: Stop mailing tickets for bridge-toll violations –The WSDOT says its Texas-based contractor, Electronic Transaction Consultants Corp., has sent about 23,000 toll-violation notices since May 19, causing a public furor and creating long lines at the customer service center in Gig Harbor. State officials, elected leaders and local court employees have been inundated by complaints from drivers that they were fined despite maintaining balances in their electronic "Good to Go" accounts.
---
LOCAL NEWS:
►  In today's (Longview) Daily News — Furloughs, court closures are part of Columbia County budget cutting proposal — In a letter to county residents, the courthouse employees' union Local 1442 warned the public that the austerity measures, including 26 Friday furlough days next year, would reduce access to the assessor's office, the tax and finance office, land development services, county clerk and the surveyor's office.
---
IT'S STILL ABOUT THE JOBS: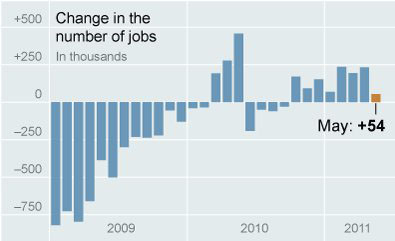 ►  In today's NY Times — Hiring slowed in May with 54,000 jobs added — After several months of strong job growth, hiring slowed sharply in May, raising concerns once again about the underlying strength of the economic recovery. The dismal numbers may change the economic debate in Washington. Democrats and labor-oriented groups have also amplified their pleas for Congress to delay deficit-reduction measures.
►  At AFL-CIO Now — Jobless rate rises to 9.1% in anemic jobs report — Young people (24.2%), African Americans (16.2%) and Hispanics (11.9%) continue to suffer the highest jobless rates.
►  In today's NY Times — The mistake of 2010 (Paul Krugman column) — Back when the original 2009 Obama stimulus was enacted, some of us warned that it was both too small and too short-lived. In particular, the effects of the stimulus would start fading out in 2010. By the beginning of 2010, it was already obvious that these concerns had been justified. Yet somehow an overwhelming consensus emerged among policy makers and pundits that nothing more should be done to create jobs, that, on the contrary, there should be a turn toward fiscal austerity.
►  From Bloomberg — Union enthusiasm for Obama fades, Trumka says — The president of the largest U.S. labor organization said union members are frustrated by "wasted energy" in Washington on issues that he said don't help workers: "hysteria" about the federal deficit, a White House review of regulations and Obama's support for free-trade agreements. … Regarding the NLRB, Trumka says, "No company is beyond the law, and that includes Boeing."
---
NATIONAL NEWS:
►  At Huffington Post — Federal workers, feeling threatened, unionize — From 2007 through 2010, the American Federation of Government Employees saw its number of active, dues-paying members swell from 216,000 to more than 268,000, according to figures provided by the union. What's more, officials there say they've witnessed a significant spike in workers' interest in unionizing over the last few months as the salaries and benefits of public-sector employees have come under heavy fire from the right.
►  At Politico — Top Democrat Norm Dicks becomes war critic — With surprising bluntness, the top House Democrat on defense and appropriations is warning that President Barack Obama can't ignore the growing "war fatigue" in Congress and must consider steps to accelerate a U.S. military withdrawal from Afghanistan.
EDITOR'S NOTE: What he said.
---
The Stand posts links to Washington state and national news of interest every weekday morning by 9 a.m. Make this electronic "clip service" your first stop each morning! These links are functional on the date of posting, but sometimes expire.
---
Short URL: https://www.thestand.org/?p=1615
Posted by
David Groves
on Jun 3 2011. Filed under
DAILY LINKS
. You can follow any responses to this entry through the
RSS 2.0
. Both comments and pings are currently closed.