This Saturday night, June 18, a group of progressive Seattle musicians will be taking their activism to the airwaves in support of the Wisconsin recall efforts.
The group will be performing live on stage at Egan's Ballard Jamhouse and will be streaming the concert live back to Wisconsin via the Internet where activists there are setting up venues and house parties to watch the event. All proceeds for the event will go to the Wisconsin Recall Task Force and will be used for the July 2011 Senate recall campaigns.
"What is going on in Wisconsin and other states is an organized, coordinated, and well-financed attack on the middle class of our country," said musician and organizer Gary Kanter.  "The people of Wisconsin need to know that their friends and neighbors throughout our nation have their backs and that their fight is our fight as well."
Kanter said the enthusiasm is palpable in Wisconsin and he hopes to gain even more momentum in other states and inspire them to create similar events.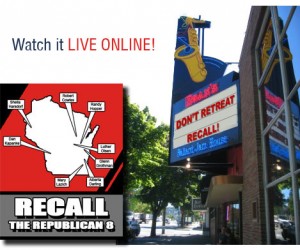 "State governments across the country are engaging in coordinated and well-financed attacks on all types of working people," said Kanter.  "We want to send them a message that working people stand together, as Americans, in support of each other, regardless of state border ."
UPDATE: Here's the program for Saturday's show:
Ted Stickney/Suzanne Wegorst, Welcome to Egan's
Gary Kanter, Intro & Short Set
Kathy Cummings, Communications Director, Washington State Labor Council and Kevin Cummings, IAM International Representative for the Pacific Northwest (WA, AK, MT, and OR)
Mike Pryor
Kat Eggleston
Sen. Maralyn Chase and Rep. Luis Saul Moscoso, WA State Legislature
Tom Rawson
Ted Stickney
Karin Blaine
JW McClure
Gary Kanter