'Kumbaya' at Spirit, Labor Day, small business killers…
---
BOEING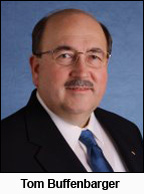 ► In today's Seattle Times — Former Boeing unit takes markedly different approach to labor — At Spirit AeroSystems, a top aerospace supplier in Wichita that once was a Boeing division, Machinists officials and company management are virtually singing "kumbaya." Last year, they signed a landmark contract committing to "a long-term, cooperative relationship" with an unprecedented length of 10 years. The contract ties a portion of workers' pay to Spirit's economic performance through the booms and busts of the volatile aviation business. And while the union lays aside the possibility of strikes for a decade, management commits to "the maintenance of a strong, highly skilled, and sustainable work force in Wichita."
"This is what we tried to do with Boeing," said Tom Buffenbarger, national leader of the International Association of Machinists. With Spirit, "we found a partner… Spirit is a great lesson for businesses that can get over a myopic, right-wing view of how labor can work with them."
Next year, Boeing and the IAM will once again face off in contract negotiations. After four strikes in the past 22 years, another would be devastating to both Boeing's business and this region's chances of future airplane work. Does the Spirit agreement suggest a way forward?
► At IAM 751's blog — Union backs Project Pegasus study with $100,000 — District 751 is a strong supporter of Project Pegasus, which is the state of Washington's campaign to ensure that Boeing builds the 737 Max and other future airplanes in Washington state. The Accenture study — which is being jointly funded by business, labor and government groups across Washington — is part of the effort.
---
SCHOOL CONTRACTS
► In the News Tribune — School's in session in Tacoma — for now — Last week, members of the Tacoma Education Association fell about 3% short of the 80% vote threshold needed for the union to authorize a strike. So TEA members agreed to start school on time under their contract that expired last Wednesday, while negotiations between the union and school district continue.
► At SeattlePI.com — Bellevue teachers OK contract; school starts Monday — Bellevue teachers voted by 97% to OK a new 2-year contract.
► In Friday's Bellingham Herald — Bellingham teachers, district reach agreement on contract — That ended the one-day teachers' strike and will allow students to start school Wednesday.
---
POLITICS
► In the Yakima H-R — State lawmakers pressured to take pay cuts — Letters have been flowing into the state capitol seeking pay cuts for legislators as a show of solidarity with state employees facing their own salary decreases.
► In today's Seattle Times — BIAW focuses on mending fences — The Building Industry Association of Washington, long known for its brass-knuckle tactics and deep pockets for conservative candidates and causes, has muted its political megaphone and even started acting nice to former foes.
EDITOR'S NOTE — If for no other reason, this is worth reading just for the quote from former state Republican chairman Chris Vance, apparently delivered with a straight face: "What it means is the Republicans have no allies with any real money."
---
LOCAL
► In Sunday's (Everett) Herald — Pull out stops to save jobs (editorial) — The negative impact of the closure of the Kimberly-Clark plant, which supplies the area with 750 family-wage jobs, would reach far beyond K-C workers and their families — some of whom have had multiple generations make their living there. The plant and the jobs it provides are sorely needed. Every reasonable effort should be made to find a buyer, close a deal and keep the plant cranking out consumer paper products.
---
LABOR DAY THOUGHTS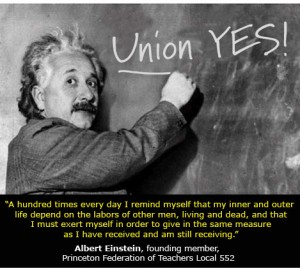 ► In the N.H. Union-Leader — We need bold actions, not words, to create jobs (Richard Trumka column) — This Labor Day, let us honor the hard-working people of America not with empty words, but with meaningful, bold actions that help restore our middle class. Let's make our country what it should be. Let's embrace job-creating investments in our infrastructure: roads, bridges, transit, and green technology. Let's ensure that working women and men have a voice on the job. Let's create an America that provides economic security for our nurses and teachers and bus drivers and health care for our children, parents and grandparents. Let's provide quality education for all of America's children so that we have future leaders who will recognize the amazing work of those that have come before them and give back to their communities.
► In today's Washington Post — The last Labor Day? (E.J. Dionne column) — With the worker disappearing from our media and our consciousness, isn't it only a matter of time before Labor Day falls off the calendar? As long as it's there, it should shame us about our cool indifference to the heroism of those who go to work every day.
► In today's Seattle Times — Heyday for unions is in rearview mirror (Jon Talton column) — As you enjoy this holiday and something like a 40-hour workweek, as you don't have to send your child to work in a sweatshop, among other goods, remember these were purchased by union work and union blood. So this Labor Day, if you find a union member, then at least say thanks.
► In today's Washington Post — Stop bashing government workers (Katrina vanden Heuvel column) — Our leaders have too often stacked government against the interests of working people in favor of corporate elites. But was it overpaid and undertaxed CEOs who saved flood victims or rushed into the towers? Our impulse should not be to renounce government; it should be to recapture and restore it. It is time for the era of despised government to end.
► In the Bellingham Herald — This Labor Day, America's losing patience with the jobless — Many jobless Americans say they sense a growing indifference to their plight, and even a certain level of demonization. Many companies now shun the long-term unemployed when filling positions, fearing their skills have eroded or their talents don't measure up. America's jobless also face increased hostility from conservative lawmakers, as more states cut the amount and duration of unemployment benefits, while making them harder to get and easier to lose.
---
NATIONAL
► In the Detroit Free-Press — Obama: I will stand up for collective bargaining — The president: "Our economy is stronger when workers are getting paid good wages and good benefits," he said. "Having a voice on the job and a chance to get organized and a chance to negotiate for a fair day's pay … is the right of every man and woman in America, not just the CEO in the corner office, but also the janitor who cleans that office."

► In today's Washington Post — USPS warns it could lose $10 billion this year — The Postal Service will have little more than a week's worth of money left in the bank when its fiscal year ends Sept. 30, the nation's top postmaster will tell Congress. Postal officials are hoping the latest numbers will finally compel lawmakers to grant them new legal authority to alter delivery schedules, close post offices and lay off hundreds of thousands of workers.
► In The Hill — Chamber presents its jobs plan to Obama — Chamber President Thomas Donohue calls on the administration and lawmakers to pass pending trade deals, increase spending on infrastructure, ease restrictions on oil drilling and provide temporary tax breaks to corporations.
► In today's NY Times — Courts put brakes on Republican agenda — In a year in which expanded Republican majorities in many states have been able to operate without the usual obstacles presented by divided government, court challenges amount to the first real efforts to slow the crush of conservative legislation.
---
TODAY'S MUST-READ
► In today's Bellingham Herald — Regulations, taxes aren't killing small businesses, owners say — Politicians and business groups often blame excessive regulation and fear of higher taxes for tepid hiring in the economy. However, little evidence of that emerged when McClatchy Newspapers canvassed a random sample of small-business owners across the nation. In fact, none of the business owners complained about regulation in their particular industries, and most seemed to welcome it. Some pointed to the lack of regulation in mortgage lending as a principal cause of the financial crisis that brought about the Great Recession of 2007-09 and its grim aftermath.
---
The Stand posts links to Washington state and national news of interest every weekday morning by 9 a.m. Make this electronic "clip service" your first stop each morning! These links are functional on the date of posting, but sometimes expire.
---
Short URL: https://www.thestand.org/?p=4561
Posted by
David Groves
on Sep 6 2011. Filed under
DAILY LINKS
. You can follow any responses to this entry through the
RSS 2.0
. Both comments and pings are currently closed.