Closure & opening, no new jobs, SubSupercommittee!®
---
LOCAL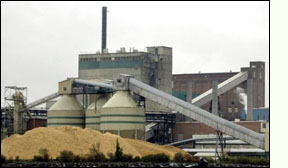 ► In today's (Everett) Herald — Everett mill says it will close, lay off 750, unless a buyer can be found — The community once nicknamed "The City of Smokestacks" could lose its last major smokestack soon, along with 750 family-wage jobs. Kimberly-Clark Corp. announced Thursday that it may shut down its tissue mill and its pulp mill on the Everett waterfront early in 2012 if a buyer isn't found. Josh Estes of AWPPW Local 183 said the company continues to talk with multiple buyers but that no agreement is in the works. He said it plans to scale down operations by the end of the year, likely operate with a skeleton crew after that and shut the plants down by March 31. "The best case is that we'll have work into 2012, but it's likely to end at the end of the year," he said.
► From AP — Officials celebrate new Moses Lake BMW plant — German carmaker BMW and a European carbon-manufacturing company celebrated the opening Thursday of a new plant to produce carbon fibers for the automotive industry. The plant now employs about 80 people, but expansions are planned. Said State Rep. Judy Warnick (R-Moses Lake): "What's impressed me is that we are being recognized in the world, not only for our hydropower, but also our labor force, and that Washington state is a good place to do business."
EDITOR'S NOTE — Now THAT's what we're talkin' 'bout!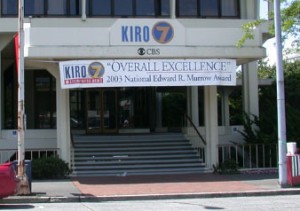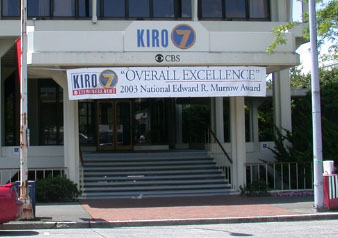 ► At the Slog — Labor pains continue at KIRO TV — KIRO's owners had been demanding that members of IBEW Local 46 — video editors, engineers, broadcast directors — give up their freedom to engage in basic union activities such as striking, talking to the media about their grievances, and negotiating for better compensation. Since March, things have deteriorated further. The IBEW has gone to the NLRB over a recent attempt by KIRO to put non-union employees in union jobs — a move that the union says was accompanied by offers of raises for certain employees if they left the union, and threats of job loss if they did not.
EDITOR'S NOTE — Also see The Stand's July 29 report: Stop KIRO-TV demands to take away their employees' rights
► In today's News Tribune — City Council right to be cautious about proposed Walmart (editorial) — Surprise, Tacoma. It's a Walmart. In some communities, news that the giant retailer was coming to town with hundreds of jobs and sales tax revenue might be greeted with cheers. Some communities aren't pro-union Tacoma – where the reaction so far seems to range from "No" to "Hell, no."
---
SCHOOL CONTRACTS
► In today's Bellingham Herald — Bellingham teachers, schools still negotiating to avert a strike — School district and union leaders negotiated until about 9 p.m. Thursday. Talks will resume Friday morning. Nearly 80% of the members of the Bellingham Education Association voted Wednesday night to strike after their contract with the school district expired that day.
► In today's Columbian — Vancouver school employees, district at odds — Vancouver school students and parents — and teachers — might encounter picketing school secretaries and support workers next Wednesday, on the first day of class. It's possible some teachers will honor, or even join, picket lines.
► In today's Seattle Times — Bellevue teachers send message with no-confidence vote –After a resounding 97% yes vote on a new two-year contract, the Bellevue Education Association also voted to give Superintendent Amalia Cudeiro a 97% no-confidence vote, pointing to her style of management.
► In today's (Everett) Herald — Lake Stevens teachers agree to contract changes — Changes in the contracts set to expire in 2012 address salary cuts of 3 percent for administrative staff and 1.9 percent for teachers made earlier this year by the Legislature. The cuts resulted in a loss of $387,000 for the district.
► In today's Olympian — Teachers take a pay cut in North Thurston — Teachers in North Thurston Public Schools are bracing for larger class sizes and smaller paychecks during the 2011-12 school year.
---
STATE GOVERNMENT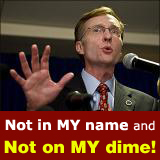 ► In today's Olympian — Court splits ruling on McKenna's powers — Washington's attorney general has the power to act on his own — but sometimes he has to act whether he wants to or not. That's the thrust of a pair of state Supreme Court rulings issued Thursday. Justices agreed unanimously that McKenna was within his legal rights to throw Washington's weight behind a multistate lawsuit against the federal health insurance law. They also ruled 7-2 that McKenna must represent state Lands Commissioner Peter Goldmark, another elected Democrat, in his appeal of a case involving the condemnation of state land. McKenna had refused to represent the commissioner in the case.
EDITOR'S NOTE — In writing the majority opinion for the health-care lawsuit case, Justice Susan Owens suggests that the decision might be different if Democratic Gov. Chris Gregoire had ordered Republican McKenna to pull out of the lawsuit against just complaining about it. It was the City of Seattle, not her, trying to force McKenna's withdrawal in court.
---
AMERICA WANTS TO WORK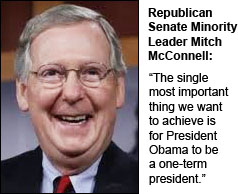 ► In today's NY Times — Job growth at halt; worst showing in 11 months — The flat performance was down sharply from a revised 85,000 gain of jobs in July, the Labor Department said Friday, and was far below a consensus forecast by economists of 60,000 new jobs. The unemployment rate stayed constant at 9.1 percent in August.
► At Huffington Post — Republican Congressman to skip Obama's jobs speech, calls president 'idiotic' — House Republican Joe Walsh, a Tea Party favorite from Illinois: "I don't see the point of being a prop for another of the president's speeches asking for more failed stimulus spending and more subsidies for his pet projects."
► In today's Washington Post — A jobs program — and a boon for kids (op-ed) — Most of the school districts in our country have been deferring maintenance and repairs for years. This has led to inefficient, and thus expensive, energy use, unsafe drinking water, mold, poor air quality, inadequate fire safety systems and structural dangers. Meanwhile, after the housing bust, employment opportunities crashed for construction workers. An efficient and common-sense solution to both problems is a government infrastructure program to put many of these workers back on the job fixing our nations' schools.
---
NATIONAL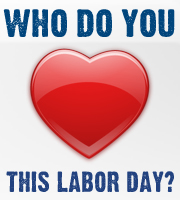 ► At AFL-CIO Now — Join us and honor workers this Labor Day — The long Labor Day weekend is about to kick off and our special Labor Day action page (click here) gives you an opportunity to honor American workers and they work they do. Along with being able to select the worker you HEART the most, there are several other features on the page.
► In today's Washington Post — As workforce ages, industries struggle to prepare for wave of retirements — Human resources experts, workers and executives from a range of industries say businesses are largely unprepared to accommodate an aging workforce or to cope with its eventual retirement.
► In today's NY Times — Eric and Irene (Paul Krugman column) — Rep. Eric Cantor, the Republican House majority leader, wants any aid for Hurricane Irene victims to be offset by cuts in other spending. He had other ideas in 2004 when Gaston hit his state. What will happen to America now that people like Mr. Cantor are calling the shots for one of its two major political parties?
---
TODAY'S MUST-READ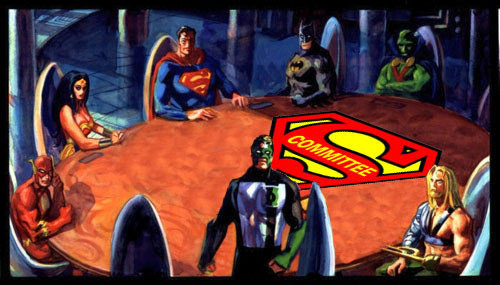 ► In today's Washington Post — A jobs plan that might actually work (Ezra Klein column) — The Supercommittee!™ has a design flaw: it's directed to return recommendations on deficit reduction, but not job creation. That doesn't make sense from an economic perspective and it doesn't make sense from a political perspective. If the Supercommittee!™ succeeds and a deficit-reduction package passes Congress, Washington will have nevertheless failed to make any progress on the issue that economists consider most important in the near-term and that the American people have named, in poll after poll, as their top priority. Later today — which will, incidentally, be after the August jobs number comes out — Rep. John Larson is introducing a bill to add a jobs component to the Supercommittee!™ mandate. His legislation suggests three possible ways of doing so: either the existing supercommittee should commit to returning recommendations on jobs, or it should add four new members and create a SubSupercommittee!® on jobs, or it should create a parallel Supercommittee!™ on jobs. In all cases, Larson says, failure to return and pass job-creation legislation would mean the trigger goes off.
---
The Stand posts links to Washington state and national news of interest every weekday morning by 9 a.m. Make this electronic "clip service" your first stop each morning! These links are functional on the date of posting, but sometimes expire.
---
Short URL: https://www.thestand.org/?p=4515
Posted by
David Groves
on Sep 2 2011. Filed under
DAILY LINKS
. You can follow any responses to this entry through the
RSS 2.0
. Both comments and pings are currently closed.