'Brutality' in Longview, in Olympia, in U.S. trade policy…
Today's news links:
---
E.G.T. DISPUTE
► In today's (Longview) Daily News — ILWU files civil rights lawsuit against Sheriff Nelson, Chief Duscha — The union is seeking a federal injunction to prevent law enforcement from arresting Longview-based Local 21 members at their homes and driving back from work. Also, union officials allege that police are following their members through town, conducting surveillance on their homes and aggressively arresting protesters for non-violent misdemeanors.
► In today's (Longview) Daily News — 3 longshoremen charged with assault, other crimes — A judge found probable cause to charge three union longshore members with assaulting police and other crimes stemming during a protest that blocked a train from entering the EGT grain terminal in Longview on Wednesday.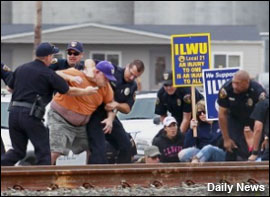 EDITOR'S NOTE — Yesterday, the Daily News reported that a 57-year-old mother of a longshoreman suffered a torn rotator cuff when law enforcement officers arrested her on the railroad tracks. It was after she cried out in pain, that a scuffle reportedly ensued and police pepper=sprayed and arrested the three members now charged with assault.
► Also see — Why the Longshore workers in Longview are so angry
---
STATE GOVERNMENT
► From AP — Governor warns special session on budget will be 'brutal' — Gregoire wants the Legislature back in Olympia to start official duties beginning Nov. 28, with groundwork laid in the weeks before. The state needs to fill a projected hole of $1.3 billion in the current two-year budget cycle, and the Democrat said she'd like to find $2 billion in savings to leave the state with cash reserves. "I don't doubt one bit that I will hate this budget," Gregoire said.  "I will hate it more than the last one."
► In today's Tri-City Herald — No more higher ed cuts, lawmakers say — Legislators visiting the Tri-Cities on Thursday vowed to dig in their heels and fight against any further cuts to higher education in a coming special session. But the reality is that cuts are likely and could run deep.
► In today's Yakima H-R — Local lawmakers push prioritization in deciding cuts — Local Republican legislators said no idea is off the table when the House and Senate convene, but it's unlikely they would support a tax increase. Instead, they propose legislation that relaxes financial and regulatory burdens on businesses that they believe stand in the way of job creation.
EDITOR'S NOTE — Cutting business taxes and regulation has worked so well up to now, I say we double down. Pretty soon that $2 billion will come raining down like manna from heaven!
► More coverage from (Everett) Herald, SeattlePI.com, (Spokane) Spokesman-Review, and the (Vancouver) Columbian.
► In today's Yakima H-R — Education bracing for 'impossible' cuts — Yakima Valley Community College has already lost a third of its budget since 2008 when the recession first hit. Says YVCC President Kinda Kaminski: "I think we're way beyond being able to say, 'Can we handle it?' I mean, we can't. It's impossible."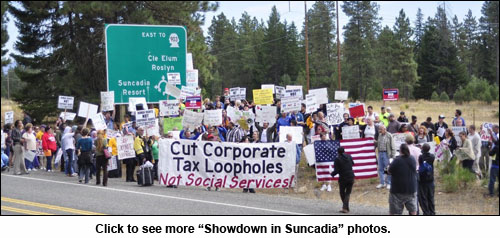 ► At WashingtonCAN.org — Showdown at Suncadia a huge success — Hundreds of community members, mothers, children, teachers, and students gathered from across the state Wednesday at Suncadia resort in protest of the Association of Washington Business' Policy Summit. As corporate CEOs listened to a keynote from Gov. Gregoire, and a seminar led by Phyllis Campbell, Chairman of the Pacific NW Region for Chase Bank, entitled "Where Will the Money Come From?" the people of Washington came to demand that corporations pay their fair share to help fix the economy.
---
TACOMA TEACHERS STRIKE
► In today's News Tribune — Tacoma teachers students return to class today — Tacoma teachers, staff, students, parents and school district officials breathed in collective relief Thursday, as nearly 99% of teachers who gathered for a vote agreed to return to class and end their strike that began Sept. 13.
► In today's News tribune — Final contract under review for approval — The final text of the new, 3-year contract agreement between school district and the Tacoma Education Association was not released Thursday.
---
LOCAL
► In today's Kitsap Sun — Kitsap leaders throttle up Boeing 737-MAX campaign — Top Kitsap County leaders are quickly throttling up their effort to make sure Bremerton is included in a study examining whether Washington is a friendly enough place to build the newly announced Boeing 737 MAX airplane.
► From McClatchy — Starbucks worker's singing YouTube rant about job gets him fired — Christopher Cristwell, 25, posted a video of himself singing about his job at the Chowchilla, Calif. Starbucks. Wearing nothing but a green apron and his underwear, he sings: "It's just a cup of coffee / Give me a break / I shouldn't have to put up with this, making minimum wage." (Watch it here!)
---
TRADE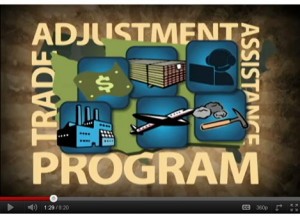 ► From Reuters — Senate passes TAA — The Senate passed a revamped program to help workers displaced by foreign competition, which Obama had demanded as his price for sending free-trade pacts with South Korea, Colombia and Panama to Congress. Senate Republican leader Mitch McConnell urged Obama to now show some "trust" in Republicans by submitting the agreements to Congress before the House has voted on the TAA bill — a view that was echoed later by the House Speaker John A. Boehner.
► In today's LA Times — Trade deficit with China cost nearly 2.8 million jobs since 2001 — The increase in imports from China is only part of the picture. Since the Chinese yuan is pegged to the U.S. dollar, the currency remained artificially low, making U.S.-made goods more expensive in China and pushing down exports. And heavy competition and cheap labor from abroad has pushed down wages for U.S. workers and reduced their bargaining power.
---
NATIONAL
► In today's Oakland Tribune — Nurses at nearly three dozen California hospitals strike — More than 20,000 registered nurses began a one-day strike Thursday at 34 Northern and Central California hospitals in what was one of the largest such labor actions in years. Joining the picket line, AFL-CIO President Richard Trumka said: "It's great to be here on the front lines of the struggle for good, quality health care and supporting the men and women standing up to corporate bullying and saying, 'We've had enough'."
► In today's NY Times — House passes new version of stopgap funding bill — The House on Friday passed a new version of a stopgap spending bill about 30 hours after rejecting a nearly identical version of the legislation, intended to keep the government open and to provide assistance to victims of natural disasters.
► In today's LA Times — SAG's Ken Howard wins second term as Guild's president — His victory is likely to add further momentum toward merging SAG with its smaller sister union, the American Federation of Television & Radio Artists.
---
TODAY'S MUST-READ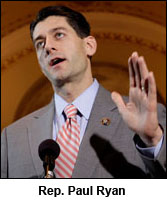 ► In today's NY Times — The Social Contract (Paul Krugman column) — Republicans claim to be deeply worried by budget deficits. Indeed, Rep. Paul Ryan has called the deficit an "existential threat" to America. Yet they are insisting that the wealthy — who presumably have as much of a stake as everyone else in the nation's future — should not be called upon to play any role in warding off that existential threat. Well, that amounts to a demand that a small number of very lucky people be exempted from the social contract that applies to everyone else. And that, in case you're wondering, is what real class warfare looks like
---
The Stand posts links to Washington state and national news of interest every weekday morning by 9 a.m. Make this electronic "clip service" your first stop each morning! These links are functional on the date of posting, but sometimes expire.
Short URL: https://www.thestand.org/?p=5357
Posted by
David Groves
on Sep 23 2011. Filed under
DAILY LINKS
. You can follow any responses to this entry through the
RSS 2.0
. Both comments and pings are currently closed.