Come to Westlake, No on I-1125, Hertz suspensions…
Today's news links:
---
WE ARE THE 99%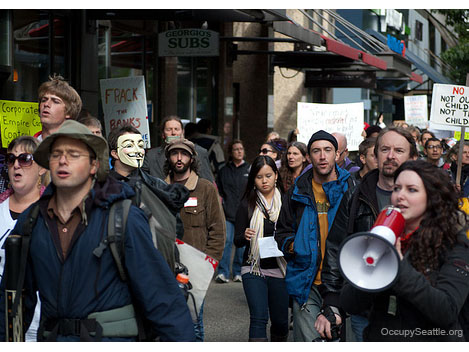 ► In today's Seattle Times — Labor joins Occupy Seattle movement at Westlake — Local labor leaders threw their support behind the Occupy Seattle movement Thursday, boosting morale a day after 25 protesters were arrested. Top union members have visited Westlake Park, in the heart of downtown Seattle, to let protesters know they share a similar view: The economy isn't fair and more jobs are needed. On Thursday, protesters were cheered by news that they would be joined Friday at noon and again on Saturday by local union members led by David Freiboth, executive secretary of the M.L. King County Labor Council.
TAKE A STAND! Join us at Westlake Park at noon Friday and Saturday. Click here for details.
► At Huffington Post — Occupy Wall Street members welcome labor solidarity, but say they don't want to be co-opted — As labor unions and some Democratic Party politicians express support for the movement, the core group of occupiers themselves are increasingly facing the question of whether too much mainstream support could dampen their message.
► In today's Oregonian — Thousands demonstrate during Occupy Portland (photo essay)
► Washington's 99% on Facebook: Occupy Bellingham – Occupy Olympia – Occupy Seattle (website) – Occupy Spokane – Occupy Tacoma – Occupy Tri-Cities – Occupy Wenatchee – Occupy Yakima
---
TODAY'S MUST-READ
► In today's NY Times — Confronting the malefactors (Paul Krugman column) — With the Occupy Wall Street protests, Democrats are being given what amounts to a second chance. The Obama administration squandered a lot of potential good will early on by adopting banker-friendly policies that failed to deliver economic recovery even as bankers repaid the favor by turning on the president. Now, however, Obama's party has a chance for a do-over. All it has to do is take these protests as seriously as they deserve to be taken. And if the protests goad some politicians into doing what they should have been doing all along, Occupy Wall Street will have been a smashing success.
---
ELECTION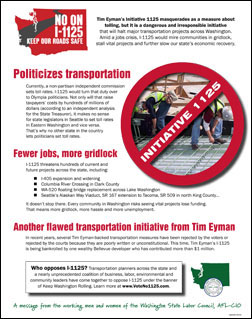 ► In today's Seattle Times — Bellevue Chamber bucks Kemper Freeman, opposes I-1125 — The chamber's position is notable given that one of Bellevue's most prominent businessmen, Kemper Freeman, is the biggest backer of I-1125, contributing more than $1 million to the campaign.
ALSO SEE — Business, Labor agree, NO on I-1125 (Oct. 7) — The Washington State Labor Council and labor organizations across the state are joining with the business community to oppose Tim Eyman's latest ballot measure, Initiative 1125, a dangerous and irresponsible initiative that would halt major transportation projects across the state.
---
LOCAL
► In today's Seattle Times — Hertz suspends praying Muslim drivers in Seattle — In the three years she's worked as a shuttle driver for Hertz at SeaTac Airport, Zainab Aweis, had always taken time out of her shift each day to pray. But on Friday, she and 33 other drivers — all of them Somali Muslims — were suspended indefinitely from their jobs after they took religious breaks to pray while at work without first clocking out.
ALSO SEE — Local Hertz workers mocked, suspended for praying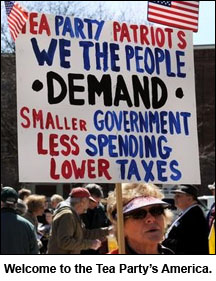 ► In today's Spokesman-Review — Local vets endure long lines for care — Patients of the Spokane Veterans Affairs Medical Center often have to wait three weeks to see a mental health care provider – a wait that's longer than the national average. At a time when 18 veterans a day nationwide are committing suicide, 70% of VA mental health care providers said they did not have adequate staff or space to meet the needs of the veterans they serve.
► In today's Seattle Times — Alaska Airlines, mechanics agree on contract –The AMFA deal is said to include annual pay raises, job protection provisions, and a commitment by the airline and the union to work together on minimizing health care cost increases.
---
NATIONAL
► At AFL-CIO Now — Economy adds 103,000 jobs, but unemployment rate unchanged at 9.1% — The U.S. economy added just 103,000 jobs in September and the nation's unemployment rate remained at 9.1%, according to the latest figures. Some 45,000 of those jobs, however, reflected Verizon workers' return to work following a strike.
► From Minnesota Public Radio — Trumka criticizes Rep. Kline's NLRB bill — A bill by Rep. John Kline (R-Minn.) would overturn a new NLRB rule that speeds up the union election process and is the latest in a series of legislative maneuvers in the House to strike at the independent agency. AFL-CIO President Richard Trumka denounced the bill, calling it "anti-worker."
► At AFL-CIO Now — Early voters lining up to vote "No" on anti-worker legislation
---
The Stand posts links to Washington state and national news of interest every weekday morning by 9 a.m. Make this electronic "clip service" your first stop each morning! These links are functional on the date of posting, but sometimes expire.
Short URL: https://www.thestand.org/?p=5802
Posted by
David Groves
on Oct 7 2011. Filed under
DAILY LINKS
. You can follow any responses to this entry through the
RSS 2.0
. Both comments and pings are currently closed.