Labor backs 'Occupy Wall Street' movement
UPDATE (Oct.7): David Freiboth, Executive Secretary of the M.L. King County Labor Council, is calling on union members and activists in the Seattle area to join him at noon on Friday and Saturday at Westlake Park to support the Occupy Seattle protesters. Here is the memo that was sent by MLKCLC to its affiliates on Thursday afternoon:
As part of the nationwide movement to create good jobs and hold Wall Street accountable, the M. L. King County Labor Council supports Occupy Seattle. This organic, grass roots movement punctuates labor's message during the under-regulated, bubble economy meltdown that all of the middle class and poor continue to experience. We're taking to the streets to voice our frustration with the economic disparity in our country and the business-driven political gridlock that has been incapable of effectively addressing the situation.

Organized labor has always fought, and will continue to fight, for economic justice. We share the broad goals of Occupy Seattle participants and organizers, and we join them in this struggle to collectively make our voices heard!

How to be a part of the effort:

— Join us at 12:00 noon on Friday and Saturday, October 7th and 8th, at Westlake Park in downtown Seattle as we show solidarity for this grass roots movement.

— Come to the rally for JOBS and against I-1125 on Thursday, October 13th at 10:30 a.m. at Steinbrueck Park, near Pike Place Market. (See the rally flier for details.)

— Drop off supplies for Occupy Seattle at our office, 2800 First Avenue Suite 206, Seattle. They are in need of bottled water and ready to eat packaged food. (Or bring supplies to the site on Friday or Saturday.)

— Watch for updates on www.mlkclc.org (and here at The Stand!) This movement is changing and evolving on a daily basis.
---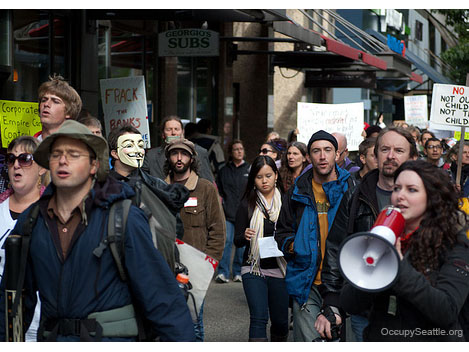 (Oct. 6) — State and national labor leaders have expressed solidarity with the Occupy Wall Street movement and its local counterparts springing up in cities across the United States. The Washington State Labor Council and M.L. King County Labor Council pledge to "raise our voices together" alongside the 99% of Americans who have been victimized by corporate interests, wealthy individuals, and lawmakers who are neglecting the people of this nation.
Jeff Johnson and Lynne Dodson, President and Secretary-Treasurer of the Washington State Labor Council, and David Freiboth, Executive Secretary of the M.L. King County Labor Council, sent the following letter of solidarity to Occupy Seattle protesters on Wednesday night:
On behalf of the Washington State Labor Council, AFL-CIO, and our 500 affiliated local unions and over 400,000 union women and men we want to express our solidarity with "Occupy Seattle" for standing up for and speaking out on behalf of the 99% who have victimized by corporate and political decisions that put the interests of corporate America and Wall Street before the people.

We welcome your voices to ours in identifying the corporate billionaires and bankers as the ones who brought our economy to its knees and have created the most gross distribution of income and wealth in this country since the 1920s. While the "Great Recession" is over for the 1%, the rest of us are living with staggering rates of unemployment and poverty, foreclosures and homelessness, trade policies that further impoverish workers in Third World countries creating massive forced migration, tax policies that reward the outsourcing of our jobs, financial deregulation that allows banks to treat our economy as if it was their private casino, attacks on workers' rights and unions,  killing cuts to our social safety net, environmental degradation, and a significant loss of democracy.

Labor, youth, seniors, the poor, and immigrants — the 99% — must raise their voices and call the question on what type of society we want to live in. It is time for us to create an economy and a political system that is based on a concept of shared prosperity.

Next week, October 10-14, Labor has declared a week of action around the country to speak out for jobs and a fair economy. We would like to join with you in some joint actions to raise our voices together.

Thank you for taking to the streets and raising your voices in a peaceful and poignant way. Thank you for the values and principles that you are standing up for.
Following is a statement released Wednesday by AFL-CIO President Richard Trumka:
Occupy Wall Street has captured the imagination and passion of millions of Americans who have lost hope that our nation's policymakers are speaking for them. We support the protesters in their determination to hold Wall Street accountable and create good jobs.    We are proud that today on Wall Street, bus drivers, painters, nurses and utility workers are joining students and homeowners, the unemployed and the underemployed to call for fundamental change.  Across America, working people are turning out with their friends and neighbors in parks, congregations and union halls to express their frustration – and anger — about our country's staggering wealth gap, the lack of work for people who want to work and the corrupting of our politics by business and financial elites.  The people who do the work to keep our great country running are being robbed not only of income, but of a voice.  It is time for all of us—the 99 percent—to be heard.

As we did when we marched on Wall Street last year, working people call on corporations, big banks, and the financial industry to do their part to create good jobs, stop foreclosures and pay their fair share of taxes.

— Wall Street and corporate America must invest in America:  Big corporations should invest some of the $2 trillion in cash they have on hand, and use it to create good jobs. And the banks themselves should be making credit more accessible to small businesses, instead of parking almost $1 trillion at the Federal Reserve.

— Stop foreclosures:  Banks should write down the 14 million mortgages that are underwater and stop the more than 10 million pending foreclosures to stop the downward spiral of our housing markets and inject more than $70 billion into our economy.

— Fund education and jobs by taxing financial speculation:  A tiny tax on financial transactions could raise hundreds of billions in revenue that could fund education and create jobs rebuilding our country.  And it would discourage speculation and encourage long term investment.

We will open our union halls and community centers as well as our arms and our hearts to those with the courage to stand up and demand a better America.
Stay tuned to The Stand for local updates and status reports on the Occupy Wall Street movement. In the meantime, check out Washington's 99% Facebook sites: Occupy Bellingham – Occupy Olympia – Occupy Seattle (website) – Occupy Spokane – Occupy Tacoma – Occupy Tri-Cities – Occupy Wenatchee – Occupy Yakima.
WASHINGTON IS A UNION STATE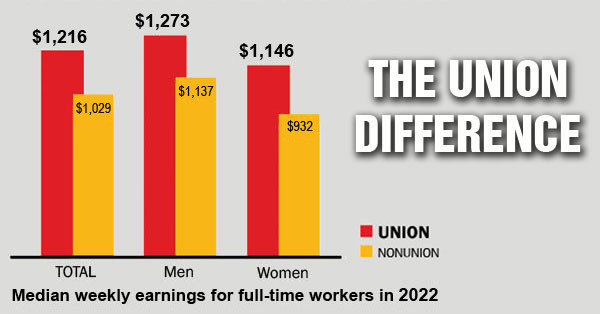 CHECK OUT THE UNION DIFFERENCE in Washington state: higher wages, affordable health and dental care, job and retirement security.
FIND OUT HOW TO JOIN TOGETHER with your co-workers to negotiate for better working conditions and respect on the job. Or go ahead and contact a union organizer today!