USPS service cuts, Boeing contract, port protest…
---
U.S. POSTAL SERVICE

► From Reuters — U.S. Postal Service seeks to end Next Day Air — The cash-strapped U.S. Postal Service on Monday moved forward with plans to end next-day delivery of letters, postcards and other First Class mail. In a notice filed with its regulator, it also sought approval to close more than half of its 461 processing facilities that have been critical for next-day delivery.
► At APWU.org — USPS plan will hasten demise of still-vital institution —  "The USPS should be modernizing and striving to remain relevant in the digital age, not reducing service to the American people," says APWU President Cliff Guffey. "Degrading service is a direct consequence of Postal Service plans to eliminate half of its mail processing centers."
► At Slog — Postal Service to slowly shoot itself in both feet — Ingenious! Fewer people are using your service and you're losing money. So what do you do? You make your service much less useful!
► In today's Spokesman-Review — Mail service shifts hit home — Although trimming the overall workforce, the consolidation of mail processing centers will shift some remaining jobs to the 209 facilities such as the one in Spokane.
► In today's Spokesman-Review — USPS reform could carve deeply into our region (editorial) — Closing mail processing centers in Pasco, Yakima, Wenatchee and Tacoma leaves just Spokane and Seattle to handle almost all the letters and packages mailed each day in Washington and the Idaho Panhandle. Hundreds of jobs will be lost, but the disruption to individuals and businesses that depend on mail service will be much more harmful. Washington and Oregon, the only states with 100% mail-in balloting, will be especially challenged by the processing center closures.
---
BOEING
► In today's (Everett) Herald — How the Boeing deal adds up for Machinists — Machinists will be asked on Wednesday to pick job security over potentially heftier pay raises and lower health care premiums when they vote on a labor contract extension. Boeing and Machinists' leaders say the deal promises job security and a more positive relationship between the union and company.
► In the Columbia Basin Herald — Moses Lake official says Boeing study did little good — City Councilman Bill Ecret: "In my opinion we paid $5,000 to have our city highlighted in a negative light."
---
STATE GOVERNMENT
► In today's Spokesman-Review — OFM Director Marty Brown urges state budget cuts — Washington state can't wait until next year to cut its budget, the state's budget director told legislators Monday. State agencies will need time to make any changes in policies and programs the Legislature orders, and notify clients and providers all over the state, he added: "Faced with all this, I do want to say that time is of the essence."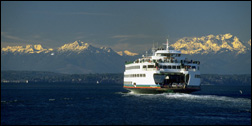 ► In today's Peninsula Daily News — State ferry system unsustainable, new tax needed, says WSF chief — Washington State Ferries lacks the funds to continue operating at current levels after 2013 so it is likely that state voters will be asked to approve a tax increase for that purpose, the system's director said Monday.
► In today's Seattle Times — GOP sees expanded gambling as state budget solution — Republican leaders want to let nontribal casinos offer the same slot machines as tribal casinos, with the state receiving a cut of the revenue. Advocates say it would bring in nearly $160 million next fiscal year and $380 million in the subsequent two years, although the Governor's Office questions those numbers.
► At Washington State Wire — House passes Wenatchee rescue bill that may be tough for Senate to swallow — The House votes 56-33 to provide a bridge loan for a Wenatchee taxing district that defaulted on $42 million in debt last week. But House Republicans, skeptical of anything that smacks of a bailout, insisted on an amendment that would eliminate the ability of the nine participating city and county governments in the Wenatchee area to impose a sales tax without a vote of the people.
► In today's Seattle Times — Environmental activist Gerry Pollet tapped for House seat — In a unanimous vote by the King County Council, Pollet was chosen to replace former Rep. David Frockt, who moved up to the state Senate to replace Scott White, who died in October. (The Tri-City Herald gives prominent play to the appointment of "Hanford activist" Pollet.)
► In today's Olympian — This isn't the time to be raising concerns about campaign laws(editorial) — GOP Rep. Bill Hinkle's effort to change campaign fundraising rules are pure partisanship.
► In today's (Longview) Daily News — Kelso WorkSource office lays off 5 employees, cuts 6 positions
► In today's (Everett) Herald — Inslee calls for 6 governor debates with McKenna
---
LOCAL
► At Slog — A call to shut down all West Coast ports Dec. 12 — A group called Hip Hop Occupies is calling upon youth and artists in Seattle and beyond to come out in full force Dec. 12 in support and solidarity for the West Coast Port Shutdown.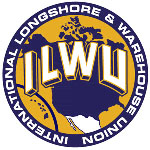 ALSO SEE at ILWU.org — ILWU clarifies position regarding third-party protests at ports — The union sent a memo to its 15,000 longshore members and leaders emphasizing the union's internal democratic process and stating its rejection of third-party calls for job actions that have not been sanctioned by its officers or voted on by member representatives. The memo stated in part, "To be clear, the ILWU, the Coast Longshore Division, and Local 21 are not coordinating independently or in conjunction with any self-proclaimed organization or group to shut down any port or terminal, particularly as it relates to our dispute with EGT in Longview."
► In today's Yakima H-R — Circuit Court at least delays damages in Global Horizons case — In a case closely watched by farm industry groups, a $2 million federal court damage award against two Lower Valley growers has effectively been put on hold until several state issues are heard by the state Supreme Court.
► In today's Columbian — Frito-Lay seeks $585,000 tax break on water bills — The tax break would help the company install automatic packaging equipment that will cause layoffs at the 500-employee plant. However, without the equipment, the plant claims it will lose its competitive edge and possibly close, eliminating all the jobs there.
EDITOR'S NOTE — So that's what it's come to? "Give us tax breaks to eliminate jobs, or else we might eliminate even more jobs."
---
NATIONAL
► In today's NY Times — Senate Democrats say they will try again on payroll tax — Senate Democrats will try for the fifth time in two months to raise taxes on top earners to pay for legislation that would reduce Social Security payroll taxes, as President Obama sought to keep Congressional Republicans on the defensive, asserting that their intransigence could cause a tax increase for tens of millions of American workers.
► At The Hill — Final government shutdown fight rings out new year— House and Senate appropriators are laboring to produce a $900 billion omnibus bill by the beginning of next week. Failure to reach a deal would result in a government shutdown on Dec. 16.
► At Politico — Inspector general probing NLRB allegations— An investigation has been opened into whether a Republican member of the NLRB received improper enticements to resign and incapacitate the agency.
► In today's NY Times — The wonky liberal (David Brooks column) — Some may not like President Obama's regulations, but they are not stealing jobs or crushing our economy.
► At Huffington Post — Occupy Wal-Mart: Save America, live better (Al Norman column) — The encampments against corporate greed in the financial districts of America could just as well have appeared outside of Wal-Mart headquarters in Bentonville, Ark. There is no better example of corporate exploitation in the world.
---
TODAY'S MUST-READ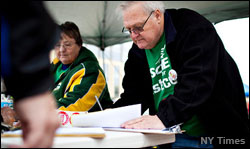 ► In today's NY Times — Many workers in public sector retiring sooner — As states and cities struggle to resolve paralyzing budget shortfalls by sending workers on unpaid furloughs, freezing salaries and extracting larger contributions for health benefits and pensions, a growing number of public-sector workers are finding fewer reasons to stay. Some say the trend is already leaving some governments short-staffed (and, in some cases, obliged to pay overtime) and at risk of losing institutional knowledge and technical expertise as older workers vanish.
---
The Stand posts links to Washington state and national news of interest every weekday morning by 9 a.m. These links are functional at the date of posting, but sometimes expire.
Short URL: https://www.thestand.org/?p=7911
Posted by
David Groves
on Dec 6 2011. Filed under
DAILY LINKS
. You can follow any responses to this entry through the
RSS 2.0
. Both comments and pings are currently closed.