Boeing contract, St. Joseph's nurses, slowing USPS…
---
BOEING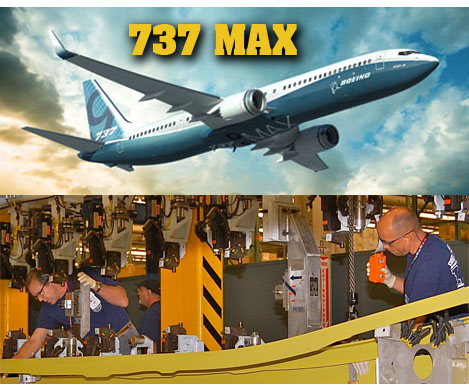 ► In the Seattle Times — Union members scrutinize wording of historic Boeing contract — Boeing and Machinists union leaders are trying to allay concerns by some rank-and-file members that the sweeping contract agreement announced this week may not ensure that the company builds its planned 737 MAX only in Renton.
► At HeraldNet.com — Boeing to Machinists: We're committed to building 737 MAX in Renton — "Let me be as clear as I can possibly be: If this agreement is ratified, the MAX will be built in our Renton factory," wrote Jim Albaugh, in a message sent Friday to Machinists. Union members will vote on Wednesday.
► In today's News Tribune — The Boeing 737 lesson: Good schools = good jobs (editorial) — A highly trained work force was a decisive factor – probably the decisive factor – in Boeing's decision to build the 737 Max in Washington. Paying attention, lawmakers?
► In Sunday's Olympian — Boeing surprise good for workers, company, state (editorial)
► In Sunday's Seattle Times — Boeing-Machinists deal a refreshing outcome at difficult time (Jon Talton column) — In an America that's more polarized than at any time since the eve of the Civil War, this is no small feat and a commanding example.
► In today's LA Times — American Airlines to modernize fleet despite bankruptcy filing — The airline, whose parent company filed for bankruptcy protection last week, says 10 new Boeing 777-300ER planes it will acquire in the next two years will include lie-flat seats in first- and business-class sections, mood lighting and a walk-up bar.
---
STATE GOVERNMENT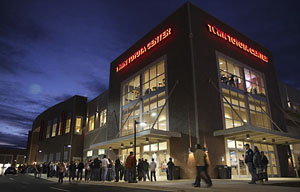 ► At Washington State Wire — Wenatchee rescue bill headed for House floor; vote possible today — City and county government associations have strongly been urging support for the bill. And now labor unions are supporting passage of the bill. "We just feel like in this environment we can't risk jeopardizing local and state ability to create jobs in the future," said Rebecca Johnson, lobbyist for the Washington State Labor Council. "Every dollar we send out of state in higher interest payments is a dollar we are not putting to getting workers back to work."
► In the Wenatchee World — Surrounding communities tell Wenatchee to pay for arena itself — Officials from several local cities and counties say they should not be made to pay for the Town Toyota Center and presented Wenatchee leaders with a plan to shoulder the arena's entire $42 million debt alone.
► In Sunday's Olympian — State tax compromise a long way away — Majority Democrats are weeks away from agreeing on a tax plan they could send to voters for approval in March or April. That indecision — along with last week's rowdy protests at the Capitol in favor of taxing the wealthy and big corporations — is giving activists time to push more than the half-cent sales tax that Gov. Chris Gregoire already wants.
► From AP — In budget crisis, state lawmakers take their time
► In Sunday's (Everett) Herald — Special session isn't likely to turn out anything special (Jerry Cornfield column) — It is quickly turning out to be less special and more of an exhibition to the approaching 2012 regular session. The problem is lawmakers are split three ways on what they want to do. One group wants to act first on spending cuts, another wants to act first on revenue, and others are pushing to act first on reforming government operations.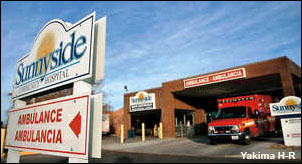 ► In Sunday's Yakima H-R — Small hospitals endangered by Medicaid cuts –The Legislature is considering reducing Medicaid reimbursements to 38 rural hospitals. The move, laid out in HB 2130, would remove cost-based reimbursements for Medicaid patients treated at federally designated critical access hospitals, those located in areas that are so remote, patients have no other choice for care. The hospitals rely on Medicaid payments for an average of half their annual revenue. They often are among the largest employers in poor counties and account for the majority of physicians in town.
► In the Tri-City Herald — Budget woes may mean end of corrections programs — Community supervision — which used to be called parole — will be reduced to one year for all offenders except about 3,000 sex offenders who will have their supervision time decreased from three years to two. The governor's budget also includes releasing low- to moderate-risk offenders 150 days early — that is about 370 people a day.
► In today's Olympian — PDC sides with conservatives on tactics complaint — The agency's investigative arm is recommending that a complaint of illegal elections tactics filed by the state Democratic Party against a the Koch Brothers-funded Americans for Prosperity be dismissed.
---
ELECTIONS
► From AP — WEA endorses Inslee in governor's race — The state's largest teachers union endorsed U.S. Rep. Jay Inslee for governor after Attorney General Rob McKenna backed out of plans to speak to the organization's leadership on Saturday.
---
LOCAL
► In the Bellingham Herald — St. Joseph's nurses speak out against switch to 8-hour shifts, hospital cost-cutting measures — Waving signs that read "RNs for Quality Patient Care" and "Patient Care Not CEO Bonuses," nurses and their supporters rallied in front of City Hall on Thursday to protest cuts and restructuring being put into place by PeaceHealth. Nurses who spoke and their union — the Washington State Nurses Association — told the roughly 200 nurses and supporters at the rally that the company's unilateral imposition of 8-hour shifts will not reduce nurse fatigue or improve patient safety, and that the real issue was understaffing.
ALSO SEE — 'Rally for respect' Thursday in Bellingham (Nov. 29)
► In the Spokesman-Review — New mayor should have voice in union talks (editorial) — The City Council will address this proposed deal on Monday night. Members ought to leave the negotiations up to the new mayor. It would be poor form to undercut him before he takes office.
► In the (Longview) Daily News — Foss Maritime assessing number of workers needed for new ferry construction
---
NATIONAL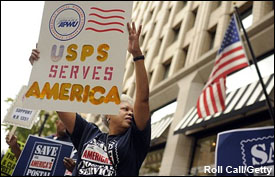 ► From AP — Postal cuts to slow delivery of first-class mail — Facing bankruptcy, the U.S. Postal Service is pushing ahead with unprecedented cuts to first-class mail next spring that will slow delivery and, for the first time in 40 years, eliminate the chance for stamped letters to arrive the next day. The estimated $3 billion in reductions, to be announced in broader detail on Monday, are part of a wide-ranging effort by the cash-strapped Postal Service to quickly trim costs, seeing no immediate help from Congress.
► In today's LA Times — Senate Democrats prepare new plan to extend payroll tax cut — Sen. Harry Reid will unveil a plan today that would extend a cut in the payroll taxes used to pay for Social Security. There are suggestions that it will represent a compromise between the dueling plans the Senate rejected last week.
► In today's NY Times — A broken, dangerous system (editorial) — Immigrants in detention centers are subject to indignities and denied fundamental protections.
► In today's NY Times — Pain in the public sector (editorial) — There were 20,000 government workers laid off last month, by far the largest drop for any sector of the economy, mostly from states, counties and cities. Many Republicans don't regard government jobs as actual jobs, and are eager to see them disappear. But every layoff, whether public or private, is a life, and a livelihood, and a family. And too many of them are getting battered by the economic storm.
► In The Hill — Poll: Voters want to cut lawmaker pay, make them work longer — More than two-thirds of likely voters think members of Congress should work more for less pay. A large percentage of voters say lawmakers should have their salaries cut and their pensions eliminated, and they should also work longer, according to a new poll.
EDITOR'S NOTE — Public employee bashing has come home to roost for our elected public employees.
---
The Stand posts links to Washington state and national news of interest every weekday morning by 9 a.m. These links are functional at the date of posting, but sometimes expire.
Short URL: https://www.thestand.org/?p=7857
Posted by
David Groves
on Dec 5 2011. Filed under
DAILY LINKS
. You can follow any responses to this entry through the
RSS 2.0
. Both comments and pings are currently closed.