JOBS will cure what ails Washington state
The following is the WSLC Legislative Update newsletter distributed Monday, Dec. 12 by the Washington State Labor Council (PDF version). December's special session ended without action on the jobs legislation described. The 2012 legislative session begins Monday, Jan. 9. The next WSLC Legislative Update will be published Jan. 10.

---

As the 30-day special session of the State Legislature enters its third week, it is all but certain that legislators are unlikely to address the $2 billion revenue shortfall that is the reason for this holiday season assembly. There appears to be general agreement that more cuts — on top of the $10 billion already slashed from the state budget — must be mitigated by some form of new revenue. Gov. Chris Gregoire has proposed a temporary half-cent increase in the state sales tax, but discussions continue about what revenue proposal will be put before voters this spring.
Instead, legislators are poised to approve hundreds of millions million in cuts that both Democrats and Republicans agree must be made, and leave the rest of the shortfall and the revenue issue for the 2012 session that begins in January.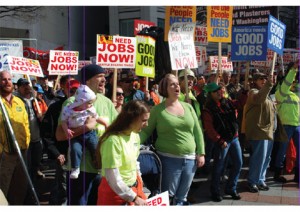 This continued bloodletting of state government cannot go on. At a time when legislators are seriously considering letting prisoners out of jail early and cutting their supervision, increasing class sizes (again) and shortening the school year, completely eliminating health care assistance for the working poor, and dozens of other cost-cutting ideas that would have been unthinkable just a couple of years ago, it's fair to say our state government is in intensive care. It's time for lawmakers to get proactive. It's time to stop dealing with the symptoms and to treat the disease. What Washington needs to fully recover from the Great Recession is JOBS.
The clearest way for state government to create jobs is to hire people. Right now, budget cuts are doing the opposite: taking away thousands of public-sector jobs from Washington families. There's insufficient revenue in the general fund to maintain those jobs and services. But capital budget revenue can be leveraged to support substantial job creation. Washington is in position to frontload that money and create real jobs NOW by investing in public buildings and infrastructure.
Labor, business join to put WA back to work
The Washington State Labor Council/AFL-CIO, the Washington State Building and Construction Trades Council and others in the labor movement have formed an unprecedented coalition with industry groups led by the Association of General Contractors (AGC) to support jobs legislation that would accomplish this.
The idea is to pay for state construction projects through revenue bonds. The state already does this by issuing bonds repaid by transportation-dedicated gas tax revenues to finance highway and transportation projects. This jobs bill would issue bonds repaid by streams of money already dedicated to the state capital budget, such as  toxics taxes and public works trust funds. That money is earmarked for capital projects anyway. This would frontload it now when our state, and our construction industry in particular, are desperate for jobs.
Here's why the jobs bill is a good idea:
It WILL create jobs. A $2 billion jobs bill would create tens of thousands of good construction and engineering jobs. It will also help many struggling contractors sustain their businesses. These jobs, spread to projects in every corner of the state, will have the multiplier effect of creating and maintaining tens of thousands more jobs. This is not some theoretical claim, it is a demonstrable fact with a measurable outcome. If this bill passes, these jobs will be created.
Our construction industry is in crisis. Building trades are suffering unemployment levels from 20% to as high as 60%, depending on the trade and region of the state. Many contractors are struggling to survive. David Myers, Executive Secretary of the State Building and Construction Trades Council, reports that this lack of work is causing long-term damage to the industry as experienced workers in the trades are leaving the state and the industry in search of other job opportunities. It takes up to five years to train journey-level workers to replace them. The jobs bill will not only put these skilled workers back to work, it will keep them in Washington where we need them.
The state will get more bang for its buck. Frontloading capital spending to the 2012 construction season will save the state money. It's a buyer's market as contractors are bidding low amid an intense competition for work and lower costs for materials and interest. These projects will cost more later.
This work needs to be done. As AGC Government Affairs Director Rick Slunaker points out, these wouldn't just be "show jobs for the sake of putting people to work… these are projects we are supposed to be doing anyway, that are on to-do lists already."  Sen. Derek Kilmer (D-Gig Harbor) and other key legislators who support the jobs bill wants to see projects that promote economic development. Examples could include the construction of training facilities that enhance our competitive advantages in aerospace and other sectors, and college research facilities that could prompt private-sector spinoffs.
It will raise revenue without raising taxes. Rep. Hans Dunshee (D-Snohomish) says a $2 billion jobs bill could generate about $100 million in revenue over the next three years. The contractors and people who get these jobs pay taxes, as do the businesses they support. This increased economic activity raises revenue for the state general fund to mitigate cuts. It won't solve our budget crisis and more revenue will be needed to maintain state services and our quality of life. But this will be a big help.
'Surely this is a time for bold positive action'
More and more state legislators are beginning to see the benefits of the jobs bill. Those who have expressed concerns about borrowing against incoming capital revenues as we already do with transportation revenue should consider the clear benefits of frontloading construction projects. It would create tens of thousands of jobs across the state, bolster a construction industry that's in crisis, get more bang for the state's buck on already planned work that will cost more later, and generate desperately needed economic activity and revenue.
A report last week indicated that legislative attorneys believe that a 60% majority will be necessary for passage of this legislation. That can be accomplished. This is not a partisan issue. Democrats and Republicans should be able to come together on this in the same way that labor and business has.
"There is no doubt that this is a tough time to be a state legislator," said Jeff Johnson, President of the Washington State Labor Council. "But this jobs bill is an opportunity for our leaders to be proactive in a time of crisis instead of just trying to mitigate the harm. As we weigh the damage that would be done by more cuts to schools, colleges, public safety, health care, and other essential services, surely this is a time for bold positive action."
---

Some hearings this week
Some important hearings/work sessions this week:
Monday at 3 p.m., both the House and Senate Ways and Means committees will hear memorials on the streamlined sales tax, shifting unclaimed property timelines (which could save about $50 million), and, presumably, some form of the supplemental budget.
Tuesday at 10 a.m., the Senate Labor, Commerce & Consumer Protection Committee will have a work session on job creation proposals, apprenticeship utilization, women in the trades, and an update on bid preferences for in-state contractors.
Thursday at 1:30 p.m., the Senate Labor, Commerce & Consumer Protection Committee will have a work session on the underground economy, which will include members of the Stop Wage Theft Coalition.
---

Stay tuned to The Stand
Stay apprised of legislative developments at The Stand — at www.TheStand.org — Your Internet Newsstand in Washington State. It features daily updates on legislative action, plus all other news affecting working families.
WASHINGTON IS A UNION STATE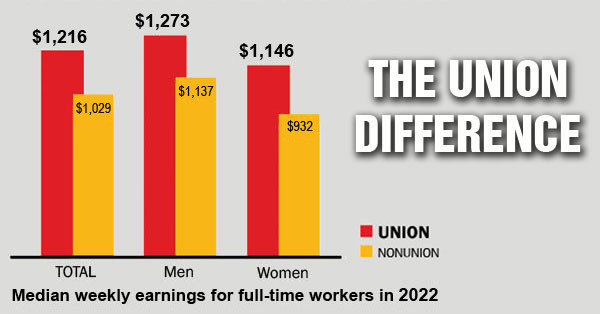 CHECK OUT THE UNION DIFFERENCE in Washington state: higher wages, affordable health and dental care, job and retirement security.
FIND OUT HOW TO JOIN TOGETHER with your co-workers to negotiate for better working conditions and respect on the job. Or go ahead and contact a union organizer today!