News from Idaho, Kansas, Indiana and, yes, Washington…
---
LOCAL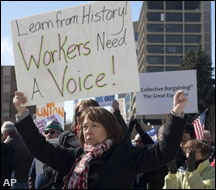 ► In today's Spokesman-Review — Federal judge rejects Idaho anti-union laws— A federal judge has invalidated two anti-union laws pushed through by Idaho GOP lawmakers last session, saying they violate federal law. The two measures, SB 1007 and 1006, were expansions of Idaho's right-to-work law. One banned "job targeting programs" that use union dues to subsidize members' wages as a way to help contractors win bids. The other banned "project labor agreements" through which contractors sign agreements with unionized workers while bidding on public works projects. The measures were pushed amid legislative grousing over loud picketing at some Idaho projects by the Carpenters Union.
► From AP — New rail safeguards where 3 died in Washington — Burlington Northern Santa Fe Railway says automatic flashing lights and crossing gates have been installed at a rail crossing where three people died last March when a freight train struck their van.
---
BOEING
► In today's Wichita Eagle — Wichita facility's closing will affect 2,160 workers — Boeing said layoffs won't begin until the second half of this year as it plans to close its Wichita facility by the end of 2013 and move the work to other sites, officials said.
► In today's LA Times — Boeing to close historic Wichita facility — The company's decision may augur more cuts in the defense industry as federal spending on weapons procurement shrinks in the coming decade.
► In today's Seattle Times — Wichita closure to bring 100 jobs here — Kansas employees and politicians fumed Wednesday at Boeing's decision to close its defense plant in Wichita. And the move didn't meet expectations here, delivering fewer jobs in the Puget Sound region than anticipated when rumors of the closure first surfaced in November.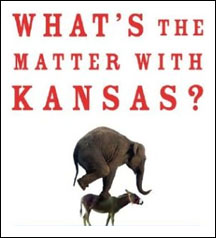 EDITOR'S NOTE — I can't help but contrast today's reactions from Kansas politicians (Republicans all) with the reaction of Washington State's Democratic establishment when Boeing announced in 2001 that it was moving its headquarters to Chicago. In Kansas, the Republicans are expressing "outrage" that Boeing would "squander eight decades of goodwill" by refusing to honor its commitment to the region. Here, hand-wringing Democrats allowed right-wing conservatives to blame the move on the state's "unfriendly" business climate (which the company denied) and spin a competitiveness myth that set off a decade of legislative capitulation to corporate interests on everything from massive tax breaks to unemployment insurance to workers' compensation.
Kansas is a union-busting "right-to-work" state that runs its unemployment insurance and workers' compensation systems on the cheap and sports a $7.25 minimum wage. As right-wingers in Washington fantasize about bringing that corporate utopia here, perhaps Republicans in Kansas will now begin a decade of investment in aerospace apprenticeship and training to try to overcome those clear competitive disadvantages.
---
STATE GOVERNMENT
► Breaking from the Seattle Times — Supreme Court: State isn't fully funding education — In a highly anticipated court ruling released Thursday morning, the Washington State Supreme Court agreed the state is failing to meet its constitutional duty to fully fund education and said it would retain jurisdiction to make sure the Legislature does so. But the court did not require the Legislature to take specific action to remedy the situation, as some education advocates had hoped.
► In today's Yakima H-R — Rep. Hunter to discuss education 'levy swap' — State Rep. Ross Hunter (D-Medina) will be in Yakima tonight to talk to educators about his new proposal to change the way public education is funded in Washington. Hunter devised a "revenue-neutral levy swap" as a way to make K-12 funding more consistent and less dependent on unstable local levies, which must be approved every two to four years by district voters.
► In today's Olympian — Gregoire supports same-sex marriage — State Rep. Laurie Jinkins (D-Tacoma) says her 11-year-old son, Wulf, wants her to have a wedding cake with green frosting. The date is not on the calendar yet, but after Gov. Chris Gregoire lent public support for same-sex marriage on Wednesday, it no longer seems as far-fetched as it once did in Washington state.
► In today's Wenatchee World — Local leaders will move forward with sales tax idea— Mayors and commissioners from Chelan and Douglas counties appear to favor asking voters for a sales tax increase to pay off the Town Toyota Center's debt.
---
N.L.R.B.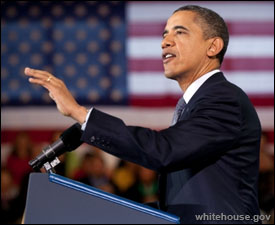 ► In today's LA Times — Bypassing Congress, Obama will appoint three to NLRB — Capping a daylong assault on congressional Republicans, President Obama appointed three members to the National Labor Relations Board as part of a series of recess appointments the GOP had tried to prevent. Obama made the move while Congress is away for the holiday break, but meeting every few days in pro forma sessions to block the White House from precisely these type of recess appointments. The labor board appointments were tucked into Obama's more public announcement of Richard Cordray as the new consumer protection bureau chief.
► At AFL-CIO Now — Operating Engineers' counsel among picks for NLRB — IUOE President James T. Callahan says that Richard Griffin is "highly respected by lawyers on both the labor and business side of labor law."
► In The Hill — Romney ad: Obama's NLRB appointees are 'union stooges' — Republican Mitt Romney is calling President Obama's appointees to the labor board "union stooges" who practice un-American political playback, in a new ad his campaign is airing in South Carolina.
---
NATIONAL
► In today's NY Times — 'Right to work' Republicans denied quorum in Indiana — On what was to be the first day of a new lawmaking session in Indiana, most Democratic state representatives stayed away from the House floor on Wednesday, preventing the Republican majority, which has made "right to work" legislation a top priority, from doing business.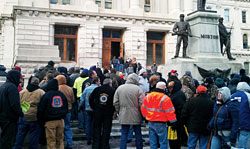 ► At AFL-CIO Now — Public pressure re-opens Indiana statehouse doors — Caving into intense public pressure, Indiana Gov. Mitch Daniels (R) this morning rescinded an order that would have barred thousands of Hoosiers from the statehouse as the legislature considers a so-called "right to work" bill. As I write, we hear that three doors are open and workers are streaming in, with lines of people wrapped around the block.
► At Politico — How to fight liberals: Imitate them — Impressed by the effectiveness of the liberal Center for American Progress, a group of conservative journalists and operatives are preparing to engage in their own sincerest form of flattery — launching an advocacy group with a similar name and mission but very different target.
---
TODAY'S MUST-READ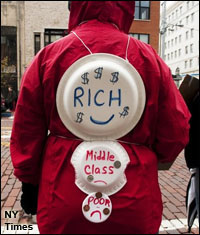 ► In today's NY Times — Harder for Americans to rise from lower rungs — Benjamin Franklin did it. Henry Ford did it. And American life is built on the faith that others can do it, too: rise from humble origins to economic heights. "Movin' on up," George Jefferson-style, is not only a sitcom song but a civil religion. But many researchers have reached a conclusion that turns conventional wisdom on its head: Americans enjoy less economic mobility than their peers in Canada and much of Western Europe. The mobility gap has been widely discussed in academic circles, but a sour season of mass unemployment and street protests has moved the discussion toward center stage.
---
The Stand posts links to Washington state and national news of interest every weekday morning by 9 a.m. These links are functional at the date of posting, but sometimes expire.
Short URL: https://www.thestand.org/?p=8562
Posted by
David Groves
on Jan 5 2012. Filed under
DAILY LINKS
. You can follow any responses to this entry through the
RSS 2.0
. Both comments and pings are currently closed.