State tax reform, Boeing's deliveries, Mitt's 1% honesty…
---
STATE GOVERNMENT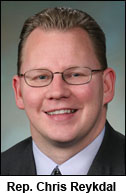 ► In today's Olympian — Rep. Reykdal: New income tax proposal on the way— State Rep. Chris Reykdal and Sen. David Frockt are proposing a 1 percent state tax on corporate and personal incomes, while killing off the state business-occupations tax and reducing the state sales tax. His plan would net about $500 million in new taxes that he would devote to higher education, while using most of the new proceeds to kill off taxes that land hardest on struggling businesses or the poor.
► In today's Seattle Times — High court: State isn't fully funding education — Education advocates are hoping a new decision by the State Supreme Court will send a signal to state lawmakers that education funding should be taken off the chopping block. But while the justices said they would monitor the Legislature to help "facilitate progress" toward full funding, the ruling did not require lawmakers to take specific, immediate action.
► In today's Olympian — Gregoire to bypass McKenna, seek court ruling on tax voting— Gregoire said she is working with outside counsel to petition the courts for a ruling on Tim Eyman's I-1053, which requires lawmakers to have a two-thirds majority to raise taxes.
---
POLITICS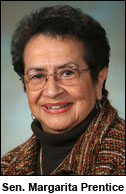 ► In today's Seattle Times — State Sen. Margarita Prentice won't seek re-election — After 24 years in the Legislature, the Renton Democrat won't seek re-election this year. She was the first Hispanic to serve in the Legislature. Prentice, who turns 81 next month, said she is ready to retire and spend time with her family. Under the redistricting plan, her home would no longer be in the 11th District.
► In today's Seattle Times — Bruce Harrell mulls run against Rep. Adam Smith — The Seattle City Councilman may run against the incumbent congressman.
---
LOCAL
► In today's Seattle Times — Boeing delivers more, and less, in 2011 — Boeing's final jet-delivery figures for 2011 show steady production on the established 777 and 737 assembly lines in Everett and Renton but disappointingly few deliveries of its new airplanes. Though Boeing delivered the first 787 Dreamliner in September, it struggled to deliver a total of just three by year end.
► In today's Seattle Times — UW cops file labor complaint — The 30 campus police officers represented by Teamsters Local 117 say the UW Police Department interfered with employee rights, discriminated against officers for engaging in protected union activities and refused to bargain in good faith.
ALSO SEE — UW charged with labor violations against campus police (Jan. 5)

► In the NW Labor Press — Management threatens to convert Vancouver Hilton to office space — If workers vote to boycott the Hilton Vancouver and Convention Center, it will go bankrupt, shut down and be converted to office space. That's a remarkable claim considering that the facility is publicly owned. But that's what workers — members of UNITE HERE Local 9 — were told by management in the days leading up to a boycott vote, according to charges the union filed Dec. 2.
► In today's News Tribune — 15 Tacoma employees, not 67, could lose jobs today— Retirement buyouts, employment seniority issues and moving employees out of budget-strapped general fund positions and into other city vacancies will mitigate the number of layoffs required, city officials say.
► In today's News Tribune — Defense cuts unlikely to have large effect here— President Obama's new defense strategy plays to the strengths of the Puget Sound's military resources and could shield the region from severe cuts in Pentagon spending, lawmakers say.
► In today's (Everett) Herald — Use delay to improve USPS plan (editorial) — Now that the U.S. Postal Service's proposed cuts and facility closings have been postponed until spring, perhaps some thoughtfulness can be included in the process. Offering worse service to save an organization from bankruptcy is not good business.
---
NATIONAL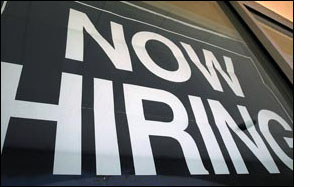 ► Today from AP — Unemployment rate falls; lowest in nearly three years — Employers added a net 200,000 jobs last month and the unemployment rate fell to 8.5%, the lowest since February 2009. The rate has dropped for four straight months.
► At AFL-CIO Now — Jobs rose by 200,000 in December — Most industries added jobs, with the exception of construction and government. In 2011, 280,000 jobs were cut in local government, state government (excluding education), and the U.S. Postal Service.
► At Huffington Post — Walmart blacklisted by major pension fund over poor labor practices — the Netherlands' biggest pension fund, a longtime investor in Walmart with more than $300 billion in assets, has blacklisted the retailing behemoth, citing poor labor practices and the company's anti-union stance as the driving force behind its rejection.
► At AFL-CIO Now — New agreement set for Sodexo workers worldwide — Food service giant Sodexo, with 391,000 employees worldwide — including some 18,000 in the United States — and International Union of Food Workers have signed an agreement confirming Sodexo's commitment to respect fundamental rights at work, namely freedom of association and collective bargaining.
► In today's LA Times — Obama rule would let undocumented stay in U.S. during application — The Obama administration will announce Friday a proposed new regulation that would allow certain undocumented immigrants to remain in America while applying for legal status — a step aimed at keeping families intact and one that may also shore up the president's support with Latino voters.
► In today's NY Times — Students of online school are lagging — The number of students in virtual schools run by educational management organizations rose sharply last year, and far fewer of them are proving proficient on standardized tests compared with their peers in charter schools and in traditional public schools.
► In today's NY Times — Californians are asked for $6.9 billion in new taxes — Gov. Jerry Brown called on California voters Thursday to approve $6.9 billion in temporary new taxes, including a surcharge on big earners, as part of yet another bad-news budget proposal, this one for 2012.
---
1% HONESTY
► At TPM — Romney's claim to be a job creator hits the skids — Mitt Romney's effort to disguise one of his biggest political liabilities has hit a major snag — one that may force him to abandon his most effective but misleading talking points about his work in the private sector.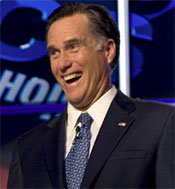 ► In today's NY Times — Bain, Barack, and jobs (Paul Krugman column) — Romney claims that Obama has been a job destroyer, while he was a job-creating businessman. But his claims about the Obama record border on dishonesty, and his claims about being a job creator would be nonsense even if he were being honest about the numbers, which he isn't.
When the dust settled after the companies that Bain Capital restructured were downsized (during Romney's tenure there), the jobs that were lost paid more and had better benefits than the jobs that replaced them. Romney and those like him didn't destroy jobs, but they did enrich themselves while helping to destroy the American middle class. And that reality is, of course, what all the blather and misdirection about job-creating businessmen and job-destroying Democrats is meant to obscure.
---
TODAY'S MUST-READ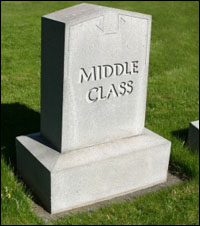 ► At OpEdNews.com — It's official: Government statistics show the middle class is dead (by Chaz Valenza) — Peruse last year's government figures for the average American family's spending and debt.  The conclusion is dumbfounding: it's official, 2011 was the year the middle class died. Beginning last year the average American family:  could not afford the average single family house… depended on their employer for health care insurance or went without… were in debt with no way out… didn't pursuing further education… saved nothing… slashed their food budget to the bone… and paid at least 30% of their gross wages in taxes.
---
The Stand posts links to Washington state and national news of interest every weekday morning by 9 a.m. These links are functional at the date of posting, but sometimes expire.
Short URL: https://www.thestand.org/?p=8604
Posted by
David Groves
on Jan 6 2012. Filed under
DAILY LINKS
. You can follow any responses to this entry through the
RSS 2.0
. Both comments and pings are currently closed.