AFL-CIO opposes UI-payroll tax deal that 'blames' wrong people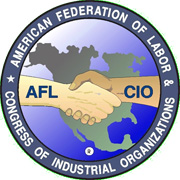 The AFL-CIO has sent a letter to all members of Congress saying the nation's largest labor federation cannot support the legislation (H.R. 3630) in Congress on unemployment insurance and maintaining the Social Security tax break (H.R. 3630)  — which will be voted on today — because it weakens the extended unemployment benefit program for the long-term unemployed and funds the program by asking the wrong people to pay.
Here is the text of the letter:
Dear Representative:
Federal unemployment benefits and the temporary payroll tax cut need to be extended through the end of this year because the jobs crisis is far from over and the economic recovery is still fragile. Withdrawal of these critical economic supports would compound the already unacceptable hardship of jobless families and jeopardize the recent promising signs of job growth. By contrast, the conference report for HR. 3630 would reduce the number of weeks of unemployment benefits available for unemployed workers and gratuitously penalizing federal employees.
Any offset to this package will reduce its effectiveness in stimulating economic growth and creating jobs, and for this reason federal extended benefits have historically not been offset. However, if there has to be an offset in this bill, it should be a surtax on incomes over $1 million. Republicans in Congress have insisted on protecting millionaires at the expense of jobless workers and middle income working class Americans.
Unemployed workers and federal employees continue to be blamed for problems they did not cause. Meanwhile, the people who did cause the crash of2008, from which our economy is still slowly recovering, have largely gotten off scot free. Shared sacrifice should start at the top, with a surtax on millionaires, not with unemployed workers or middle class working families who provide vital services to the federal government.
For all of these reasons, the AFL-CIO cannot support H.R. 3630.
William Samuel, Director
AFL-CIO Government Affairs Department
Short URL: https://www.thestand.org/?p=10556
Posted by
David Groves
on Feb 17 2012. Filed under
NATIONAL
. You can follow any responses to this entry through the
RSS 2.0
. Both comments and pings are currently closed.