SHB 2413 would protect people from dangerous pesticide drift
By DAVID GROVES
The Stand
---
OLYMPIA (Feb. 3, 2012) — Imagine an occupation where three of every four workers were suffering illness or injury resulting from avoidable exposure to dangerous chemicals. Work safety regulators, lawmakers — and the employers themselves — would be tripping over each other in a scramble to fix the problem out of concern for lawsuits the workers.
Not if you're a farm worker.
In 2008, the latest year for which data is available, Washington State agencies reported that more than 80 farm workers were harmed by pesticide drift or spray incidents involving crop dusters or air-blast sprayers. Those are just the reported cases, and that's just within one year.
Some might say that these workers have protections under current law because they can sue the neighboring applicator or farmer who sprayed them. But you can imagine how likely folks are to file reports or a lawsuit if they have language barriers or fear retaliation. Some are afraid to ask for a glass of clean water, much less report a work injury to a government agency or sue.
State Department of Health focus groups have found that more than 75% of farm workers reported they had experienced symptoms from pesticide exposure. The problem is absolutely pervasive, but existing laws do a better job protecting plants and animals than they do human beings.
That was the testimony heard in Olympia by advocates for HB 2413, sponsored by Rep. Chris Reykdal (D-Olympia), which would establish standards to protect people from exposure to pesticide drift by airplane or air-blast sprayers. The legislation is supported by dozens off organizations that comprise the Farmworker Coalition, including environmental groups, advocates for the Latino population, legal services, and labor unions.
HB 2413 stumbled a bit out of the gate in the House Labor & Workforce Development Committee. Not only did farmers' groups aggressively lobby against it, some state agencies expressed concerns about the costs of its implementation and enforcement. Plus, the legislation was the subject of a rather one-sided Yakima Herald-Republic report in which Sen. Jim Honeyford (R-Sunnyside) called it an "attack" on the agriculture industry and Rep. Curtis King (R-Yakima) said it would cost taxpayers millions of dollars amid the budget crisis.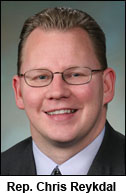 As often happens following the airing of grievances at committee hearings, Rep. Reykdal offered a substitute bill that addressed many of the specific concerns. The new bill reduced the buffer zone from a half-mile to a quarter-mile and in such a way "to ensure that no working agricultural land is lost," Reykdal said. Plus, it clarified when and to whom written notice of pesticide application must be provided. Enforcement and other provisions cited by state agencies were also changed. The end result was a "fiscal note" of zero, meaning that it will cost the state nothing to implement. Substitute HB 2413 was passed by the committee on Monday.
On Thursday, the bill had another hearing, this time in the House Health and Human Services Appropriations, a fiscal not a policy committee. Given the ominous budget situation hanging over the state, proponents of the bill emphasized that SHB 2413's cost is nothing, and instead we can expect there to be reductions in workers' compensation costs, medical costs, and incidence of children being sprayed causing lifelong complications and costs.
"This bill is absolutely necessary," said Teresa Mosqueda of the Washington State Labor Council. "Existing law only tells applicators to follow the directions on the pesticide container and not expose people. The labels are inadequate and there is nothing in the law to prevent drift onto humans. The costs of human exposure are high, while the cost to the state for passing this bill is zero."
Despite the good-faith changes intended to address some of their concerns, if anything, farmers' lobbyists stepped up their rhetoric against the bill.
"I don't mean to sound callous, but I don't really care if this does or doesn't have an impact on state agencies," said Jim Halstrom of the State Horticulture Association. "I'm not going to deny that drift does occur in some instances, (but) don't adopt some draconian measure."
He and others launched another broadside assault against the policy, not the cost, of protecting farm workers against pesticide drift exposure. They said it would decimate the state's agriculture industry.
The agriculture lobbyists' sky-is-falling predictions focused exclusively on how the law might affect farmers. Not one word was spoken about the victims upon whom the poisoned sky actually falls, such as the 47 apple harvesters who needed medical care in 2008 after a single incident of a cropduster spraying herbicide on an adjacent alfalfa field that drifted onto them, causing respiratory problems, headaches, nausea, and dermal and gastrointestinal symptoms.
Currently, state law protects wine vineyards with a one-mile buffer and federal law protects salmon streams from exposure to this kind of toxic pesticide drift, but there is no buffer for workers. Both the Department of Health and the Department of Labor and Industries have testified that pesticide drift is a serious issue that must be addressed.
The question should be how we do it, not whether we do it. Human beings who live and work in this state deserve at least as much protection as we give to a grape.
Short URL: https://www.thestand.org/?p=9964
Posted by
David Groves
on Feb 3 2012. Filed under
STATE GOVERNMENT
. You can follow any responses to this entry through the
RSS 2.0
. Both comments and pings are currently closed.