Jobs bill on hold, McKenna stumped, PLAs work…
---
STATE GOVERNMENT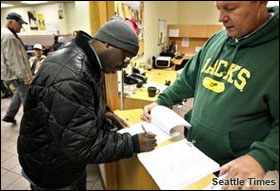 ► In Saturday's Seattle Times — Construction in doldrums, but jobs bill on hold in Olympia — Though there are signs that the economy is slowly starting to improve, the upswing has not yet come to the local construction industry, which is still struggling after a devastating recession. In the Puget Sound region, construction suffered the largest employment losses of any industry, and since then job growth has flat-lined. In Olympia, a bipartisan jobs bill intended to aid the industry has been delayed by the Legislature's budget battle, and a national effort that would fund more projects has been held up, hamstrung by a partisan gulf between House and Senate versions of a transportation and infrastructure bill.
► Saturday from AP — Lawmakers struggle with budget negotiations — While the governor fumes, state legislators say their budget deadlock now comes down just to differences over pension and school-district payments.
► In Saturday's Olympian — Are pension cuts "reforms" or "class warfare?" Lawmakers differ — One week into the Legislature's special session, there is little consensus over a Senate Republican budget proposal that skips a $143 million payment to reduce liability in the state's two worst-funded pension plans, then pays it back by cutting benefits for future state hires.
► At Publicola — Zarelli budget keeps unpopular bank loophole intact — A savings that everyone else in the room — Democrats and Republicans — agrees on except Zarelli: Getting rid of the $20 million exemption for big banks on interest earned from first-time mortgages.
► In the Tri-City Herald — Health care proposal worries educators — A couple who are both Pasco School District teachers are considering retiring early and moving to Montana because of a proposal in the Washington Senate to establish a single insurance policy for all public school employees.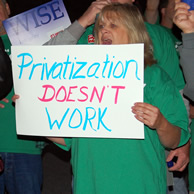 ► In today's News Tribune — State weighs more private contracts in cost-saving measure — A decision is due by October on whether to roughly double the amount of central state-government printing that is farmed out to private companies. It's all part of the authority lawmakers gave the governor last year to put back-office work out to bid in search of cost savings. The targeted work at the state printer alone accounts for more than $8 million in spending on bulk printing.
► From AP — Opponents try to cut off liquor privatization — A judge is hearing arguments over whether voters would have approved an initiative to privatize liquor sales if it had not included a provision for public safety funds.
► In the PS Business Journal — Who has applied for the most liquor sale sites? Safeway — The grocery store chain had applied for licenses to sell spirits at all 168 of its Washington stores as of Thursday.
---
ELECTION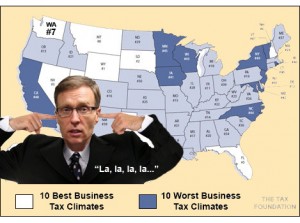 ► In the Columbian — McKenna stumps in Vancouver — Washington needs to get off the Top-10 list of most expensive states to do business in, McKenna said.
EDITOR'S NOTE — The Stand contacted the McKenna campaign in January and asked them to defend this false talking point in the face of numerous studies that show Washington's business climate and taxes to be among the most competitive in the nation. Still no response. But the talking point lives on. At some point, voters are going to ask themselves, do we really want a governor — who's supposed to be a champion for jobs and economic development — who insists your state business climate "sucks," when it clearly doesn't?
► In today's Kitsap Sun — Kitsap Commissioner Brown won't run for Congress — Kitsap County Commissioner Josh Brown, whom outgoing U.S. Rep. Norm Dicks had on a shortlist of possible replacement candidates, announced Sunday that he will not seek Dicks' seat.
► In today's (Everett) Herald — Will Eyman sit out election cycle?— It's mid-March and Tim Eyman isn't running around the state proselytizing on an initiative. Could this be a year Mukilteo's initiative impresario doesn't try to push an initiative onto the ballot?
---
AEROSPACE
► In the PS Business Journal — Aerospace parts makers add workers to supply Boeing ramp up— Aerospace suppliers around Western Washington are bulking up, expanding their buildings and adding machines as they respond to a deluge of work.
► In the Seattle Times — Boeing CEO McNerney got $23 million in 2011 compensation — Chief Executive Jim McNerney earned total compensation of almost $23 million in 2011, up 16% from $19.7 million in 2010.
---
LOCAL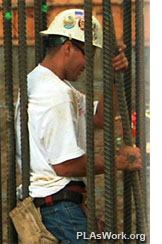 ► In the News Tribune — Labor agreements iron out issues before construction starts (by Pat McCarthy and Joni Earl) — As our region struggles to recover from the recession, Sound Transit's preparation to build more than $9.5 billion in light rail extensions offers a bright spot on the immediate horizon. On Feb. 23, the Sound Transit Board unanimously decided that these projects will be built by thousands of diverse and skilled local workers within the same Project Labor Agreement that helped deliver the Central Link light rail line on time and within budget.
► In today's News Tribune — Project Labor Agreements serve public interest (letter by Mark Martinez) — In the name of good business practice, government should be able to use proven tools to build our schools and infrastructure. PLAs have that proven track record.
---
HEALTH CARE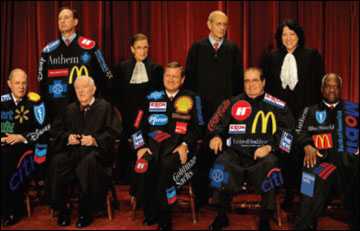 ► At TPM — Supreme Court prepares to determine fate of U.S. health system — The main question facing the justices is whether the law's requirement that Americans purchase insurance falls within the limits of federal power under the Constitution. They'll also hear arguments on whether, if the mandate is deemed unconstitutional, other aspects of the law such as the Medicaid expansion and coverage guarantee also need to be struck down. There's also a chance that the court will punt the case to after 2014 under a law that says a tax may not be challenged in court until it is being collected.
► In today's NY Times — Hurray for health reform (Paul Krugman column) — Despite some imperfections, the Affordable Care Act would do a lot of good and must be defended.
► In today's Washington Post — This cost-cutting Medicare reform deserves a chance (editorial) — Republicans who chafe at ceding control of Medicare policy to an unelected independent body, are trying to dismantle the cost-cutting program even before it gets started.
---
NATIONAL
► At AFL-CIO Now — Its a JOBS-killing bill — An urgent e-mail from AFL-CIO President Richard Trumka is urging activists to tell their U.S. senators to oppose the cynically named JOBS Act, which some members are rushing through to deregulate Wall Street. Trumka says senators instead should support amendments that would make the bill less harmful to working families.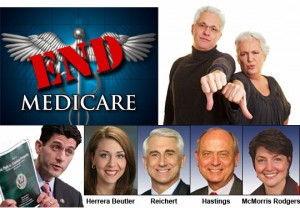 ► In today's Washington Post — House GOP's Ryan to unveil new budget — A year ago, embracing Ryan's budget with its deep spending cuts and a proposal to privatize Medicare, became a badge of loyalty for conservatives.
EDITOR'S NOTE — Every Republican member of Congress from Washington state supported Rep. Ryan's plan to cut Medicare and turn it into a voucher program, despite overwhelming public opposition.
► In today's Dayton Daily News — Both sides gearing up for 'right-to-work' battle in Ohio — Iowa's experience with its right-to-work law could foreshadow events in Ohio as a possible battle brews over establishing a right-to-work law here.
► From AP — Michigan Gov. Snyder signs bill limiting dues collection — Gov. Rick Snyder (R) signed a measure banning public schools from automatically deducting union dues from the paychecks of teachers and other employees.
---
TODAY'S MUST-SEE
► "Explain it to me, GOP" (by AFGE)
---
The Stand posts links to Washington state and national news of interest every weekday morning by 9 a.m. These links are functional at the date of posting, but sometimes expire.
Short URL: https://www.thestand.org/?p=11692
Posted by
David Groves
on Mar 19 2012. Filed under
DAILY LINKS
. You can follow any responses to this entry through the
RSS 2.0
. Both comments and pings are currently closed.