Cost of ACA repeal, government layoffs, GOP targets federal employees…
---
AFFORDABLE CARE ACT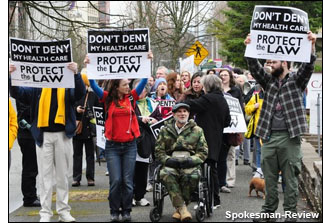 ► In today's Spokesman-Review — Protesters object to state's role in case— As the U.S. Supreme Court questioned lawyers about the constitutionality of the Affordable Care Act, its supporters protested outside the Olympia offices of the National Federation of Independent Business and state Attorney General Rob McKenna, who oppose it.  "We need to change things for the next generation, so they don't get worse," said Aaron Kathman, a community organizer from Spokane.
ALSO at The Stand — Legal twists, turns of McKenna's court case (by Brendan Williams)
► In today's NY Times — In court, sharp questions on health care law's mandate — A lawyer for the administration faced a barrage of skeptical questions on Tuesday from four of the Supreme Court's more conservative justices, suggesting that a 5-to-4 decision to strike down the law was a live possibility.
► In today's Seattle Times — Washington's '93 health overhaul faltered with loss of mandate — In the early 1990s, the state created a comprehensive package using mandates and incentives to get all state residents insured. But when the package was dismantled, a spiral began that led insurers to stop selling individual policies.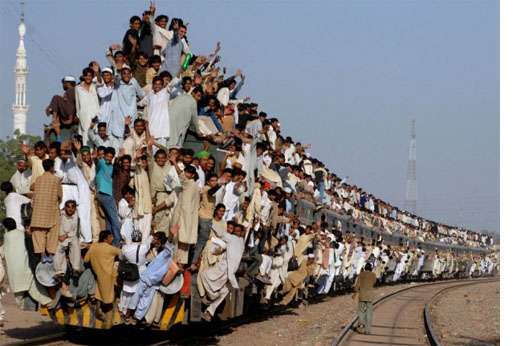 ► In today's Seattle Times — Health-care freedom can be costly (Danny Westneat column) — The amount of "charity care" delivered at state hospitals has reached the $1 billion mark. Five years ago, the figure was only half that. Combined with the $895 million uncollected in 2011 due to "bad debts," local hospitals now face $2 billion in unpaid bills every year. And rising fast. If we strike down 'Obamacare,' what are some "freedom-preserving" ways of tackling this very real problem? The lawyer for arguing for repeal suggested, "The most straightforward one would be to figure out what amount of subsidy to the insurance industry is necessary… (and) we could have a tax that's spread generally through everybody… to pay for that subsidy." Uh … our unpaid hospital bills for one year, in this one state, now amount to two billion dollars! Instead of asking the free riders to pay, the constitutional solution apparently is to tax all of us into the poorhouse. The good news is we'll still be free. Broke but free.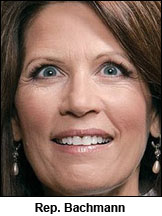 ► At Huffington Post — Health reform protest highlight's opposition's terrifying vision of the future — "In the future, you see, we will not be electing a president. We will be electing a health care dictator," Rep. Michele Bachmann (R-Minn.) warned the attendees. Protesters held aloft "Don't Tread On Me" banners, American flags, and signs with messages like "NYET COMMIE CARE."
► At TPM — The John Roberts Court on trial — If the Affordable Care Act goes down — especially if it suffers the same schismatic 5-to-4 blow sustained by the McCain-Feingold campaign finance law in the Citizens United case — critics will accuse the Roberts Court of rigging the game and covering their power play with constitutional doublespeak.
► At TPM — How liberal-leaning judges did better job at defending 'Obamacare' — The Obama administration's top legal advocate was pilloried Tuesday for offering a less-than-eloquent constitutional defense of the health care reform law's individual mandate — the provision at the heart of the challenge to "Obamacare." Thankfully for supporters of the law, some of the sharpest legal minds in the country unintentionally articulated his case better than he did — the justices themselves.
► In today's NY Times — The Supreme Court's momentous test (editorial) — The Supreme Court justices must accept limits on their power and uphold the individual health insurance mandate.
---
STATE GOVERNMENT
► In today's Olympian — Teachers' union points to high costs in short term to health changes— The Washington Education Association is mounting a fierce campaign at the Legislature this year to defeat a proposed consolidation of school health insurance. It would cost the state some $12.4 million the first year alone, a point the WEA is driving home. But the proposal by Sen. Steve Hobbs (D-Lake Stevens) to create a single state insurance pool to keep down premium costs over the long haul appears to be surviving the union's attack, at least for now.
► In today's Spokesman-Review — Councilwoman hopes to unseat Senate Majority Leader Lisa Brown — The Democratic majority leader is facing her first reelection challenge by an opponent with a winning campaign history: Republican Spokane City Councilwoman Nancy McLaughlin.
---
LOCAL
► In today's Columbian — Government layoffs sour Clark County recovery — Clark County's private sector made a decent showing in February, adding 1,600 jobs over the past year. But the hard-hit public sector, including school districts and governments that are among the county's top employers, continued to shed jobs — 700 in the 12 months through February. As a result, the county was left with an unemployment rate of 11%.
►  More county unemployment coverage — Cowlitz (11.8%), Pierce (9.8%▲), Skagit (10.7%▼), Snohomish (8.9%▲), Spokane (10.1%▲), Thurston (8.5%▲), Tri-Cities (10.1%▲), Whatcom (8.5%▲), Yakima (11.9%▲)
► In today's News Tribune — Pierce Co. to pay $850,000 to 3 Washam employees— Legal bills tied to Pierce County Assessor-Treasurer Dale Washam tripled Tuesday as county leaders settled a trio of claims for damages filed by current and former Washam employees.
► In today's (Everett) Herald — Safety, jobs at issue in Bothell annexation — Bothell again is trying to annex a chunk of unincorporated south Snohomish County. Much of the controversy revolves around staffing at Fire Station 22.
---
NATIONAL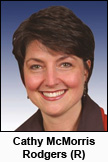 ► In today's Washington Post — New GOP budget proposal would change federal retirement, health contributions — The conservative Republican Study Committee's budget proposal hopes to trim $110 billion in federal spending over 10 years by requiring federal employees to contribute more to their retirement plans. The RSC proposes to equalize contributions, which would mean about a 6 percentage point increase in the employee share.
EDITOR'S NOTE — This right-wing RSC group that also supports Ryan's Medicare-privatizing budget and cutting taxes again for the rich and corporations includes Washington's own U.S. Reps. Jaime Herrera Beutler and Cathy McMorris Rodgers.
► In today's Washington Post — House passes JOBS Act, sends bill to Obama — The House overwhelmingly approved the JOBS Act on a 380-41 vote Tuesday with strong support from both parties and the White House. Critics (including the AFL-CIO) say that the changes would allow firms to avoid disclosing crucial financial information and elude government oversight, opening the door to fraud and investor abuse.
EDITOR'S NOTE — Rep. Jim McDermott was the only member of Washington's U.S. House delegation to vote "no."
► In today's St. Joseph N-P — Rallies draw thousands to Missouri Capitol — Thousands crammed into the Missouri Capitol and spilled out across its lawn Tuesday. Outside the Capitol, thousands of union members rallied against efforts by the Republican-led Legislature to pare back wage requirements on public works projects and to make Missouri a "right-to-work" state.
---
TODAY'S MUST-READ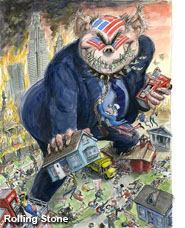 ► In the latest Rolling Stone — Bank of America: Too Crooked to Fail (by Matt Taibbi) — At least Bank of America got its name right. The ultimate Too Big to Fail bank really is America, a hypergluttonous ward of the state whose limitless fraud and criminal conspiracies we'll all be paying for until the end of time. Did you hear about the plot to rig global interest rates? The $137 million fine for bilking needy schools and cities? The ingenious plan to suck multiple fees out of the unemployment checks of jobless workers? Take your eyes off them for 10 seconds and guaranteed, they'll be into some shit again: This bank is like the world's worst-behaved teenager, taking your car and running over kittens and fire hydrants on the way to Vegas for the weekend, maxing out your credit cards in the three days you spend at your aunt's funeral. They're out of control, yet they'll never do time or go out of business, because the government remains creepily committed to their survival, like overindulgent parents who refuse to believe their 40-year-old live-at-home son could possibly be responsible for those dead hookers in the backyard.
---
The Stand posts links to Washington state and national news of interest every weekday morning by 9 a.m. These links are functional at the date of posting, but sometimes expire.
WASHINGTON IS A UNION STATE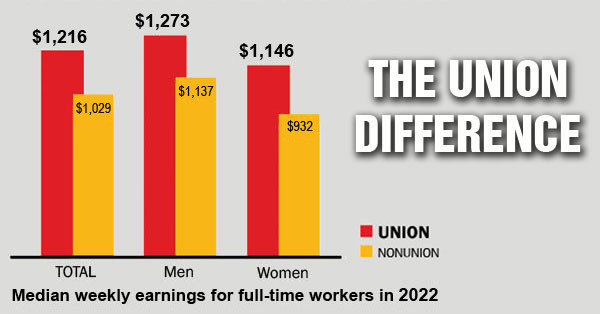 CHECK OUT THE UNION DIFFERENCE in Washington state: higher wages, affordable health and dental care, job and retirement security.
FIND OUT HOW TO JOIN TOGETHER with your co-workers to negotiate for better working conditions and respect on the job. Or go ahead and contact a union organizer today!