Allied sanitation workers honor pickets of Alabama Teamsters
UPDATE (April 2) — Puget Sound-area Teamsters have taken down their picket lines at Allied Waste sites. The company is back to the bargaining table with Local 991 in Mobile, Alabama. Local Teamsters send their thanks to all of you who stepped up to support our brothers and sisters at Allied Waste!
---
The following press release was distributed Thursday, March 29 by Teamsters Local 117:
---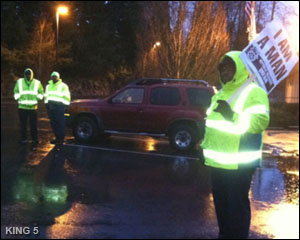 Puget Sound sanitation workers, employed by Allied Waste/Republic Services, honored picket lines on Thursday morning that were established by striking Teamsters from Alabama. Picket lines were set up at the company's facilities in Seattle, Bellevue, Lynnwood, and Kent/Kent Meridian.
Known as Republic Services nationally, the company provoked the strike when it violated federal labor law and backed out of a negotiated contract with Teamsters Local 991 in Mobile, Ala. The company rescinded the agreement because it wanted to impose greater cuts to workers' health care coverage. Workers in Mobile struck the company on Thursday, March 22. Pickets immediately extended to Buffalo, NY, and Columbus, OH before reaching Western Washington early this morning.
"Republic's reneging on its negotiated agreement and violating federal law show that the company is more concerned with maximizing corporate profits than with taking care of its customers and ensuring the health and safety of its workers," said Tracey A. Thompson, Secretary-Treasurer of Teamsters Local 117.
In 2011, Republic earned $8.2 billion in revenues and declared profits of $589 million, up 15 percent per share from 2010. When garbage, yard waste, and recycle drivers arrived to work early this morning, they informed their employer of their intent to exercise their contractual right to honor the picket line.
"We are standing strong in solidarity with our Brothers and Sisters in Alabama. We will not allow Republic to trample on our rights and erode our health care coverage. We won't stand for it here or anywhere else in the country," said Shop Steward, Roderick Holmes, a 15-year residential recycle driver at Allied Waste's Bellevue facility.
The National Labor Relations Board is investigating several labor law violations committed by Republic, including bargaining in bad faith. Mobile's drivers were set to vote on their tentative contract agreement on Feb. 17. The day before, Republic announced that it was withdrawing the agreement.
"Unfortunately, the situation in Alabama isn't an isolated case," said Teamsters Solid Waste, Recycling and Related Industries Division Director Robert Morales. "In the last year, Republic has increasingly tried to intimidate, harass and bully its employees to the detriment of both workers and customers."
In Columbus, Ohio, and Buffalo, New York, Republic has been demanding pay, health care and retirement concessions since contract negotiations started last year. In Kansas City, Republic tried to strip employees of some of their overtime pay. In Canton, Ohio, Republic tried to bully workers into giving up their union health care plan.
Contracts for approximately 100 Puget Sound-area recycling and yard waste drivers, employed by Allied Waste, expire at the end of May. Contract negotiations between Teamsters Local 117 and the company began on March 27.
The Teamsters represent approximately 9,000 employees at Republic Services and its subsidiaries at more than 150 facilities throughout the U.S., Puerto Rico, and Canada.
---
Also see KING 5's video coverage.
Short URL: https://www.thestand.org/?p=12135
Posted by
David Groves
on Mar 29 2012. Filed under
LOCAL
. You can follow any responses to this entry through the
RSS 2.0
. Both comments and pings are currently closed.