'Mediscare Hooey,' broken revenue system, Little Boxes…
---
'MEDISCARE HOOEY'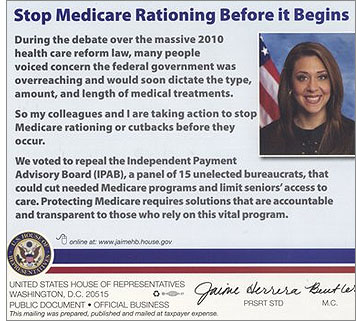 ► In today's Columbian — Herrera Beutler Medicare flier's claims challenged — The flier, which cost the government $37,000 to print and distribute, claims "Obamacare" will ration Medicare services to seniors, cut $500 billion from Medicare to expand another entitlement, and bankrupt the Medicare fund in nine years. Fact checkers at the Washington Post have called a Republican ad that makes similar claims "Mediscare hooey," partly because it includes the claim that the advisory board would have the power to ration Medicare services. As for the claims that Medicare will be bankrupt in nine years, PolitiFact says this claim is false.
EDITOR'S NOTE — Apparently, Rep. Herrera Beutler is feeling the pre-election jitters about her votes in favor of privatizing Medicare into  a voucher program, which earned her "boos and catcalls" at a town hall forum last year. Since then, she has stopped having town hall meetings that are open to the public, and instead has had invitation-only "coffee meetings" with her constituents.
---
STATE GOVERNMENT
► In today's Seattle Times — States' tax coffers brim again, but not in this state — The total amount of tax revenue collected by the states in the fourth quarter of 2011 was 3% higher than during the last quarter of 2007, when the recession hit. But in Washington, tax collections were about 7% less than four years ago. This state relies heavily on sales-tax collections, which haven't returned to their peak. While consumer spending largely has returned, construction remains in the dumps. And construction historically has been a big generator of sales taxes.
EDITOR'S NOTE — This was part of the case for the Infrastructure Jobs Bonds legislation that was (eventually) passed by the 2012 Legislature. But ultimately, this state needs to take the blinders off and deal with…
► From the Washington State Budget & Policy Center — (enlarge)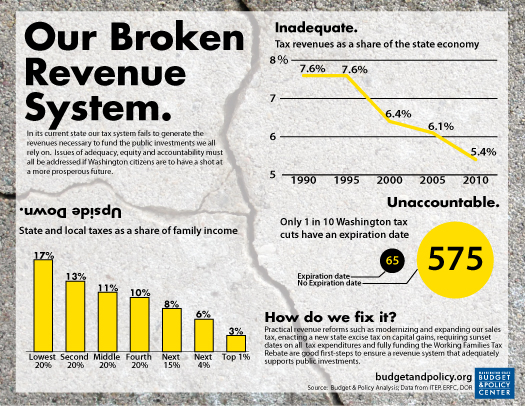 ► And a related story in today's (Everett) Herald — State ranks 5th "best" in business tax rankings — Washington's business tax structure is the nation's fifth-best, according to a report by the Small Business & Entrepreneurship Council. The only states ranked higher than Washington are South Dakota (1), Texas (2), Nevada (3) and Wyoming (4).
► In today's Olympian — Head of State Board for Community and Technical Colleges to retire — Charlie Earl, who has led the community college system for six years, announced that he is retiring, effective July 31.
► In today's Olympian — State: New contract saves $3M per year in office supplies— The new state Enterprise Services contract splits the supplier role in two — letting Office Depot supply paper and office supplies and Office Pal supply ink products and toner.
---
LOCAL
► In today's Columbian — Groups protest outside labor on grain silo project — A group of concerned citizens demonstrated outside the Port of Vancouver on Thursday, saying United Grain Corp. is using foreign workers to build a grain silo.
► In today's Columbian — State panel backs ruling on officer— PERC upheld a labor examiner's 2010 ruling that Vancouver police administrators deliberately passed over a former police guild president for a job he sought because of his union involvement.
---
NATIONAL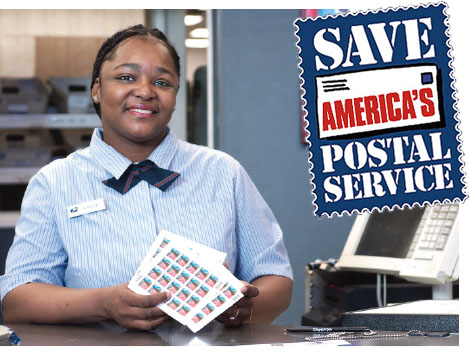 ► In today's Washington Post — How some senators would fix the Post Service — Senators spent most of the week debating a measure to overhaul the Postal Service by giving it $11 billion to offer buyouts to hundreds of thousands of employees, to eventually end six-day mail delivery — if it is is deemed financially necessary — and to possibly end delivery of mail to door-side mailboxes in favor of more centralized locations. Several senators this week fought hard to protect tiny post offices in rural hamlets. Late Thursday, Senate leaders agreed to a list of at least 38 amendments — but aides said the list likely will be shortened to fewer than 20 in time for votes on the amendments and final passage of the bill next Tuesday.
TAKE A STAND! The latest Action Alert from the National Association of Letter Carriers urges calls TODAY to U.S. Senators with specific messages about these amendments.
► At AFL-CIO Now — Families urge faster action on life-saving work safety rules — Unions, public health scholars and Washington watchdogs pushed Thursday for a simpler and more transparent regulatory process for creating workplace health and safety rules.
► From AP — U.S. Air strikes deal with AMR unions — US Air said Friday it has made deals with the three unions at American Airlines, contingent on a possible merger of the two airlines. The contracts would cover American Airlines workers were there to be a merger with US Airways, but no deal on a merger has been made.
► In today's NY Times — Rejecting 'Buffett rule,' House passes business tax cut — The House on Thursday passed a $46 billion tax cut that would benefit almost every business in the country, after a class-conscious debate that highlighted the gulf between the parties as the sluggish recovery drags on.
► In today's NY Times — Fears rise once more that recovery may be faltering — Some of the same spoilers that interrupted the recovery in 2010 and 2011 have emerged again, raising fears that the winter's economic strength might dissipate in the spring.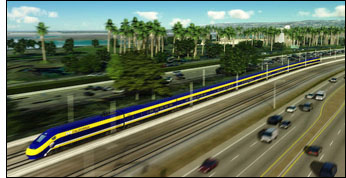 ► At TPM — What does the battle over California's high-speed rail project mean for America? — In California, the car is still king. But that could be a different story by 2028 — when a proposed massive, 520-mile-long high speed rail project, intended to span the state from north to south, Sacramento to San Diego, is supposed to be completed, ideally making the Golden State into America's first-ever bullet train hub. But the project, which is projected to be able to take riders from Los Angeles to San Francisco in 2 hours and 40 minutes, traveling at up to a peak of 220 miles-per-hour in some sections, costs an estimated $68 billion, has run into heavy interference recently.
---
T.G.I.F.
► In honor of 4/20, here's "Little Boxes" by a band called Walk Off the Earth, introduced to The Stand by our 12-year-old daughter. If you likey, check out their cool cover of Gotye's "Somebody I Used to Know" (unless you are already one of its 92 million-plus viewers).
Have a great weekend — brought to you by the Labor Movement!
---
The Stand posts links to Washington state and national news of interest every weekday morning by 9 a.m. These links are functional at the date of posting, but sometimes expire.
Short URL: https://www.thestand.org/?p=12745
Posted by
David Groves
on Apr 20 2012. Filed under
DAILY LINKS
. You can follow any responses to this entry through the
RSS 2.0
. Both comments and pings are currently closed.