ALEC update, Probst for Senate, exposed Kochs…
---
ALEC UPDATE
► In the NY Times — Conservative nonprofit ALEC acts as stealth business lobbyist — Most recent attention has focused on ALEC's role in creating model bills that advance a pro-business, socially conservative agenda. But a review of internal ALEC documents shows that this is only one facet of a sophisticated operation for shaping public policy at a state-by-state level. The records offer a glimpse of how special interests effectively turn ALEC's lawmaker members into stealth lobbyists, providing them with talking points, signaling how they should vote and collaborating on bills affecting hundreds of issues like school vouchers and tobacco taxes.
► From AP — ALEC hit with IRS complaint — Open government advocates accused a conservative legislative group Monday of falsely claiming tax-exempt status while doing widespread lobbying.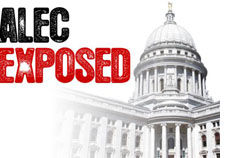 EDITOR'S NOTE — Last week, The Stand urged readers to contact Washington state legislators with ties to ALEC, as listed by the "ALEC Exposed." Sen. Brian Hatfield (D-19th) told a constituent, "In 16 years as a legislator, I've attended two (ALEC) meetings." (But he didn't indicate whether he planned to attend any more.)
Rep. Kevin Van De Wege (D-24th) sent a constituent the following statement:
"I have decided to resign my membership from ALEC, effective April 11, 2012. As a legislator, my job is to represent the interests of all my constituents, not just those whose views align perfectly with mine.  I have been a member of ALEC since I was first elected to the Legislature, and my very-limited participation enabled me to learn more about the organization's legislative agenda and its stance on issues.  I thought this insider's view would help me to better understand those who do not agree with me politically, and in many ways, it has. However, my membership status is increasingly becoming a divisive issue this year, and I prefer to put my time and energy into efforts that unite our district rather than divide it."
That leaves Rep. Jan Angel (R-26) and Sen. Don Benton (R-17), who are ALEC's "State Chairmen," plus Reps. Matt Shea (R-4), Gary Alexander (R-20), Troy Kelley (D-28), Charles Ross (R-14), Barbara Bailey (R-10), Joe Schmick (R-9), Kevin Parker (R-6), Mike Armstrong (R-12) and Bill Hinkle (R-13), and Sens. Val Stevens (R-39), Linda Evans Parlette (R-12), Joseph Zarelli (R-18), Michael Carrell (R-28), Pam Roach (R-31), Doug Ericksen (R-42), Janea Holmquist Newbry (R-13), Randi Becker (R-2), Mike Hewitt (R-16) and Jerome Delvin (R-8).
If one of these legislators represents you, contact them and urge them to drop all ties with ALEC. Let us know if they respond. The Stand will be happy to update this list if legislators report that they no longer participate in ALEC.
---
ELECTION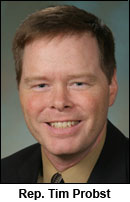 ► In today's (Vancouver) Columbian — Rep. Probst running for State Senate — State Rep. Tim Probst (D-Vancouver) has announced he will run for the 17th District state Senate seat currently held by Don Benton (R-Vancouver). Probst said he has "consistently pursued a centrist agenda of low taxes and low debt, coupled with economic growth" since he began serving in the state House.
► In the Seattle Times — Cantwell opponent repeats myths, overstates case on health law — Republican Senate candidate Michael Baumgartner distorts facts in claiming that the Affordable Care Act would strip Americans of their choice of doctors and treatments while entrusting treatment choices to bureaucrats.
EDITOR'S NOTE — Apparently, Baumgartner gets his talking points from the same place Rep. Jaime Herrera Beutler gets hers.
► In today's News Tribune — Many parishes collecting signatures on Ref. 74— Responding to an appeal from their archbishop, most Catholic parishes in Western Washington are collecting signatures after Masses this weekend and over the next few months for Referendum 74, the ballot measure seeking to overturn the state's new same-sex marriage law.
► From AP — State coffers won't require new revenue, Inslee says — The Democratic gubernatorial candidate says he is focused on raising state revenue by encouraging economic growth. He also believes the state can free up more cash for education by making government more efficient and curbing health care costs. He said he is proposing no new taxes.
---
STATE GOVERNMENT
► In today's Olympian — Big budget cuts were avoided; some will still experience pain — The supplemental budget that pays for state government through June 2013 includes $295 million in spending cuts, including cuts for local hospitals, cuts in payments to boarding homes, and staff cuts in government agencies that serve the public.
► From AP — Fewer students means less money for schools — State lawmakers have trumpeted since passing a bipartisan spending plan that is the first budget in three years that includes no new cuts to K-12 education. But because of a lower-than-expected increase in student enrollment, schools will be forced to make do with $61 million less than what had been earmarked by the state.
► In the P.S. Business Journal — State picks Deloitte to start building a Health Exchange — Deloitte LLP has been declared the "apparently successful vendor" to build the technical infrastructure of the health insurance program.
---
LOCAL
► In the Spokesman-Review — Officials say Geiger to close — The Spokane County Sheriff's Office will close the Geiger Corrections Center because of a decision by the city of Spokane to move inmates to another county, officials said late Friday. About 80 people work at Geiger. Officials say they are looking for ways to move those employees to other positions in the Sheriff's Office.
► In today's Seattle Times — Metro riders face big changes — King County Metro Transit is preparing for what it calls the biggest package of route changes in the agency's history, cutting thousands of service hours from outlying Seattle neighborhoods so more buses run on busier corridors.
► In today's Seattle Times — Kingston-Seattle foot ferry costs public $35,000 per rider — After a review reveals the foot-ferry has drained more than $1 million in Port of Kingston reserves and is on track to burn $52,000 a month for the rest of this year, the Port Commission is considering shutting it down and selling off the two 149-passenger boats.
► In the Kitsap Sun — Prospect of layoffs uncertain at North Kitsap School District
---
NATIONAL
► In today's Washington Post — Postal Service prompts tricky votes in Senate — On Tuesday, the Senate is set to vote on up to 38 amendments to a major bipartisan bill that would reform the Postal Service, including proposals to end six-day mail delivery, continue six-day mail delivery, require USPS to wait two more years before closing small rural post offices, and to close post offices on Capitol Hill.
TAKE A STAND!  Visit the websites of the American Postal Workers Union and the National Association of Letter Carriers for their positions on key amendments and instructions for contacting your U.S. Senators.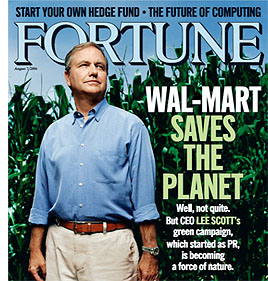 ► In the NY Times — Vast Mexico bribery case hushed up by Wal-Mart after top level struggle — A prolonged struggle occurred at the highest levels of Wal-Mart, a struggle that pitted the company's much publicized commitment to the highest moral and ethical standards against its relentless pursuit of growth. Under fire from labor critics, worried about press leaks and facing a sagging stock price, Wal-Mart's leaders recognized that the bribery allegations could have devastating consequences, so executives focused more on damage control than on rooting out wrongdoing. In one meeting where the bribery case was discussed, H. Lee Scott Jr., then Wal-Mart's chief executive, rebuked internal investigators for being overly aggressive.
► In today's NY Times — The amnesia candidate (Paul Krugman column) — Does the Romney campaign really expect Americans to blame President Obama for his predecessor's policy failure?
► At AFL-CIO Now — New union mentoring guide helps build future leaders — "The Next Generation: A Handbook for Mentoring Future Union Leaders" provides hands-on advice and concrete tools for unions and other organizations to develop and implement mentoring programs for members and staff.
► At Huffington Post — British insurance company mistakenly fires 1,300 employees — Some 1,300 workers received an email from Aviva telling them that they had been dismissed. But the message, which instructed the employees to return company property and keep confidential information secret, was actually only intended for one person.
---
TODAY'S MUST-READ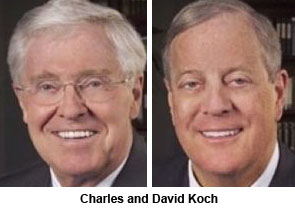 ► In Rolling Stone — The Koch brothers — exposed!— If the Koch brothers didn't exist, the left would have to invent them. They're the plutocrats from central casting – oil-and-gas billionaires ready to buy any congressman, fund any lie, fight any law, bust any union, despoil any landscape, or shirk any (tax) burden to push their free-market religion and pump up their profits. Now the Kochs are the subject of a blistering documentary that activist filmmaker Robert Greenwald says will show America how the brothers' machinations affect the lives of "living, breathing human beings."
ALSO, here's the trailer for the new film, Koch Brothers Exposed. For information about setting up a screening at your union hall or home, click here.
---
The Stand posts links to Washington state and national news of interest every weekday morning by 9 a.m. These links are functional at the date of posting, but sometimes expire.
Short URL: https://www.thestand.org/?p=12806
Posted by
David Groves
on Apr 23 2012. Filed under
DAILY LINKS
. You can follow any responses to this entry through the
RSS 2.0
. Both comments and pings are currently closed.