Union positions, invest in schools & America, best concert film ever…
Friday, June 8, 2012
---
ELECTIONS
► In today's Olympian — Candidates for our governor need to be clear about unions (editorial) — Have we forgotten that the rise of unions essentially created middle-income America, upon which our consumer society has thrived? Do we not see a role for unions in returning prosperity to the middle-income class? It does seem odd that at a time when incomes for the majority of Americans have stayed flat or declined while corporate profits have soared, and when workers are not feeling hopeful about their ability to retire, the collective voice of middle-income families seems to be diminishing.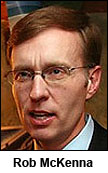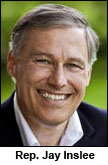 As Washingtonians prepare to elect a new governor, candidates Inslee and McKenna must clearly state their positions on bargaining rights for state workers. Voters need to know where our future governor intends to lead this state, and then cast their ballots accordingly. We don't need the kind of disruptive war that took place in Wisconsin.
► In today's NY Times — Campaigns blitz 9 swing states in a battle of ads — The presidential campaigns and their allies are zeroing in mainly on nine swing states, bombarding them with commercials in the earliest concentration of advertising in the modern political era.
► In today's Columbian — Herrera Beutler to speak at business group's event — Rep. Jaime Herrera Beutler, R-Camas, will speak at the East Vancouver Business Association's NetEvent on Friday, June 15.
EDITOR'S NOTE — Southwest Washington's congresswoman does a fine job meeting with corporate lobbying groups. As for constituents who don't own businesses… not so much.
---
EDUCATION
► In today's Seattle Times — UW Regents call for state funding reform, approve 16% tuition increase — The state funding system for higher education is essentially broken, the University of Washington's regents board declared Thursday. The board approved a strongly worded declaration that called for reform of state finances and revenue. The move marks the first time the 10-member board has spoken in a forceful, unified voice about higher-education budget cuts.
► In today's Spokesman-Review — State auditors urge more money go to classrooms — A new performance audit includes detailed comparisons among school districts of similar size, as well as suggestions about how some are spending more money in the classroom than others.
---
LOCAL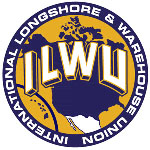 ► From AP — Port of Seattle, longshore workers accuse arena planners of 'land grab'— The Port of Seattle, a business association and the longshoremen union characterized a proposed new events arena in Seattle's industrial district as a "land grab" that threatens jobs because it could increase traffic and land value. "This is just not about a basketball arena. This is about a land grab in the Sodo area and changing it," ILWU's Herald Ugles told the Seattle City Council on Thursday. "You can build a basketball arena anywhere. But you cannot build a world class deepwater port anywhere. And that's what we have in Seattle right now."
► In today's Seattle Times — Industrial users escalate debate over proposed arena
► In today's Yakima H-R — Del Monte completes deal for SnoKist's assets — Del Monte Foods plans to double its pear and cherry production now that it has acquired the assets of bankrupt Snokist Growers. But the San Francisco-based food processing giant still isn't saying what it will do with the Terrace Heights cannery that once employed as many as 600 workers.
► In today's Tri-City Herald — Energy Secretary to visit Hanford — Energy Secretary Steven Chu will visit Hanford from June 14-15 and will meet with Hanford employees to discuss a strong safety culture.
► In today's Bellingham Herald — Whatcom County executive: No staff cuts needed, if labor costs stay flat— "The big challenge is going to be the labor contracts over the next two years," Jack Louws says. "The reality is, we have no more money. Everywhere we increase a cost, correspondingly, we need to cut somewhere else."
► In today's Kitsap Sun — Part of CK teachers' union votes no confidence in superintendent — Members of the Central Kitsap Education Association voted no confidence in the district's superintendent, Greg Lynch.
---
BOEING

► In today's (Everett) Herald — Boeing leads Airbus in orders, deliveries for the year— The Boeing Co. delivered 237 aircraft during the first five months of the year, up nearly 32 percent from the same period in 2011. Boeing said Thursday it handed over 49 aircraft last month as the company strives to meet a delivery goal of between 585 and 600 airplanes this year.
► In today's Seattle Times — In troubled India market, a crucial test for Boeing's 737 MAX — As airlines there jockey for position in an uncertain future, a high-stakes battle for a key Indian order is looming in the bitter sales war between Boeing's 737 MAX and Airbus' A320neo.
---
WE'RE WITH HIM
► In today's Seattle Times — Money spent on infrastructure creates jobs now, invests in the future (by Lance Dickie) — The nation cannot afford the mindless diversions that pass for political debate — purposeful distractions to avoid accountability for real plans. Invest tax dollars in infrastructure, and track the immediate help to the economy and the predictable long-term benefits. Keep America competitive by having a country that functions.
---
WISCONSIN REDUX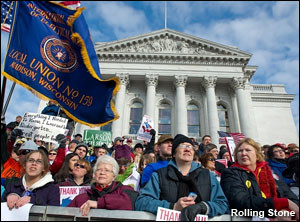 ► In Rolling Stone — After Wisconsin, what's next for organized labor? — Does labor need to change its political strategy? No, says AFL-CIO President Richard Trumka. He allowed that the money was a big factor, while also noting that they've always been outspent. "But what you're seeing right now are massive amounts of money coming in from unaccounted sources." Two-thirds of the money on Walker's side came from out of state, something possible only in a post-Citizens United era of unlimited corporate giving. "That has pretty serious repercussions for our democracy," he said. "Let's be clear: Citizens United has ushered in a new era of elections. And I gotta tell you, it's not a pretty picture."
ALSO at The Stand — Don't let Rob McKenna Wisconsin-ize our state; sign up for Labor Neighbor in June
► In today's Spokesman-Review — Wisconsin's election outcome all about money (by Amy Goodman) — Gov. Scott Walker's win signals less a loss for the unions than a loss for our democracy in this post-Citizens United era, when elections can be bought with the help of a few billionaires.
► A related story in today's NY Times — Approval rating of Supreme Court justices hits just 44% in new poll — Three-quarters of Americans polled say the justices' decisions are sometimes influenced by their personal or political views.
---
CONGRESS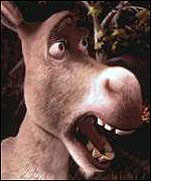 ► In The Hill — Democrats paralyzed on tax cuts — President Obama and key congressional Democrats remain at odds on whether the threshold for extending the George W. Bush-era rates for families should be $250,000 per year or $1 million annually. Obama backs the former while most Democratic leaders, including House Minority Leader Nancy Pelosi and Sen. Charles Schumer, support the higher threshold.
► In The Hill — Left pushes for $10 minimum wage, but House Democratic leadership balks — No Democratic leaders have endorsed the measure, and the silence coming from their offices this week has highlighted the potential political difficulty in raising the minimum wage — a move that's anathema to the powerful business lobby — amid sluggish economic times.
---
NATIONAL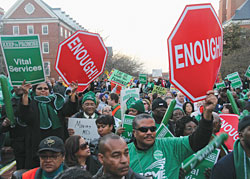 ► In today's Washington Post — Public workers in fiscal, political bullseye — This has been a difficult year for government workers across the country, who are fighting uphill battles to hang on to their pensions and stable salaries — and it's not over yet. From California to Pennsylvania, workers are facing efforts to sharply curtail the job security and benefits they have enjoyed for years, perks long viewed as compensation for the sometimes lower salaries in the public sector.
► At AFL-CIO Now — NMB orders election at American Airlines — The National Mediation Board has decided to move forward with a union election at American Airlines among nearly 10,000 passenger service agents and the CWA. AFL-CIO Transportation Trades Department President Ed Wytkind writes that the NMB did the right thing.
► In The Tennessean — Walmart workers form association to seek better life — A loosely knit association of Walmart employees called the Organization United for Respect at Walmart — OUR Walmart, for short — is prodding the giant retailer to provide better wages, affordable benefits and reasonably reliable schedules for store employees nationwide.
► At MarketWatch — U.S. debt load falling at fastest pace since 1950s — Everyone knows America has too much debt. What they don't know is that things are getting better, not worse.
► In today's NY Times — The Bills to Nowhere (editorial) — This is now the pattern of business in the House of Representatives: Spend most of the time passing bills designed not to become law but to satisfy the ideological desires of conservative voters. And block laws that actually need to get passed.
EDITOR'S NOTE — And speaking of "A Road to Nowhere"…
---
T.G.I.F.
► A reader sent us a great link suggestion for this week's T.G.I.F. song from the greatest concert movie ever made, the Talking Heads' Stop Making Sense. (That's right, fans of Led Zeppelin and The Band. We went there.) But the entire staff of The Stand has voted to call an audible, and choose a different song from the movie. We give you David Byrne and Tina Weymouth performing "Heaven" as the crew — IATSE members, no doubt — set up the stage.
Enjoy, and have a great weekend — brought to you by the Labor Movement.
---
The Stand posts links to Washington state and national news of interest every weekday morning by 9 a.m. These links are functional at the date of posting, but sometimes expire.
WASHINGTON IS A UNION STATE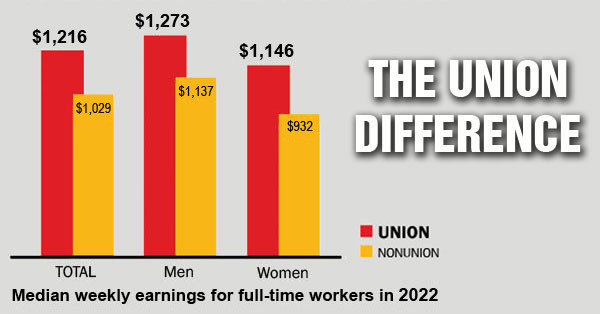 CHECK OUT THE UNION DIFFERENCE in Washington state: higher wages, affordable health and dental care, job and retirement security.
FIND OUT HOW TO JOIN TOGETHER with your co-workers to negotiate for better working conditions and respect on the job. Or go ahead and contact a union organizer today!