Debate reviews, insurers' surpluses, Obama trade leaks, jobless teens…
Wednesday, June 13, 2012
---
ELECTIONS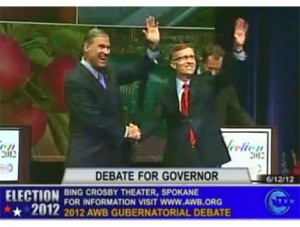 ► From AP — Gubernatorial debate a draw — Republican Rob McKenna and Democrat Jay Inslee offered predictable partisan answers but displayed little fire Tuesday in the first debate of the 2012 race for governor in Washington, a desultory affair in which neither candidate come out a clear winner.
EDITOR'S NOTE — Jeff Johnson, President of the Washington State Labor Council, disagrees. Today in The Stand, he writes that Jay Inslee's values and vision trumped Rob McKenna's slick repackaging of long-sought Republican goals. (Johnson's column is accompanied by TVW coverage of the debate.)
► More debate coverage in today's Seattle Times and (Spokane) Spokesman-Review.
► In today's Seattle Times — Dunn, Ferguson come out slugging in attorney-general debate— Ferguson maintained he would be more willing than Dunn "to take on powerful interests" such as banks "who don't play by the rules." In a lively exchange, Ferguson accused Dunn of "missing more votes than anyone else on the council." Dunn said he actually had the second best attendance at council meetings last year, trailing only Ferguson. That's a sidestep, Ferguson contended, noting that Dunn attended Monday's council meeting but left before votes were taken. "You can attend a meeting for roll call and photo opportunities … That's how you maintain good attendance and miss votes."
► In today's Spokesman-Review — R-74 will be on 2012 ballot — The secretary of state's office announced Tuesday that Referendum 74 passed the signature-verification process that has been taking place since last week.
EDITOR'S NOTE — Delegates representing unions from across Washington state voted to endorse approval of Ref. 74, affirming the right of same-sex couples to marry.
---
HEALTH CARE
► In today's Spokesman-Review — Surpluses should count in health insurance (editorial) — If Washington lawmakers raised taxes when the state had accumulated a $2 billion rainy day fund, taxpayers would not take it well. Yet, as consumers, they have sat quietly by while the state's two largest health insurers, Premera Blue Cross and Regence Blue Shield, have each compiled $1 billion in surpluses, on top of the combined $1 billion they have in reserves. Those surpluses have tripled in the last decade.
► In today's Seattle Times — Aging Hispanics double in Washington, posing health-care challenge — Large numbers of migrant workers who came to the state decades ago and stayed after amnesty in the 1980s allowed them to become citizens are now well into their 60s and suffering from health problems related to years of farm work.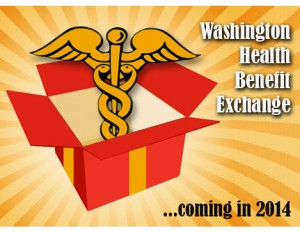 ► In today's NY Times — Navigating the health care maze — Debate over the health law has centered on the individual mandate, but the focus could shift to insurance exchanges. The law requires every state to establish an exchange, but many are balking, complaining about everything from the expense to the perceived federal intrusion.
EDITOR'S NOTE — Washington state isn't balking, it's leading.
► In today's NY Times — Supreme Court health law decision could be trouble for Republicans — So far, the party has not come together around a set of policies to replace the healthcare law if it's struck down entirely. Republicans also haven't said how they would handle policies that are already in place, including discounts on prescription drugs for many seniors.
---
BOEING
► In today's (Everett) Herald — Boeing employment in Washington on rise — Boeing's employment level in the state increased by 875 in May, to a total of 83,873 workers. The company has added employees as it has increased jet production in Everett and Renton. Over the first five months of 2012, Boeing's Washington workforce has grown by 1,895 people.
---
LOCAL
► In today's (Everett) Herald — Everett mail center could close in January — The Everett Mail Processing Facility is one of 252 nationwide the U.S. Postal Service has said it wants to close in an effort to streamline its services and save money in the face of a massive deficit and declining first-class mail. At the Everett facility, just under 300 people are employed, and 97 of them would lose their jobs. And it will likely take longer for people to get their mail.
EDITOR'S NOTE — Once more, with feeling… The USPS is not losing money! It would be turning a profit today, if Congress had not imposed a requirement — unique in both the public or private sectors — that the USPS prepay future employees' benefits. This is costing an otherwise self-supporting agency billions of dollars a year. If Congress wants to save jobs and continue timely and reliable postal service, it has the power to do so. Get more information at www.SaveAmericasPostalService.org
► In today's Tri-City Herald — 58 Hanford workers laid off at CH2M Hill— The Department of Energy Hanford contractor plans to lay off as many as 400 workers total between this month's layoff and a second round in September, as CH2M Hill announced in April. It had about 1,800 employees then. Union employees who are laid off may be eligible to take the jobs of less-experienced employees working for other Hanford cleanup contractors.
► In today's News Tribune – Puyallup cuts school jobs — The Puyallup School Board on Monday adopted a 2012-2013 school budget that cuts nearly $8 million. The board cut 25 teaching positions and as many as 50 non-certificated full-time staff positions.
► In today's Olympian — Tax hike considered to fix city's shortfall— Olympia voters may be asked to raise their sales taxes by one-tenth of a percent to help fill an expected $2.4 million budget shortfall in 2013, with unspecified cuts making up the difference.
► In today's Columbian — Clark County enforces contract that union rejected — Clark County Commissioners vote to enforce a bargaining agreement that had been overwhelmingly rejected by the  Information Technology Guild, which has approximately 40 members.
► In today's Peninsula Daily News — Judge rejects appeal by foes of Port Angeles biomass plant — Seven environmental groups who oppose a $71 million biomass expansion project under construction at Nippon Paper's Ediz Hook plant are pondering their next move after an appeal was rejected in Thurston County Superior Court.
► In today's Yakima H-R — Work to start on $3.5M seasonal workers housing in Granger
► In today's Kitsap Sun — Bainbridge police union votes 'no confidence' in chief
---
TRADE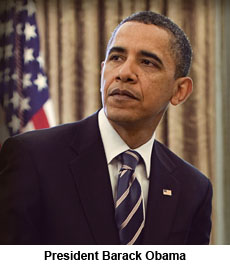 ► At Huffington Post — Obama trade document leaked, revealing new corporate powers, broken trade promises — A critical document from President Barack Obama's free trade negotiations with eight Pacific nations was leaked online early Wednesday morning, revealing that the administration intends to bestow radical new political powers upon multinational corporations, contradicting prior promises.
Under the agreement currently being advocated by the Obama administration, American corporations would continue to be subject to domestic laws and regulations on the environment, banking and other issues. But foreign corporations operating within the U.S. would be permitted to appeal key American legal or regulatory rulings to an international tribunal. That international tribunal would be granted the power to overrule American law and impose trade sanctions on the United States for failing to abide by its rulings. The terms run contrary to campaign promises issued by Obama and the Democratic Party during the 2008 campaign.
---
'OUTRAGEOUS' OBSTRUCTION
► In today's Olympian — GOP selfish in stalling transportation bill (editorial)

After last week's weak jobs report, you'd think our national leaders couldn't wait to pass a bill that puts so many Americans back to work. And if U.S. senators reached bipartisan support, what's the problem? Two words: House Republicans. While the Senate achieved bipartisan support, the GOP-majority in the House didn't even pass a bill of its own. It has preferred to throw up obstacles to the Senate bill. Political extortion is nothing new in Washington, or even in state legislatures. But holding up a simple extension of transportation appropriations and keeping thousands of workers from the jobs they desperately need is outrageous.
---
NATIONAL
► From AP — More than 7 in 10 U.S. teens jobless in summer — Fewer than three in 10 American teenagers now hold jobs such as running cash registers, mowing lawns or busing restaurant tables from June to August. The decline has been particularly sharp since 2000, with employment for 16-to-19-year olds falling to the lowest level since World War II.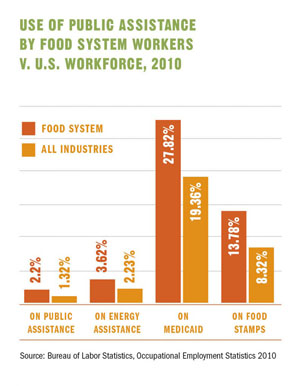 ► In today's NY Times — The 20 million (by Mark Bittman) — Help wanted: Salary: $19,000 (some may be withheld or stolen). No health insurance, paid sick days or paid vacation.  Opportunity for advancement: nearly nil.
This job, or something much like it, is held by nearly 20 million people, 10 million of whom work in restaurants. They are the workers employed in producing, processing and delivering our food, who have been portrayed in vivid and often dispiriting detail in a new report called The Hands That Feed Us. The upshot: Our food comes at great expense to the workers who provide it. If you care about sustainability — the capacity to endure — it's time to expand our definition to include workers. You can't call food sustainable when it's produced by people whose capacity to endure is challenged by poverty-level wages.
► At AFL-CIO Now — Most states flunk wage theft test — A new report from the Progressive States Network finds that workers in 44 states (including Washington) have little to no protection against wage theft. The report finds that "states' wage theft laws are grossly inadequate, contributing to a rising trend in workplace violations that affect millions of people throughout the country."
► At Politico — Wall Street's vote: Romney by a landslide— Mitt Romney's presidential campaign and the super PAC supporting it are outraising President Obama among financial-sector donors $37.1 million to $4.8 million. Romney is helped by Obama's support for Dodd-Frank financial regulations, emphasis on higher taxes for the wealthy and anti-Wall Street rhetoric.
---
TODAY'S MUST-READ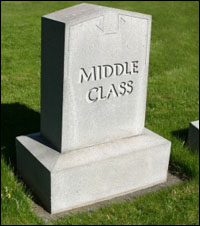 ► In today's Washington Post — What happens if America loses its unions (by Harold Meyerson) — What would America look like without a union movement? That's not a hard question to answer, because we're almost at that point. The rate of private-sector unionization has fallen below 7%, from a post-World War II high of roughly 40%. Already, the economic effects of a union-free America are glaringly apparent: an economically stagnant or downwardly mobile middle class, a steady clawing-back of job-related health and retirement benefits and ever-rising economic inequality. Understandably, some liberals are searching for ways to arrest the economic decline of the majority of their fellow Americans in a post-union environment. I fear they're bound to be frustrated. If workers can't bargain with their employers, it can't be done. If and when Big Labor dies — it's on life support now — America's big middle class dies with it.
---
The Stand posts links to Washington state and national news of interest every weekday morning by 9 a.m. These links are functional at the date of posting, but sometimes expire.
WASHINGTON IS A UNION STATE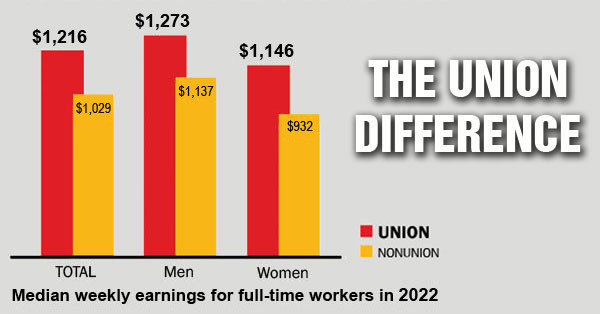 CHECK OUT THE UNION DIFFERENCE in Washington state: higher wages, affordable health and dental care, job and retirement security.
FIND OUT HOW TO JOIN TOGETHER with your co-workers to negotiate for better working conditions and respect on the job. Or go ahead and contact a union organizer today!