Mt. Rainier tragedy, offshoring pioneer Romney, 'Private Idaho'…
Friday, June 22, 2012
---
LOCAL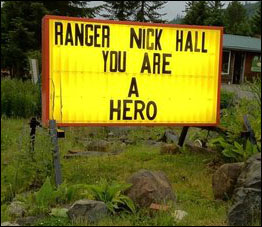 ► In today's Olympian — Ranger dies during rescue attempt on Mount Rainier— A Mount Rainier National Park ranger died Thursday while trying to rescue a group of climbers who slid into a crevasse after summiting the mountain. The Park Service identified the ranger as Nick Hall, 34, who has been with the park's climbing program for four years.
► In today's News Tribune — Tacoma gets $7.7 million to keep 37 firefighters — Tacoma's fire department has won a $7.7 million federal grant that will save 37 firefighter jobs and solve a big part of an increasingly urgent city budget shortfall, U.S. Sen. Maria Cantwell's office announced Thursday.
► In today's Yakima H-R — Growers worried there won't be enough pickers for cherry season — The labor concern has led more growers to use the federal H-2A guest-worker program, which brings in foreign workers under special limited-stay visas.  Meanwhile, Gov. Gregoire is awaiting recommendations from a broad-based group representing agriculture, labor and state agencies on short- and long-term solutions to the farm labor issue.
► In today's Seattle Times — A 'Boeing moment' for Puget Sound ports (by Jon Talton) — Puget Sound ports are losing container market share, however much they play Battleship with each other. It's time for the governor and other leaders to step up and push for a plan that will reverse the trend. We need our container ports to add new business, not just take it from each other.
► In today's (Everett) Herald — County Council endorses multi-year garbage contract
► In today's Peninsula Daily News — Olympic Medical Center CEO gets 10% raise
► In today's Spokesman-Review — Public overserved on benefits of privatizing liquor sales(by Shawn Vestal) — The private sector is efficient. Gubment is wasteful. The private sector benefits consumers. Gubment monopolies harm consumers. Had the opponents of I-1183 come right out and claimed that businesses would charge more for booze than the state, most people would simply have not believed it, so drunk are we on this Kool-Aid.
ALSO at The Stand — Liquor privatization's false promises already exposed
---
ELECTION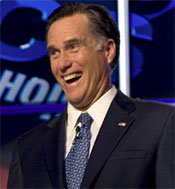 ► In today's Washington Post — Romney's Bain Capital moved jobs overseas— Mitt Romney's financial company, Bain Capital, invested in a series of firms that specialized in relocating jobs done by American workers to new facilities in low-wage countries like China and India. During the nearly 15 years that Romney was actively involved in running Bain, a private equity firm that he founded, it owned companies that were pioneers in the practice of shipping work from the United States to overseas call centers and factories making computer components, according to SEC filings.
---
HEALTH CARE

► In today's NY Times — Those already ill have high stake in health ruling — No other group of Americans faces higher stakes in the impending Supreme Court ruling on the Affordable Care Act than those with pre-existing conditions. The law, once its major provisions take effect, would prohibit insurance companies from turning people away or charging them more because they are sick. The GAO estimates that 36 million to 122 million adults under 65 have a pre-existing condition.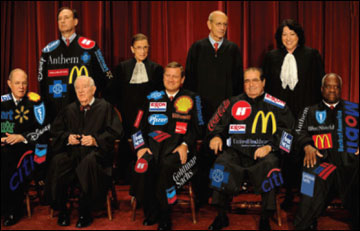 ► At Huffington Post — Supreme Court: U.S. Chamber of Commerce undefeated this term — The U.S. Chamber of Commerce is undefeated at the Supreme Court this term, continuing to improve its success in securing business-friendly judgments since Chief Justice John Roberts took the bench in 2005.
► In today's NY Times — Billions of dollars are in play over health care law— Little attention has been paid to the tens of billions of dollars in federal money appropriated for a host of provisions in the law. Exactly what happens to the money for those programs if the Supreme Court decides to overturn the entire law is unclear. Tens of billions of dollars could easily vanish, especially depending on the outcome of the November elections.
---
NATIONAL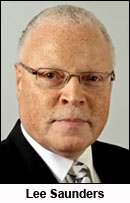 ► In today's NY Times — AFSCME, on heels of Wisconsin vote, elects new president — On Thursday, nearly 3,000 delegates from the nation's largest union of state and local government employees elected Lee Saunders, who had been the union's secretary-treasurer. In campaigning for the job, Saunders, who becomes the first African-American president in the union's history, vowed to increase its membership of nearly 1.4 million and to make it more politically influential and effective at resisting concessions on pay and pensions.
► At AFL-CIO Now — Letter Carriers member tells real story about the USPS — The USPS is currently in a financial crisis, no dispute on that. It has been caused by a 2006 poison pill put in a postal reform bill by the Bush administration that required the USPS to "pre-pay" their future retiree health care costs for the next 75 years in the next 10 years. That is $5.5 billion a year. No other federal agency does this, as well as few private companies. Especially during the economic slowdown we are experiencing. Take away this onerous pre-funding and the Postal Service has actually made a $7 million profit over the past six years, despite the effects from the economic meltdown.
► In today's LA Times — Congress cranks out 'jobs' bills, but not many jobs — Gone are any hopes for Depression-style jobs programs in this period of anxiety over the federal debt. Even extending unemployment benefits, which had been a routine recession-era move to put money in the hands of the jobless and spur the economy, has become a tough political task. Even if Republicans and Democrats could set their partisan gibes aside long enough to pass legislation, most of the bills on the table would not substantially change the immediate jobs outlook.
► At TPM — Grover's last gasps? — As frustration over congressional gridlock gives way to panic over fiscal armageddon in January, more and more Republicans are publicly breaking ranks with Grover Norquist's anti-tax movement and publicly disavowing their pledge never to raise a cent of new revenue.
► In today's NY Times — Prisons, privatization, patronage (by Paul Krugman) — The halfway houses from hell in New Jersey are part of a broader pattern in which essential functions of government are being both privatized and degraded.
---
T.G.I.F.
► The entire staff of The Stand went to see this band perform last night at Marymoor Park in Redmond. We present "Private Idaho" faithfully lip-synched by the B-52's on a TV show that hired the set painter who previously worked on the Partridge Family's bus. We especially love when the recording skips (at about 2:32) as the camera cuts to Kate Pierson, who's all like, "Wha'happa'?" Enjoy, and have a great weekend — brought to you by the Labor Movement.
---
The Stand posts links to Washington state and national news of interest every weekday morning by 9 a.m. These links are functional at the date of posting, but sometimes expire.
Short URL: https://www.thestand.org/?p=14940
Posted by
David Groves
on Jun 22 2012. Filed under
DAILY LINKS
. You can follow any responses to this entry through the
RSS 2.0
. Both comments and pings are currently closed.