A voice for cab drivers, SCOTUS, Lockheed deal…
Monday, June 25, 2012
---
LOCAL
► In the Seattle Times — Teamsters to help Seattle-area cab drivers voice their concerns — Because they aren't on anyone's payroll as employees, drivers won't become members of one of the nation's most powerful unions. But the Western Washington Taxi Cab Operators Association, formally launched by drivers at a meeting at the Teamsters Building in Tukwila on Saturday, will contract with Teamsters Local 117 to lobby governments on its behalf.

► From AP — Aluminum for 60 years — The Pacific Northwest aluminum industry supplied roughly 40% of the nation's aluminum in its heyday in the 1980s, with 10 plants producing the pliable, lightweight metal for everything from war planes to soda cans. Today, just two plants remain — Alcoa's Intalco Works in Ferndale and Alcoa's Wenatchee Works. The latter celebrated its 60th anniversary Saturday with an open house, and an idle plant in Montana is considering a restart thanks in part to abundant power supplies.
► In the Wenatchee World — Hundreds celebrate Alcoa's 60th
► In the Seattle Times — Wal-Mart's Bellevue move rouses local opposition — Labor unions (including UFCW 21), liberals, environmentalists, and small-business advocates all worry about the chain's growing presence, and they've organized throughout the Seattle area to call for better working conditions and more corporate transparency.
► In the P.S. Business Journal — Many firms not prepared for Seattle's new sick leave law — Ready or not, businesses with at least five full-time-equivalent employees must comply with the ordinance that the City Council passed by an 8-1 vote, propelled in part by concerns that restaurant servers were showing up sick and spreading disease.
► In the Wenatchee World — Firefighters approve health benefit change — City firefighters have voted to pay more for their insurance premiums through the end of the year to help avoid layoffs. Kelly Lindemann, president of Wenatchee Firefighters Local 453, said the union hopes the concession saves four firefighter jobs.
► From AP — Ex-Oregon governor to settle port dispute — A federal judge on Friday appointed former Oregon Gov. Ted Kulongoski to help settle a dispute between the ILWU and IBEW that has slowed the flow of cargo at the Port of Portland. The judge said the slowdown staged by longshore workers has caused economic harm to the region and the suffering will only get worse without a quick resolution.
---
SCOTUS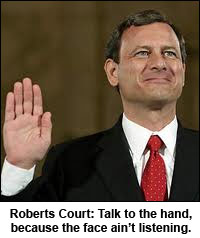 ► Today from AP — Court rejects corporate campaign spending limits— The justices struck down a Montana law limiting corporate campaign spending. By a 5-4 vote, the court's conservative justices said the decision in the Citizens United case in 2010 applies to state campaign finance laws.
EDITOR'S NOTE — The five conservative justices on the Roberts Court are so invested in their "corporations-are-people" ideology, they didn't even bother to hear oral arguments in this case.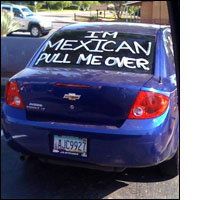 ► From AP — Supreme Court up holds key part of Arizona immigration law, strikes down rest — The Supreme Court upheld a key part of Arizona's tough anti-illegal immigration law in a 5-3 decision on Monday that allows police officers to ask about immigration status during stops. That part of the law, which never went into effect because of court challenges, will now immediately be enforced in Arizona. Other parts of the law, including a provision that made it a state crime for illegal immigrants to seek work, will remain blocked.
► At TPM — Constitutional experts: Mandate should be upheld, but likely won't be — In a broad consensus, 19 of the 21 respondents said that the mandate should be upheld. The survey was emailed last week to constitutional law professors at the U.S. News & World Report's top 12 law schools. There was less agreement on how exactly the opinion would come down. Five said that the Court is likely to strike down the individual mandate anyway while 8 believed it as a toss-up."
NO DECISION TODAY on federal health care reform. That means the Supreme Court is likely to announce its decision on Thursday morning.
---
STATE GOVERNMENT
► In the Spokesman-Review — Costco, others challenge Liquor Board rules in court — Under Initiative 1183, no single sale from a retailer to a restaurant can exceed 24 liters. The liquor board interpreted that to mean 24 liters per day. But a coalition of initiative backers say that's wrong and that there's no daily limit.
---
ELECTION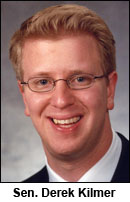 ► In the News Tribune — Democrat Kilmer faces crowded GOP field in race to succeed Rep. Dicks— Whoever prevails among the five Republicans in the race is likely to face an uphill battle in November against state Sen. Derek Kilmer, the only one in the race with elected experience. Washington's 6th Congressional District is one of the state's more evenly divided between the parties, but Democrats have won 24 straight consecutive elections there over a 48-year period.
► In the News Tribune — Gubernatorial candidates' views of mortgage crisis examined— Contrary to Rob McKenna's claims that Jay Inslee's votes in Congress added to the crisis, none of the bills McKenna cited ever became law. On the other hand, Inslee was one of few members of Congress in the late 1990s to vote against repeal of the Glass-Steagall Act, which had kept commercial and investment banking separated since the Great Depression. Inslee implicates that law's demise in the financial downturn that hit breakneck speed in 2008-09.
► In the (Aberdeen) Daily World — Inslee hits the Port, energy forum at Satsop — Republican gubernatorial candidate Rob McKenna was invited to debate Inslee on clean energy issues during a gubernatorial forum, but sent Republican strategist Todd Myers in his place.
► Today from AP — State budget might test governor candidates— Washington's next governor is projected to start the job with a growing budget. That extra revenue may not be enough to fulfill the state's education funding obligations.
---
NATIONAL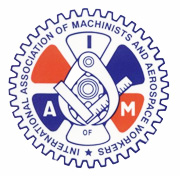 ► In today's NY Times — Machinists at Lockheed to vote on agreement to end strike — Lockheed Martin said it had reached a tentative agreement Saturday night with the Machinists union to end a nine-week strike at its fighter jet plant in Fort Worth and two other sites. About 3,600 workers went on strike over proposed changes in health benefits and a Lockheed plan to stop offering a traditional pension to newly hired workers.
► In today's Washington Post — Lawmakers reworked financial portfolios after talks with the Fed, Treasury — House Republican Speaker John Boehner is one of 34 members of Congress who took steps to recast their financial portfolios during the financial crisis after phone calls or meetings with the Treasury Secretary or Federal Reserve Chairman.
► At AFL-CIO Now — Republican tax plan: Richest 1% get $50,660 more than under Obama's plan —  In discussions over extending the Bush tax cuts, Republicans propose massive tax giveaways for the wealthy while the middle- and lower-income families would pay slightly more, according to a new analysis.
► In today's NY Times — New rules on public pension funds seek better disclosure — Cities, states and the millions of Americans who work for them will soon face new accounting rules that will require many local governments to disclose pension obligations that were hidden until now, stepping up the pressure to rein in public workers' benefits.
► In today's NY Times — Your ad here, on a fire truck? Broke cities sell naming rights — Baltimore is joining dozens of other financially struggling cities, transit systems and school districts around the country that are trying to weather the economic downturn by selling advertisements, naming rights and sponsorships to raise money.
---
The Stand posts links to Washington state and national news of interest every weekday morning by 9 a.m. These links are functional at the date of posting, but sometimes expire.
Short URL: https://www.thestand.org/?p=14970
Posted by
David Groves
on Jun 25 2012. Filed under
DAILY LINKS
. You can follow any responses to this entry through the
RSS 2.0
. Both comments and pings are currently closed.