Hanford delays, Boeing shuffle, UnAmerican Airlines…
Wednesday, June 27, 2012
---
HANFORD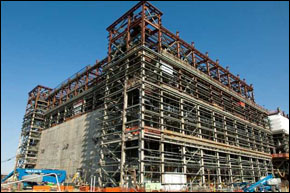 ► From AP — $12.3 billion Hanford plant sees new costs, delays — A new cost estimate and construction schedule for a massive waste plant being built at the nation's most contaminated nuclear site will be delayed at least a year as workers try to resolve serious technical problems raised by whistleblowers about design and safety, the U.S. Department of Energy said Tuesday.
► In today's Tri-City Herald — DOE delays figuring vit plant cost, schedule — The Department of Energy will delay calculating a new cost and schedule for Hanford's huge vitrification plant until more technical issues that could affect the safe and efficient operation of the plant are addressed.
---
BOEING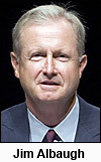 ► In today's Seattle Times — Boeing's Albaugh retiring, replaced by Conner— Jim Albaugh, a champion of Boeing's engineering prowess and the capabilities of its production workforce, stepped down unexpectedly Tuesday as CEO of the commercial-airplanes division. Taking over is Ray Conner, a local boy who has climbed through Boeing's ranks from mechanic to top gun. At the changing of the guard, union officials and aerospace analysts offered accolades for both men.
---
STATE GOVERNMENT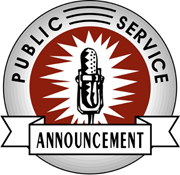 ► In today's Olympian — Numbers should make state workers nervous (editorial) — After the June revenue forecast, state workers have reason for concern about a promise being made by the top two gubernatorial candidates, and the start of negotiations for the 2013-15 state collective bargaining agreement. The state budget shouldn't be balanced on the backs of state workers, but certain realities are hard to ignore. It may come to choosing between reductions in compensation or reductions in workforce. Cutting jobs only further slows our recovery, especially in the South Sound where state workers remain the major economic driver.
► In today's Seattle Times — Inslee, McKenna: Controlling costs first on agenda for next governor — Democrat Jay Inslee and Republican Rob McKenna both talk about controlling the cost of state government — and clash over who has a more realistic plan to do it. But with both men continuing to rule out general tax increases called for by some education advocates, neither offered a plan for a massive or swift turnabout for schools funding.
---
LOCAL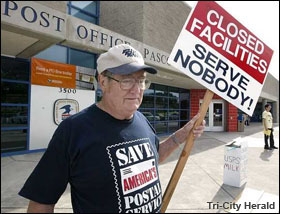 ► In today's Tri-City Herald — Hunger strikers hold protest at Pasco post office — Hunger striker David Yao said a congressional requirement that the postal service pre-pay enough to fund retiree benefits for the next 75 years is unfair — and is forcing cuts that shouldn't be necessary. The payments amount to about $5.5 billion per year. "That's paying for employees who haven't been born yet," Yao said. "The post office is still vital to people's lives. People depend on it to get their medicine and their paychecks. … We're hoping the public will tell Congress to fix this problem."
► ALSO at The Stand — Local hunger strikers to protest Congress starving the USPS — They will protest today in Wenatchee and Thursday in Seattle.
► In today's (Longview) Daily News — 'Skills' comment triggers debate at Longview Fibre forum — The lack of an educated labor pool is the biggest obstacle for Longview Fibre Paper and Packaging to fill about 40 hourly maintenance jobs, even as production continues to boom under private management, company officials said Tuesday in Longview.
► In today's Columbian — Safety, health at issue at Pendleton mill in Washougal — The Department of Labor & Industries has fined Pendleton Woolen Mills $93,300 for 36 "serious" violations of workplace safety and health rules at its textile mill in Washougal. The designation of "serious" indicates situations in which a person could be seriously injured or killed.
► In today's (Everett) Herald — Providence plans $120 million clinic in Monroe — This is Providence's first major construction project in the county since last summer's opening of a $460 million medical tower in Everett.
► In the Wenatchee World — City firefighters' jobs appear safe for now — Mayor Frank Kuntz and the firefighters' union are closing in on a cost-cutting plan that should eliminate the need for layoffs in the department.
► In today's Kitsap Sun — $750K federal grant may help keep deputies
---
NATIONAL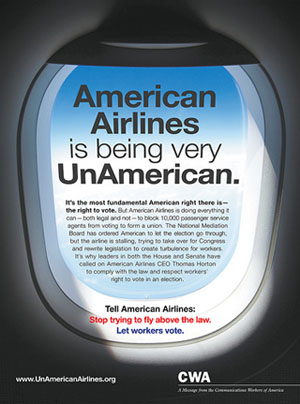 ► At AFL-CIO Now — In 'travesty of justice,' judge blocks American Airlines workers' union election — A federal judge's ruling permanently blocking 10,000 passenger service agents at American Airlines from voting on joining a union is a "disgrace and a travesty of justice," says the Communications Workers of America. The judge based his ruling on a provision of the recently enacted FAA reauthorization bill that changed the threshold of authorization cards needed before union elections can be held at airlines.
EDITOR'S NOTE — THIS is why 19 labor unions urged Democrats not to agree to this "compromise" with the aggressively anti-union Republicans who had taken FAA funding hostage back in February. The bar for railway and airline workers to get a fair election on union representation has been raised significantly. The new 50% threshold makes it much easier for workers who haven't signed cards and have no opinion on unionization to prevent a vote from ever happening. Then-Rep. (and now labor's endorsed candidate for governor) Jay Inslee joined the rest of our state's House Democratic delegation in voting AGAINST the FAA funding bill with this anti-labor language in it. But the Senate Democrats who had the numbers to block the legislation, including Sens. Patty Murray and Maria Cantwell, voted to pass it. Visit UnAmericanAirlines.org for more information.
► At Politico — Optimism on transportation bill — If loose lips sink ships, the transportation bill's seemingly still afloat.  But with a weekend deadline looming, the needle's almost on empty.
► At Huffington Post — Minimum wage doomsayers are still wrong after 74 years (by Donald Cohen) — Few American institutions have been subjected to such a consistent stream of vitriol and assault as the minimum wage that celebrates its 74th birthday this week. Despite constant predictions of doom, the minimum wage remains wildly popular in the eyes of the American people. They understand basic economics — when wages go up, people spend more. Without minimum wage laws, employers pay less. They understand what I'll call "Chris Rock-onomics," the economic theory the comedian and social commentator described recently like this: "I used to work at McDonald's making minimum wage. You know what that means when someone pays you minimum wage? You know what your boss was trying to say? It's like 'Hey if I could pay you less, I would, but it's against the law'."
---
TODAY'S MUST-READ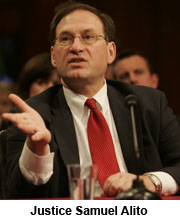 ► In today's Washington Post – Class war at the Supreme Court (by Harold Meyerson) — Justice Samuel Alito's Majority opinion this week in Knox v. SEIU Local 1000 strikes at the heart of American unionism. By laying the groundwork for creating a right for nonmembers to avoid dues payments, he came close to nationalizing the right-to-work laws that 23 states have adopted (though 27 have not). As Justice Sotomayor noted in a somewhat astonished dissent (Justices Ginsburg, Breyer and Kagan dissented on this point as well), this wasn't the question before the court. Neither side had argued that issue in their briefs or oral presentations. Taken in context with the conservative majority's other recent rulings, Alito's opinion also revealed the most class-based double standard the court has exhibited since before the New Deal.
---
The Stand posts links to Washington state and national news of interest every weekday morning by 9 a.m. These links are functional at the date of posting, but sometimes expire.
WASHINGTON IS A UNION STATE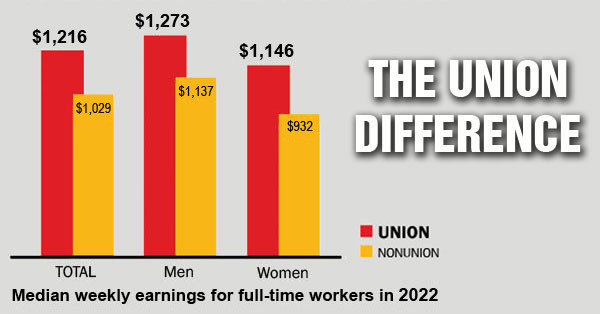 CHECK OUT THE UNION DIFFERENCE in Washington state: higher wages, affordable health and dental care, job and retirement security.
FIND OUT HOW TO JOIN TOGETHER with your co-workers to negotiate for better working conditions and respect on the job. Or go ahead and contact a union organizer today!