New offer as trash piles up, SPEEA 401(not OK), health rebates…
Tuesday, July 31, 2012
---
WASTE MANAGEMENT STRIKE

► From AP — New offer floated in trash strike, Teamsters say — Striking Teamsters said they made a move toward ending a six-day strike that has disrupted waste and recycling pickups for more than 200,000 Waste Management customers in the Seattle-Everett area. Teamsters Local 117 says it floated a confidential proposal with a federal mediator Sunday night.  The company said it was reviewing the idea Monday, as it makes some priority pickups with replacement drivers brought in from out of state.

► In today's Seattle Times — Strike starts to smell bad for Waste Management customers — After five days of no trash collection for Waste Management customers, bins and Dumpsters are starting to fill with smelly garbage. Seattle Public Utilities has raised the specter of hefty fines if the company doesn't honor its contract and begin collecting refuse by Wednesday. SPU said it would begin documenting missed collections starting Thursday morning and asked residents to leave their bins out on the curb so they could be counted.
ALSO TODAY at The Stand — Waste Management strike extends north
---
ELECTION
► In today's Seattle Times — Key races in Western Washington may decide control of Legislature — Republicans would need to pick up three Senate seats to regain control of the chamber, which has been in Democratic hands since 2005. Twenty-four of the 49 seats in the Senate are on the ballot this year, but the fight for control of the chamber may come down to a few key races in swing districts of Western Washington.
► From AP — Tax advisory issues added to November ballot — Washington will have two non-binding advisory votes related to taxes stemming from a provision under Initiative 960, which passed in 2007. It gives the public the chance to weigh in on tax increases.
---
BOEING

► In the (Everett) Herald — Engineers union dismisses Boeing 401(k) proposal — The proposal presented last week by Boeing would eliminate the defined pension benefit for newly hired engineers and technical workers. Explaining that the 401(k) program reduces retirement benefits by about 40%, SPPEA officials said, "Boeing's proposal to cut retirement benefits was made just days after the company reported second-quarter net income soaring to $967 million, up $26 million from the first quarter."
---
LOCAL

► At Teamsters117.org — Teamsters at Davis Wire say "Thank You!"— Teamsters on strike at Davis Wire are truly grateful to dozens of individuals and organizations that have made contributions to the ONE MORE DAY fund. These contributions have made a tremendous difference in the lives of the families of the 83 men who have been impacted by the 10-week old strike.
► At SeattlePI.com — King County Council approves SoDo arena deal — The council voted Monday to move ahead with plans for a new sports arena in Sodo that would cost up to $200 million in public money. The 6-3 vote approves a binding "memorandum of understanding" with investor Chris Hansen's ArenaCo, and sends it to the Seattle City Council, which also must sign off.
► In today's Seattle Times — City Council wants traffic help from SoDo arena tax — The city council tells investor Chris Hansen it wouldn't move forward unless some of the tax revenue is used for improvements to traffic and freight mobility in Sodo.
► In today's Seattle Times — On the eve of new immigration policy, immigrants and officials on their marks — Hundreds of thousands of young people who are in this country illegally are gearing up now to apply for deportation deferment once the Obama administration sets up an application process Aug. 15.
---
NATIONAL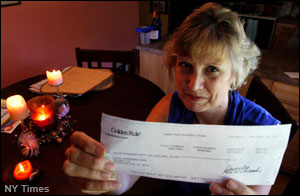 ► In today's NY Times — Insurance rebates seen as selling point for new health law — The law requires insurers to give out annual rebates by Aug. 1, starting this year, if less than 80% of the premium dollars they collect go toward medical care. For insurers covering large employers, the threshold is 85%. Many who buy coverage directly from insurers, like self-employed people, are receiving checks. But in most cases rebates are being sent to employers, who can chose to put them toward future premium costs instead of distributing them to workers.
► In today's Washington Post — Congressional leaders near budget deal to keep government running — House and Senate leaders are nearing a temporary spending deal that would keep the federal government running for the first half of the next fiscal year, which will begin in October.
► In today's NY Times — Some at Fed are urging pre-emptive stimulus — Some Federal Reserve officials are reviving an idea that rose and fell with Alan Greenspan, the former Fed chairman, as they seek to persuade colleagues to take new action to stimulate growth.
► At AFL-CIO Now — Minimum wage: Not just for kids — EPI report: 87.9% of those affected nationally by increasing the federal minimum wage to $9.80 are 20 years of age and older.
---
THE COST OF WAR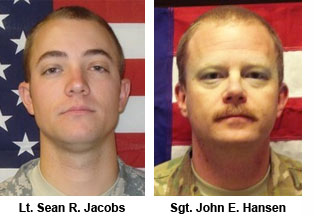 ► In today's News Tribune — Blast in Afghanistan kills two Lewis-McChord soldiers — Recent West Point graduate Lt. Sean R. Jacobs, 23, and veteran service member Sgt. John E. Hansen, 41, died from injuries suffered after the explosion of an improvised explosive device in Kandahar province. So far this year, 21 soldiers assigned to Lewis-McChord have died in Afghanistan.
► So far in 2012, 205 U.S. soldiers have been killed in Operation Enduring Freedom in Afghanistan for a total of 2,069 since 2001.
► Also see the Washington Post's Faces of the Fallen.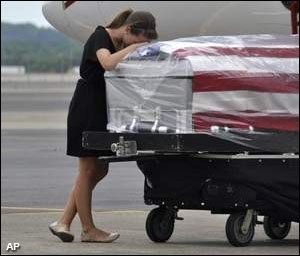 ► Union delegates at the Washington State Labor Council's 2011 Convention approved a resolution supporting "a significant drawdown of military personnel from Afghanistan this year, setting a firm end date for total withdrawal as soon as that can be accomplished, but in no event later than the 2014 timeline previously announced by President Obama."
---
The Stand posts links to Washington state and national news of interest every weekday morning by 9 a.m.
Short URL: https://www.thestand.org/?p=15827
Posted by
David Groves
on Jul 31 2012. Filed under
DAILY LINKS
. You can follow any responses to this entry through the
RSS 2.0
. Both comments and pings are currently closed.