Forging a union, GOP gives raises, guber-debate, Tay's moonlighting…
Thursday, August 30, 2012
---
LOCAL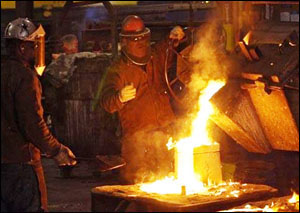 ► In the (Centralia) Chronicle — Chehalis foundry workers vote to join union— Nearly 100 previously non-union workers at Bradken's Chehalis Foundry have voted to join the International Association of Machinists & Aerospace Workers. The employee organization at Bradken, which manufactures steel castings, marks the first time in more than 30 years a shop this large has unionized in Lewis County, according to Bob Guenther, president of the Thurston-Lewis-Mason Labor Council. "Now they'll have a voice in the workplace," said Chip Elliott, a spokesman for IAM.
► In the News Tribune — New Tacoma contract gives many city workers raises — The city council executed a new contract for 239 city employees across various departments. It will increase pay for Teamsters Local 117 bargaining unit members by 2.7% next year, including 34 employees covered by the general fund.
► In today's Tri-City Herald — Mission Support Alliance plans 11 more layoffs — The Hanford contractor told employees that 11 workers would be let go, which will bring the total number of layoffs to 100, the top number earlier approved by DOE. The layoffs will include nine union and two nonunion employees.
► In the Columbia Basin Herald — FAA grants Port of Moses Lake $3.8 million — Plans to renovate an existing ramp at the Grant County International Airport move forward after port officials accepted a FAA grant to fund most of the reconstruction costs.
► In today's (Aberdeen) Daily World — Aberdeen touts first female firefighter — Monica Myers, 44, a former stay-at-home mom and successful small business owner, decided about six years ago that she wanted a radical career change after volunteering at the Montesano Fire Department.
---
STATE GOVERNMENT


► At WFSE.org — A salute to Republican governors who've negotiated raises for their state employees — On this next-to-last night of the Republican National Convention, we show our bipartisan nature by saluting four Republican governors who have negotiated raises for their state employees with AFSCME councils in their states during the Great Recession that started in 2008. Many if not most of these four states had worse budget problems than Washington.
► In today's Spokesman-Review — Gambling revenue in political sights (editorial) — Most local officials, government and business, fear a proposed tribal casino on land the city annexed will compromise the tanker effort and, ultimately, the future of the base and the 5,000 jobs it provides.
► In the Seattle Times — Spokane Tribe's casino project will create thousands of jobs (by Ben Stuckart) — The project is much more than a casino. It includes stores, offices and a community health center. It will create thousands of jobs for the tribe and for the city of Spokane.
---
STATE ELECTIONS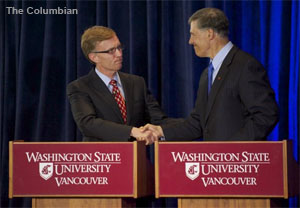 ► In today's Columbian — Inslee, McKenna face off in Vancouver — Gubernatorial candidates Rob McKenna and Jay Inslee made clearer their stances on the Columbia River Crossing project during a debate on Wednesday evening at Washington State University Vancouver. Inslee, a Democrat and former U.S. representative, said he supports replacing the I-5 Bridge over the Columbia River, and he said light rail extending from Portland into Vancouver must be included on the new bridge in order to secure federal funding. McKenna, a Republican and the state's attorney general, said that he is not sure whether light rail is the best public transit option for the bridge. (More coverage in the (Everett) Herald, the (Tacoma) News Tribune, the Seattle P-I, the Seattle Times, and the Spokesman-Review.)
ALSO at The Stand — GOP boss says Rob McKenna will do what Scott Walker did in Wisconsin
► In today's (Everett) Herald — How much is DelBene willing to invest? — The most anticipated decision from Democrat Suzan DelBene this election season is whether she will spend (another) couple million dollars of her own to win a seat in Congress.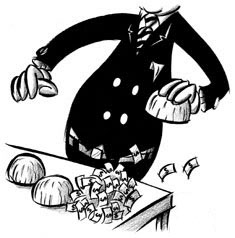 ► In The Stranger — Is one Tim Eyman initiative secretly funding another? — State law law is clear: If you use money from one initiative campaign to fund another initiative campaign, you have to report it to the state. Thems the rules. But it appears that the campaigns for Tim Eyman's two statewide initiatives this year may have flouted those rules, in what could turn out to be one of the most egregious campaign-disclosure violations since voters approved the Public Disclosure Act in 1972.
► In The Stranger — He's back! — Undaunted by defeat two years ago, former state supreme court justice Richard B. Sanders wants to reclaim a seat on the bench. Last election cycle, he was in deep trouble over allegedly racist comments and marriage hypocrisy. This time, he'll have some explaining to do on women's rights, too.
---
MOONLIGHTING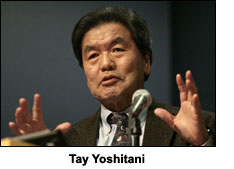 ► In today's Seattle Times — What is Port of Seattle thinking? (by Jon Talton) — As we head up to Labor Day, it's good to know that at least one guy has a job. Two, actually. Tay Yoshitani has his position as chief executive of the Port of Seattle, paying almost $367,000 a year. Now he's also a board member of Expeditors International, making another $230,000.
What are the port leaders, and specifically Yoshitani, a smart and capable man, thinking? The seaport has just suffered the loss of a major portion of its container business, with the move of the Grand Alliance to Tacoma. In the dispute over the horrid conditions facing drayage truck drivers, a shameful example of the exploitation of "independent contractors," the port came off as insensitive and out of touch. Meanwhile, the Century Agenda, while a fine aspirational document, still lacks specifics about how the seaport will face growing competitive threats. Among them: the wider Panama Canal, Prince Rupert and Tacoma. Amid all this, the port chose a very public battle against the proposed Sonics arena, as if it's an "either/or" choice, rather than working constructively behind the scenes to ensure improved infrastructure and protection of industrial zoning. These challenges wouldn't seem to leave much "on his own time" time for Yoshitani to be moonlighting.
► In today's Seattle Times — Port director pressed to choose between job, directorship — Several port commissioners are urging Port of Seattle CEO Tay Yoshitani to chose between his port job and his seat on the board of Expeditors International.
TAKE ACTION (via Working Washington) — Demand accountability at the Port of Seattle!
---
RNC

► At WLTX.com — AFL-CIO march targets 'Romney's America' — The demonstrators say 2012 marks what could be the last big fight for the middle class, saying the 1% just doesn't get it and doesn't care. "The 1% own the corporations, and they aren't creating any jobs," said laborer Mike St. Hilaire. His wife, Beverly, added, "Where are the jobs? They got their tax breaks, but no jobs are being created."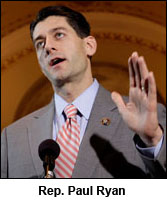 ► At TPM —Top 5 fibs in Paul Ryan's convention speech — The speech effectively rallied his supporters in the audience. But on the merits it was chock full of misstatements of fact that undermine his reputation for brave, big ideas on the issues.
► From AP — Fact check: Convention speakers stray from reality— GOP vice presidential nominee Paul Ryan took some factual shortcuts Wednesday night when he attacked President Obama's policies on Medicare, the economic stimulus and the budget deficit, as did Sen. Rob Portman. A day earlier, New Jersey Gov. Chris Christie also bucked reality.
► In today's NY Times — The vacuum behind the slogans (editorial) — Congressman and now Republican Vice Presidential candidate Paul Ryan promised to lead, but he has routinely ducked the tough issues and blamed others.
► At HeraldNet.com — S.C. Gov. Haley lauds Boeing, takes aim at 'bullying union bosses'
► In the Seattle Medium — Why Romney, Ryan want to eliminate labor unions (by Bill Fletcher) — Fundamentally, Romney and Ryan see in unions an obstacle to their objectives of increasing wealth for those at the top. Unions demand that workers receive fair compensation for the work that they provide.
---
NATIONAL
► From Bloomberg — Shortage of educated workers boosts U.S. unemployment, study says — Mismatches in supply and demand for educated workers boost U.S. unemployment and add as much as 2 percentage points to the jobless rates for some cities, according to the Brookings Institution.
► At In These Times — Country club could owe $3.4 million after NLKRB rules lockout illegal — The lockout of 61 food services workers (UNITE HERE Local 2850) had cost the Castlewood Country Club in Pleasanton, Calif., hundreds of thousands in legal fees — plus revenue from 12 tournaments cancelled due to picketing. But Castlewood has refused to budge for two years, and now it may have a multi-million dollar bill to pay.
---
The Stand posts links to Washington state and national news of interest every weekday morning by 9 a.m.
Short URL: https://www.thestand.org/?p=16520
Posted by
David Groves
on Aug 30 2012. Filed under
DAILY LINKS
. You can follow any responses to this entry through the
RSS 2.0
. Both comments and pings are currently closed.