GOP boss says McKenna will do here what Walker did in Wisc.
By DAVID GROVES
The Stand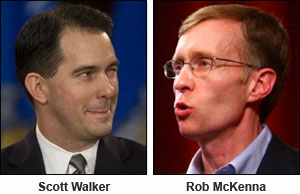 OLYMPIA (Aug. 29) — Republican gubernatorial candidate Rob McKenna has gone to great lengths to tell Washington voters that he's not like Scott Walker, the divisive Wisconsin governor who took away public employees' bargaining rights and cut their wages and benefits so he could balance his state's budget while passing more corporate tax cuts. Given that Washington is the 4th most unionized state in the nation and hasn't voted to elect a Republican governor in 32 years, McKenna's distancing himself from Walker is smart politically.
But apparently, Virginia Gov. Bob McDonnell didn't get that memo. The leader of the Republican Governors Association, said Tuesday at a Republican National Convention event for Washington delegates in Tampa that Rob McKenna would be a leader much like Scott Walker.
"What Scott Walker did in Wisconsin… that's what (Montana GOP candidate) Rick Hill and Rob McKenna are going to do in their states as well," McDonnell said.
Given that the RGA has invested some $4 million into McKenna's campaign, the comparison gives Washington union members and their families more reason to wonder whether McKenna is a wolf in sheep's clothing. Depending on his audience, McKenna has flip-flopped on his support for collective bargaining rights.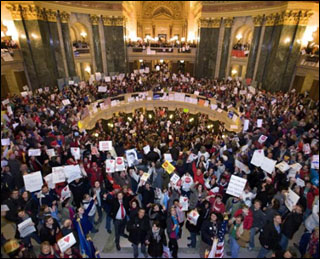 Earlier this year, when tens of thousands of Wisconsin citizens were protesting inside and outside their State Capitol over Gov. Walker's attack on unions, McKenna said he considered collective bargaining a right. But when challenged by right-wing supporters on that statement, he clarified that collective bargaining is merely a "statutory right" (meaning, current state law) and he vowed to make changes to those laws. When speaking before a group of Republicans, without knowing he was being recorded, McKenna said public employee unions are "dangerous."
"Collective bargaining is internationally recognized to be a fundamental human right alongside the freedom of association," said Jeff Johnson, President of the Washington State Labor Council, AFL-CIO. "But Rob McKenna changes his position on this basic right, depending on the audience. That alarms people in Washington — a strong pro-union state where 1 in 5 workers are members — especially given the aggressive national attack by the Republican Party against the freedom to form unions."
While McDonnell's off-message Walker-McKenna comparison revives the question of whether McKenna would take away union rights as governor, one thing is clear: he would lay off more public employees. In his campaign kickoff speech, McKenna said, "Fewer people doing more work — that's the answer."
With recession-related layoffs, the number of state employees in Washington has already been cut to the lowest level in a decade or more. As private sector hiring has picked up in the past year, continuing government layoffs have been cited as a drag on the state and national economies that is prolonging the recession and slowing private-sector growth. Meanwhile, Washington's population continues to increase — about 1 million more state residents over the past decade — which have combined to create a greater demand for public services.
Like Gov. Walker, McKenna blames state employees and their overly generous compensation for recent state budget crises, not the recession caused by Wall Street malfeasance and the subsequent housing crisis. McKenna says he'll bargain more aggressively than previous governors to force state employees to pay more for health care and to cut state pension benefits.
Since the recession began four years ago, state employees have not had a cost-of-living wage increase while the costs of gas, food and other basic living expenses have increased substantially. In fact, their pay has been cut 3% with unpaid furlough days. In addition, state employees' health premiums have increased 25% and they must now pay substantially higher co-pays and other out-of-pocket health costs.
All of these concessions have been achieved through the re-negotiation of collective bargaining agreements between state employee unions and the administration of Democratic Gov. Chris Gregoire. But McKenna wants state employees — those who still have jobs — to sacrifice more, and he implies they've gotten off easy in negotiations with Democratic governors.
"It's pretty clear that Rob McKenna wants government on the cheap — wage cuts and fewer benefits for teachers, firefighters, nurses, home care workers, correctional officers, and all other public employees," Johnson said. "That's bad news not just for those workers and their families, but also for the quality of public services in Washington state."
McKenna has accused organized labor and his Democratic opponent, Jay Inslee, of "waging a campaign of fear" by portraying him as anti-union. But as The Stranger reports, it would be hard to describe his voting record as a King County Council member any other way:
As a councilman, on five separate occasions, McKenna refused to approve collective bargaining agreements between the county and public workers, opposing contracts with animal control officers, social workers, and others. He led efforts to prevent the county from doing business with union shops, bizarrely disparaging as 'racist and sexist' an ordinance requiring the county to hire union apprentices. In 1998, McKenna even voted against a motion that urged an employer to (gasp) 'bargain with its employees in good faith' and innocuously supported the 'fair treatment of workers.' And while McKenna likes to talk the talk on government spending, as chair of the council's budget committee in 2001, he proposed swiping money from a fund set aside to pay scheduled raises to unionized workers while actually increasing spending.
McKenna's opposition to unions has continued as Attorney General. Backed by the anti-labor Evergreen Freedom Foundation and the National Right-to-Work Legal Defense Foundation, he fought to appeal a State Supreme Court ruling that had granted teachers' unions the right to use members' dues for political purposes. The report goes on:
If his anti-union sympathies weren't obvious enough, in 2010, acting as the keynote speaker at an Association of Washington Business luncheon, McKenna presented its better workplace award to Cairncross & Hempelmann, a law firm that advises managers on how to see the "warning signs of union organizing efforts" and "put policies in place to limit unionization efforts on your properties." Because nothing makes a workplace "better" like busting unions.
WASHINGTON IS A UNION STATE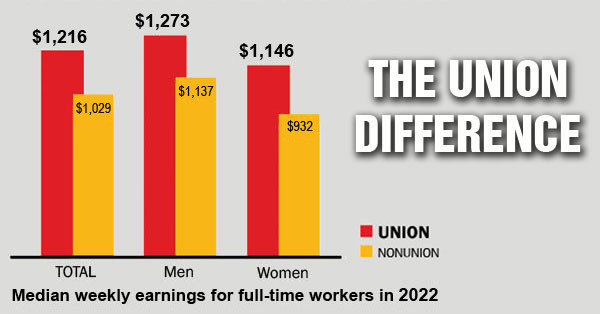 CHECK OUT THE UNION DIFFERENCE in Washington state: higher wages, affordable health and dental care, job and retirement security.
FIND OUT HOW TO JOIN TOGETHER with your co-workers to negotiate for better working conditions and respect on the job. Or go ahead and contact a union organizer today!