Costco urged to support Palermo's workers
ISSAQUAH, WA — University of Washington students and community leaders, led by members of UW's United Students Against Sweatshops (UW USAS) and Washington Young Emerging Labor Leaders (WA YELL), visited Costco headquarters on Friday, Aug. 24 to urge Costco CEO Craig Jelinek to end the company's contract with Palermo's.
The frozen pizza company has been cited for numerous labor violations at its Milwaukee plant, resulting in Palermo's workers going on strike. The company's has refused to recognize its workers' choice to form a union.
"Costco, a company with an admirable record toward its own employees, has an opportunity to take a stand," said UW USAS member Leo Baunach. "Costco should end their business relationship with Palermo's and do right by the workers who are fighting for fair treatment in their workplace."
TAKE A STAND!  Tell Costco to support Palermo's pizza workers.
The AFL-CIO endorsed a nationwide boycott of Palermo Villa Inc. in response to the company's blatant disregard of its workers' choice to form a union. The boycott covers Palermo's brand pizza, "Classics" brand pizza and private label brand frozen pizza produced by Palermo, including Costco's Kirkland brand. The AFL-CIO endorsement is part of the continued support for the efforts of the Palermo Workers Union by the United Steelworkers and the AFL-CIO, community and immigrant rights groups.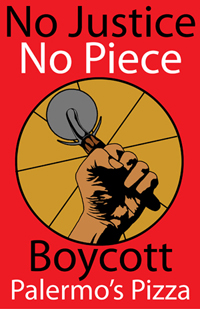 "The twelve million union families of the AFL-CIO are proud to stand with these Wisconsin workers who have bravely joined together for a voice on the job," AFL-CIO President Richard Trumka said. "Their courage and strength are a model for working people around the country whose rights are being violated and voices silenced. We hope that this boycott will encourage Palermo to finally respect its workers who work so hard for them every day."
Workers from Palermo, a large frozen pizza manufacturer in Milwaukee, Wisconsin, have been on strike since June 1, 2012, to protest unfair labor practices. After the workers requested that Palermo recognize their union and bargain with them over serious workplace problems, Palermo fired more than 75 workers. Many workers at Palermo face serious health hazards, have no sick days and make little more than the minimum wage.
On Friday, Costco officials refused to let the UW USAS group meet, even briefly, with a representative from the supplier department. As the group discussed with the front office staff their reasons for opposing Palermo's, several employees and managers from the corporate and supplier areas of the building gathered on the stairs the observe the action.
UW students and Washington community members aren't the only ones outraged by the Palermo's labor violations. Students, as part of the national USAS network at more than 150 universities, plan to conduct further actions on their campuses as the school year begins, demanding Costco pull Palermo's pizzas from their shelves.
On Saturday, Aug. 25, there were actions and pickets at more than 15 Costco locations around the nation in support of the Palermo's strike, and more are planned for later this week.
"We can't allow Costco to continue selling pizzas that were produced under sweatshop conditions," Baunach said.
Friday's group in Issaquah ended its action by delivering a  paper pizza, addressed to CEO Craig Jelinek. Three quarters of the pizza appeared normal and had the words 'Costco Values' written on it. However, one slice labelled "Palermo's" appeared moldy and had two severed fingers — representing the worksite safety issues at the Palermo's plant that have resulted in thousands of dollars in fines over the last several years.
The group said they looked forward to swift action by Costco to uphold its image and not let the intimidation and safety violations at Palermo's tarnish Costco's record of responsibility.
For more on the Palermo Worker's Union, the boycott and the strike, visit sliceofjustice.com.
United Students Against Sweatshops (USAS) is a national grassroots organization led by students on over 150 campuses. For more information, visit usas.org.
Short URL: https://www.thestand.org/?p=16410
Posted by
David Groves
on Aug 27 2012. Filed under
LOCAL
. You can follow any responses to this entry through the
RSS 2.0
. Both comments and pings are currently closed.