Young workers showcase solidarity, creativity, team-building at convention
By JUSTINE WINNIE
The Stand
---
WENATCHEE — More than 50 young leaders and allies converged Aug. 5 in Wenatchee for the Washington Young Emerging Labor Leaders' (WA YELL) First Annual Convention. Members from diverse corners of the state kicked off their time at the Washington State Labor Council's Convention with a bang, and brought their trademark spark and dedication to movement-building across industries, unions, and generations.
The daylong YELL Convention welcomed WSLC President Jeff Johnson and WSLC Secretary-Treasurer Lynne Dodson, plus presenters Elaine Rose of Planned Parenthood Votes NW and Sarah Laslett and Will Brucher of the Washington State Labor Education and Research Center.
Rose spoke of galvanizing young women to political action in the face of attacks on their health and rights, a theme that connects with labor's challenges and goals in 2012. YELLers then stood and walked their talk during an energetic presentation from Laslett and Brucher highlighting strategy and  practice of direct actions. The LERC's presentation later yielded a surprise flashmob in the general assembly of the WSLC Convention to vividly convey YELLers' solidarity with union fights around the state.
WA YELLers were happy to welcome new YELL members from eastern and southeastern Washington, as well as guests from sister group Oregon YELL. Enthusiastic and rapid expansion has characterized the group's first year, and Convention lent new energy to the commencement of new chapters in Spokane and South Puget Sound, including the election by the body of Area Representatives, a new position within YELL. The group also elected its 2012 officers.
Nearly a dozen YELL members also stepped up in the 104-degree Wenatchee heat to visit union homes and discuss the importance of turning out the vote for labor candidates Jay Inslee and Bob Ferguson, forming a quarter of the Labor Neighbor walkers that day.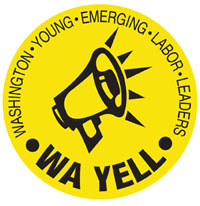 Connections between workers in varied unions and regions continued to strengthen as the State Labor Council kicked off its own convention. YELL hosted its own hospitality suite, where workers young and old kicked back and enjoyed lively discussion of issues within the movement. Young workers also formed bonds with the Women's Committee, co-hosting a breakfast, where we heard more from Elaine Rose about commonality between labor rights and women's rights. The convention's general assembly also heard a Young Workers Panel featuring WA YELL President Kamaria Hightower, Alex Stone of the Economic Opportunity Institute, Tasha West of UFCW Local 21, and Anita Nath of UNITE HERE Local 8.
Young workers enjoyed recognition of their work and presence from such diverse sources as Arlene Holt-Baker, Executive Vice President of the AFL-CIO, and Bob Ferguson, WSLC-endorsed candidate for Attorney General, who thanked YELL members for their work on his and Jay Inslee's campaigns. The diligence and steadfastness of the young activists of YELL was also recognized by the WSLC delegate body, who voted unanimously, Wednesday to approve a WSLC Executive Board seat for a WA YELL representative.
Convention provided an excellent venue for YELLers to absorb expertise and experience from veteran leaders, while allowing new bonds to form across our state's vibrant labor movement. As friendships and collaborations develop between generations, between community organizations and labor, between steelworkers, letter carriers, and farmworkers, our movement grows exponentially in strength and vision.
---
Justine Winnie of OPEIU Local 8 is the newly elected Recording Secretary for WA YELL. For more information about WA YELL, visit their Facebook page.

Short URL: https://www.thestand.org/?p=16301
Posted by
David Groves
on Aug 21 2012. Filed under
LOCAL
. You can follow any responses to this entry through the
RSS 2.0
. Both comments and pings are currently closed.