State contract talks, DNC roundup, Palermo's boycott…
Wednesday, September 5, 2012
---
STATE GOVERNMENT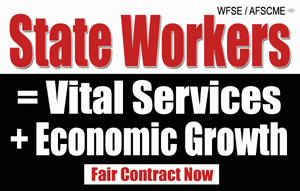 ► At TheOlympian.com — Clock ticking, state labor talks resume today — Time may be running out on Gov. Chris Gregoire's labor negotiators if they hope to secure a contract with more than two-dozen unions on pay and health benefits by Oct. 1. The Washington Federation of State Employees goes back to the table with Gregoire's labor team today and Thursday at the Thurston County Fairgrounds near Lacey, and a top union leader says they aren't sure they'll get a deal. In one scenario state workers could end up working without a contract for a full year.
TAKE A STAND!  Click here to send a message to Gov. Chris Gregoire to stand up for middle class state workers with a fair contract that holds the line on health care costs.
► At PubliCola — What exactly would McKenna (and Inslee) do? (scroll down to 2nd item) — The Seattle Times needs to explain what specifics — beyond the landmark (unemployment insurance and workers' compensation) reforms already passed and applauded by business — Rob McKenna's talking about that they like so much. Additionally, they need to explain why they're calling for a "Republican" approach to replace the successful bipartisan one. (The UI bill passed the State Senate 46-1.)
Democratic state Sen. Steve Hobbs (D-44, Lake Stevens) says McKenna (and Inslee, for that matter) will have to go through the Roadkill Caucus for any new reforms, which he says shouldn't involve more than small tweaks about legal representation for workers in comp claims and finding a sweet spot between workers and employers to keep the fund stable.
---
LOCAL
► In today's Spokesman-Review — Providence announces expansion into Valley — The region's largest health care company, with 275 doctors on the payroll and more than 7,000 employees across Eastern Washington, decided the time is right to build on 11 acres along I-90 east of Sullivan Road. The new medical park will cost an estimated $44 million to build.
► In today's Yakima H-R — Plastic extrusion company could bring 60 jobs to Union Gap — Paragon Films, an Oklahoma plastic extrusion company is considering a new facility in the Yakima Valley that could employ up to 60 people.
► In today's Columbian — Camas firefighter helps save a life at Disneyland — Ben Porter, a Camas-Washougal firefighter/EMT, saved a life while vacationing with his family at Disneyland in Anaheim, Calif.
► In today's News Tribune — Walls tumble down at Elks Lodge to make way for first Walmart in city limits
EDITOR'S NOTE — In "Thrice All American," Neko Case lamented, ""God bless California, make way for the Walmart. I hope they don't find you, Tacoma."
---
DNC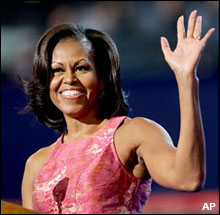 ► At Politico — First Lady: Obama's life makes him understand— Without ever directly attacking, Michelle Obama built an attack on Romney that called on simple details — rusted cars, student loans, a grandmother passed over for a promotion — that drew an implicit contrast with the privileged upbringing of the Republican nominee that Ann Romney could only gloss over last week in Tampa.
► In today's Washington Post — Michelle Obama's speech: Both apolitical and politically masterful (by E.J. Dionne) — She said that for husband, "success isn't about how much money you make, it's about the difference you make in people's lives." Did any other presidential candidate come to mind as perhaps having a contrasting approach? Michelle Obama was much too polite to say. She didn't have to.
► In today's Washington Post — The night Democrats reclaimed 'Obamacare' — If the first night of the Democratic Convention is to be remembered for anything aside from Michelle Obama's speech, it will probably be remembered as the night that Democrats stood up and began fighting for their health-care law.
► From AP — Julian Castro: Mitt Romney 'has no idea how good he's had it' — In a speech that instantly invoked comparisons to Barack Obama's star-making turn at the 2004 Democratic National Convention, San Antonio Mayor Julian Castro invoked his personal story as the descendent of Mexican immigrants to press the case that Mitt Romney "just doesn't get it" when it comes to the struggles of average Americans.
► With all due respect to the First Lady, here's the best speech of Day 1, by former Ohio Gov. Ted Strickland. Among other things, he reminded all that President Obama refused to let the American auto industry die (even as Mitt Romney was arguing to "Let Detroit Go Bankrupt") and now U.S. automakers are thriving — and hiring — once again.
► In today's B-M Times Argus (I know, right?) — Marchers lament North Carolina's stance on unions — Union activists walked a political tightrope on Monday — voicing support for President Barack Obama's re-election bid while lamenting adversarial attitudes toward organized labor in the state Democrats chose for the presidential nominating convention.
► In today's Seattle Times — Murray to make personal case for Obama's re-election — U.S. Sen. Patty Murray, who will speak today at the Democratic National Convention, says the presidential election is personal to her and her family
---
NATIONAL
► At In These Times — AFL-CIO head meets with Palermo's Pizza CEO but strike, boycott continue — The National Labor Relations Board is investigating allegations that the Milwaukee pizza company used immigration status as a pretext for the mass firing of striking workers. While the legal process has been repeatedly delayed, Friday's meeting — which was requested by Palermo's — suggests that the consumer campaign is taking a toll on the company.
ALSO at The Stand — Costco urged to support Palermo's workers
► From Bloomberg — Judge allows AMR to reject pilot contract — The American Airlines won court approval Tuesday to throw out its labor agreement with pilots, ending a dispute with the only union it had failed to reach a deal with on concessions as it goes through bankruptcy reorganization.
► From Bloomberg — Productivity in U.S. grows more than expected — The productivity of U.S. workers rebounded more than initially estimated in the second quarter as employers tried to protect profits.
► From AP — Samsung in hot seat over abusing Chinese workers — Fresh off a billion-dollar loss in a patent fight with rival smartphone maker Apple, embattled Samsung Electronics Co. now finds itself accused by a labor rights group of mistreating workers in China and illegally using child labor.
---
The Stand posts links to Washington state and national news of interest every weekday morning by 9 a.m.
Short URL: https://www.thestand.org/?p=16618
Posted by
David Groves
on Sep 5 2012. Filed under
DAILY LINKS
. You can follow any responses to this entry through the
RSS 2.0
. Both comments and pings are currently closed.