Corporate politics, charter schools risk, today's Romney fails…
Thursday, September 20, 2012
---
BOEING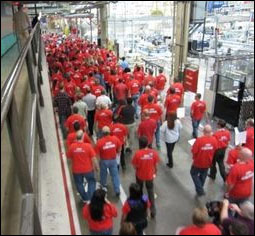 ► From Bloomberg — Boeing engineers slow work on contract offer, union says — Some Boeing engineers are slowing work by adhering strictly to rules, a move that may widen if contract talks during a record production boost don't yield a better offer from the planemaker, said SPEEA Executive Director Ray Goforth.
ALSO at The Stand — SPEEA: "There's nothing worth accepting in contract offer"
► In the Fort Mill Times — SPEEA wants to protect members on military leave from Boeing cuts — At a time when the United States is engaged in the longest running conflict in its history, The Boeing Co. has proposed eliminating the ability of engineers and technical workers on military leave to buy important disability and life insurance coverage at the company's discounted rates.
► At HeraldNet.com — SPEEA members rally in factory over contract offer — Boeing engineers and technical workers marched inside the company's Everett factory Wednesday to make a statement about a contract offer that Boeing calls "market-leading" but which union leaders urge members to reject.
---
CORPORATE POLITICS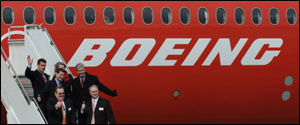 ► At SeattlePI.com — Corporations: Which are Republican, which are Democrat — A few corporations, such as Seattle-based Costco and Starbucks, are identified with the Democrats. But the bulk of corporate giving — which far outpaces that of labor unions — has gone to create a Republican money machine for the 2012 election. The Boeing Co. was a big winner with the Air Force tanker contract, celebrated by Democratic Sens. Patty Murray and Maria Cantwell, and Rep. Norm Dicks.  Still, the Chicago-based aerospace giant has favored Republicans by a 58-42 percent margin in its political giving.
EDITOR'S NOTE — Unlike unions, which have a democratic process where members get to decide which candidates to support, corporate executives decide which candidates to shower with cash without consulting their shareholders or, in many cases, their boards of directors.
► In today's Washington Post — Obama tops Romney in new poll of small business owners — Nearly half of small business owners (47%) plan to vote for a second term for the president, compared to 39% who plan to vote for Mitt Romney, according to a new poll by George Washington University. In addition, Obama is perceived as more supportive of small companies by the most coveted group of voters — independents.
EDITOR'S NOTE — Yet lobbying groups like the National Federation of Independent Business, which claim to represent the interests of small businesses, are run by right-wing neoconservatives who act as outright shills for the Republican Party. Go figure.
---
STATE ELECTIONS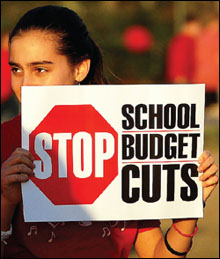 ► In today's Olympian — Charter schools would reduce funding for public schools (by Executive Board of Educational Service District 113) — This November, voters will be asked to decide about Initiative 1240, which if approved would allow the creation of charter schools. Public schools in Washington are already faced with the challenge of improving student performance at a time of declining resources. If the initiative is approved, every dollar that goes to a charter school is taken away from a local classroom.
► In today's Spokesman-Review — Stunt Rep. Shea pulled far from clean campaigning(by Doug Clark) — The Road Rage Republican running for re-election in Spokane Valley is reportedly irked that Amy Biviano, his 4th District opponent, is exploiting his road-ragery in a flier that she is mailing to Valley voters. My friends, there's a lesson here for all of us: in the realm of politics, hypocrisy knows no bounds.
---
LOCAL
► From AP — State jobless rate ticks up to 8.6% — Washington state's unemployment rate increased slightly to 8.6 percent in August, and the state saw a net loss of 1,100 jobs from the previous month. Although there was some good news in the state's construction industry, which saw a net gain of 1,900 jobs last month, the most of any sector in the state.
ALSO at The Stand — "Jobs Now" is already creating jobs across Washington state
► In today's Seattle Times — Group Health announces layoffs, cuts — It says it must cut $250 million over the next 16 months through layoffs, better cost control and some reorganization at the top. The process will eliminate some jobs and necessitate layoffs, CEO Scott Armstrong said. "We'll make (the number) as small as possible."
► From AP — State's pockets not quite so empty — until July 2013— Washington economic forecasters said Wednesday they see a slight improvement in the state's financial outlook, but the next governor will enter office next year staring at another shortfall.
► In today's Columbian — Clark County middle class slips — Clark County showed the same symptoms of middle-class erosion as the nation in 2011: more households slipped into poverty, median income decreased, more people were uninsured and fewer were in the labor force, according to estimates released today by the Census Bureau.
► In today's Peninsula Daily News — Port Angeles City Council OKs $3.9 million esplanade — The council approves a contract with Primo Construction of Carlsborg, the lowest of four bids submitted.
---
OREGON

► In the NW Labor Press — City of Portland commits to build union, and use minority workers and contractors — The city is about to try out a new kind of project labor agreement on public construction contracts. The 23-page "Model Community Benefits Agreement" approved Sept. 5 in a 5-0 vote, was developed in nearly two years of meetings among unions, minority contractors, pre-apprenticeship training programs, and city officials, and will apply to projects of over $15 million.
► In the NW Labor Press — St. Charles Medical Center gets aggressive with nurses; 600 picket — St. Charles Medical Center may have turned the sprinklers on picketing nurses Sept. 10, but it didn't dampen their fervor for a fair contract, says the Oregon Nurses Association.
---
NATIONAL
► In today's Seattle Times — Senate Republicans block Murray's veterans' jobs bill — Senate Republicans on Wednesday blocked Sen. Patty Murray's $1 billion legislation to create a jobs corps for veterans, invoking a budget rule that enabled 40 of them to kill the bill although 58 senators voted in favor of it.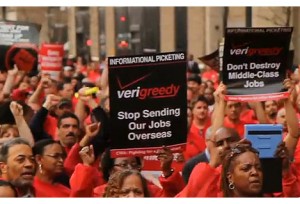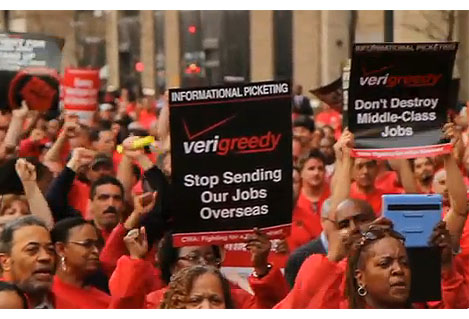 ► In today's NY Times — 4-year deals for unions at Verizon — At a time when many unions are facing demands for pay and pension freezes, Verizon's main unions — the CWA and the IBEW — were able to preserve the current pension plan for existing workers. But the unions did agree that future hires covered by the contracts would no longer receive traditional pensions and would instead have 401(k) accounts with a substantial company match.
ALSO at The Stand — Victory for 45,000 East Coast Verizon workers
► At AFL-CIO Now — Voter fraud? You're more likely to be struck by lightning — The chance of voter fraud occurring in a federal election is 1 in 2.3 million. A person is more likely to be struck by lightning or attacked by a swarm of bees than commit voter fraud. Yet 34 states introduced voter ID requirements that would effectively disenfranchise more than 21 million eligible voters who don't have the required IDs — mostly people of color, low-income voters, students, seniors and people with disabilities.
► In today's Washington Post — Lessons from the teachers' strike (by Harold Meyerson) — As both policy and politics, the demonization of teachers unions is a dead end for improving American education. Working with, not against, teachers is the more sensible way to better our schools.
► In today's NY Times — As tax credit wanes, jobs vanish in wind power industry — Cutbacks are happening throughout the American wind sector, which includes hundreds of manufacturers, from multinationals that make giant windmills to smaller local manufacturers that supply specialty steel or bolts. In recent months, companies have announced almost 1,700 layoffs.
► In today's NY Times — When flexibility hurts (by Susan J. Lambert) — The flawed incentives that guide businesses' employment practices hurt women at both ends of the labor market.
---
TODAY'S ROMNEY FAILS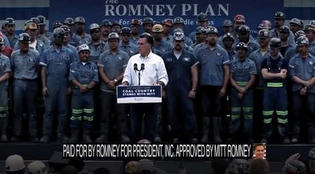 ► In today's Columbia Dispatch — Romney ads features miners not paid forced to pose without pay — Ohio coal miners at a Murray Energy mine (a nonunion mine) lost a day's pay when they were forced to attend a mandatory Mitt Romney campaign rally in Beallsville last month. Now, the Romney campaign is featuring these coal miners in its new attack ad claiming President Obama is "anti-coal."
► At AFL-CIO Now — Romney bemoans that union contracts would prevent mass firings of federal workers — In the same infamous video where he called half the nation freeloaders, Romney said, "I wish we weren't unionized so we could go a lot deeper than you're actually allowed to go."
► From AP — Pawlenty quits as Romney campaign co-chair — Instead, the Republican former governor of Minnesota will become one of Wall Street's top lobbyists in Washington.
► In The Onion — 'What about that whole birth certificate thing?' Romney suggests to staff — "What about that whole deal with his birth certificate, or him being born in Kenya or wherever — you think that might stick?" said Romney, adding he was "just spitballing here." "Also, wasn't he connected to that terrorist guy, what's-his-name? Ayers? Bill Ayers? That might have legs, right? Let's look into that."
---
TODAY'S MUST-SEE
► We apologize for posting Jon Stewart two straight days, but last night he delivered an epic takedown of "Romney campaign headquarters" (also known as Fox News), that is truly must-see TV in the following two-part segment, "Chaos on Bullshit Mountain."  Segment 1 is funny, but it's Segment 2 eviscerates the "bullshit nation fiction" that Obama enables an "entitlement society." Enjoy.
---
The Stand posts links to Washington state and national news of interest every weekday morning by 9 a.m.
WASHINGTON IS A UNION STATE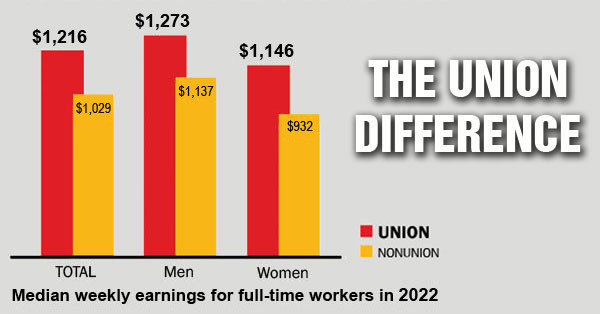 CHECK OUT THE UNION DIFFERENCE in Washington state: higher wages, affordable health and dental care, job and retirement security.
FIND OUT HOW TO JOIN TOGETHER with your co-workers to negotiate for better working conditions and respect on the job. Or go ahead and contact a union organizer today!