Few new voters, Spokane IAFF deal, why Obama now…
Tuesday, October 9, 2012
---
STATE ELECTIONS
► In today's Seattle Times — New-voter registration way down from 2008 levels — Despite new technologies making the process easier than ever, about a third fewer Washington state residents have registered to vote this year compared with the first nine months of 2008. The decline is more pronounced among younger people.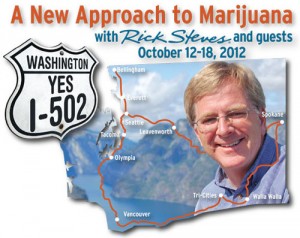 ► In today's (Everett) Herald — Travel writer Rick Steves on stump for marijuana measure — International travel expert Rick Steves will speak at two events in Snohomish County this month, part of an 11-city statewide tour to promote passage of Initiative 502.
ALSO at The Stand — Join Rick Steves on I-502 tour this month
► At PubliCola — It's the GOP that pushed cuts to public employee pensions — The Seattle Times calls a Republican independent expenditure ad against Jay Inslee "mostly false" for attacking Inslee over a proposal to put some state worker pension money into startup businesses. The truth: It's Rob McKenna's own GOP that pushed cuts to public employee pensions last year, scaling back the state's investment from 3% or 2% to 1% and suspending a $138 million payment into the pension. Both efforts were blocked in the end by the Democrats.
► At PubliCola — Republican State Rep. Walsh takes pro-gay marriage to airwaves — She's the star of the latest pro-gay marriage TV ad, with this knock-out closing line, "As a Republican, I don't believe the government should tell anybody who they can or cannot marry."
ALSO at The Stand — Why Washington's labor movement supports marriage equality (by WSLC Secretary-Treasurer Lynne Dodson)
---
LOCAL
► In today's (Everett) Herald — SPEEA files more labor charges against Boeing — The Society of Professional Engineering Employees in Aerospace alleges the company tried to interfere in member rallies in Everett and Portland, Ore. The union accused Boeing of videotaping rallies and of confiscating photos taken by SPEEA members of the rallies, which are union activities protected under federal labor law.
ALSO at The Stand — SPEEA files ULPs against Boeing alleging 'harassment, intimidation' — Plus more coverage at KING5.com and the Seattle P-I.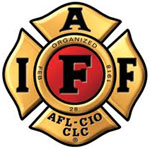 ► In today's Spokesman-Review — Council OKs firefighters' contract— The Spokane City Council voted 5-2 on Monday to accept a four-year contract with the Spokane Firefighters Union. The deal, which still needs to be approved by union members, would freeze pay in 2012 and 2013 and raise pay by 1.9% in 2014. The contract would pay 100% of firefighters' and their families' medical premiums in 2013. That's up from 82.5%.
► In today's Seattle Times — Judge to decide whether to extend temporary ban on jet-fuelers strike — A federal judge will hear arguments Tuesday on whether to extend a temporary order prohibiting a suspended aircraft fueler and his supporters from instigating a strike at Seattle-Tacoma International Airport.
► In today's (Longview) Daily News — Worker who fell from bridge lived in Mississippi — The bridge painting worker who fell from the Lewis and Clark Bridge on Sunday and is presumed drowned has been identified as Charles William "Bill" Wiley Jr., 40, of Mississippi. He was working for Odyssey-Geronimo JV, a contractor out of Houston, Pa.
► In today's (Everett) Herald — Open house for former Kimberly-Clark workers— WDC Snohomish County and WorkSource Snohomish County will host an open house for workers affected by the closure of the Everett mill from 2-4 p.m. Oct. 16 in Room 214 at Everett Station, 3201 Smith Ave.
---
NATIONAL
► At Politico — CEOs wield their clout, wage battle to get a budget deal — Some on Wall Street — who ordinarily would share the conservative aversion to higher taxes — believe the circumstances are so dire they are ready to pressure Republicans to abandon orthodoxy for a more important goal: to prove that Washington won't hold the economy hostage to its own partisan dysfunction.
---
PRESIDENTIAL ELECTION

► At TPM — Another post-debate poll shows Romney with national lead — Republican nominee Mitt Romney leads President Barack Obama by 2 points, according to a new national survey from Democratic-leaning Public Policy Polling.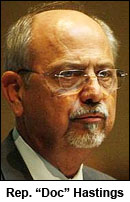 ► In The Hill — Rep. Hastings accuses Obama of using Chávez monument to win Latino support — House Natural Resources Committee Chairman Doc Hastings (R-Wash.) said that Obama's "unilateral" monument designation was a clear attempt to drum up support from Hispanic voters ahead of the Nov. 6 election: "This national monument designation is an unnecessary use of Presidential powers and appears to be based more on politics than sound policy."
EDITOR'S NOTE — We suppose it shocks no one that "Do-Nothing Doc" says a memorial to one of our nation's most beloved labor leaders is "unnecessary." But we are a little surprised that Hastings hasn't seen the polls that show Obama crushing Romney by more than 50 points among swing-state Hispanics. If the president wants to dedicate a memorial for political reasons, he should dedicate one for Dale Earnhardt or Steve Jobs.
► At Huffington Post — Republican Senator, Vietnam vet endorses Obama (by former U.S. Sen. Larry Pressler) — In word and deed anywhere and every time, President Obama never forgets that standing by those who serve is the heart, soul and core value of this country. As a life-long Republican, I stand by him as he stands by all of us, putting national allegiance ahead of party affiliation. I endorse President Obama for reelection in 2012.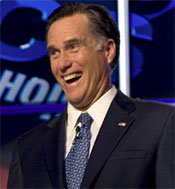 ► In The Onion — Romney proudly explains how he turned things around — "I'm lying a lot more, and my lies are far more egregious than they've ever been," a smiling Romney told reporters while sitting in the back of his campaign bus. "When I lie, I'm essentially telling people what they want to hear, and people really like hearing things they want to hear. Even if they sort of know that nothing I'm saying is true."
---
TODAY'S MUST-SHARE
► Why Obama Now? — An animated short about the big choice in 2012's presidential election
By Simpsons / Family Guy animator Lucas Gray.
---
The Stand posts links to Washington state and national news of interest every weekday morning by 9 a.m.
Short URL: https://www.thestand.org/?p=17476
Posted by
David Groves
on Oct 9 2012. Filed under
DAILY LINKS
. You can follow any responses to this entry through the
RSS 2.0
. Both comments and pings are currently closed.