McKenna's right-wing ties, Intalco-BPA deal, Walmart strikes…
Wednesday, October 10, 2012
---
STATE ELECTIONS

► From AP — Ties to conservative group muddy McKenna's "moderate" appeal— Over the past decade, Rob McKenna has portrayed himself as a centrist fit to lead this Democratic-leaning state. At the same time, he has worked closely with conservatives who might give some independents pause: He raised money for President George W. Bush, touted his work for notoriously right-wing ALEC members, and has attended Tea Party events to talk about the Constitution.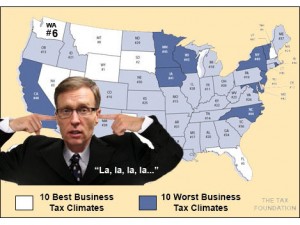 ► In today's Seattle Times — Tax report: Washington state 6th best for business — Despite the griping you hear sometimes, Washington is one of the best states in the country in which to run a business because of its relatively low taxes, according to the Tax Foundation, a non-partisan research group based in Washington, D.C. If you in factor in climate and quality of life, Washington would vault to first place. No wonder so many companies choose to locate and expand here. Oregon ranks 13th and Idaho is 20th.
EDITOR'S NOTE — Meanwhile, Republican gubernatorial candidate Rob McKenna says our state's high costs for workers' compensation — a cost included in the Tax Foundation's rankings — are why he supports allowing private insurance companies to sell workers' comp coverage in Washington. (That idea was soundly rejected by the state's voters, 59-41, in 2010.)
► In today's NY Times — One man guides fight against gay marriage — Frank Schubert, a former corporate public relations executive, ran the $40 million, come-from-behind push for Prop. 8 in California in 2008. He went on to mount successful campaigns to defeat same-sex marriage in Maine and North Carolina. Now, with marriage initiatives on the ballot in Maryland, Minnesota, Washington State and Maine, he is the chief strategist in all four at once.
EDITOR'S NOTE — Get ready for $1.5 million in nasty Schubert-produced TV ads urging Washington voters to reject R-74. His commercials in Maine depicted a school chalkboard with the words "gay sex," teachers discussing penetration, and the looming — dishonest — specter that "homosexual marriage will be taught in schools." (Hat tip to Slog.)
---
BOEING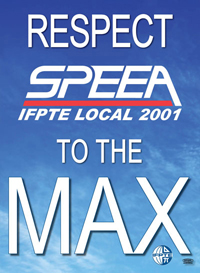 ► In today's (Everett) Herald — Boeing-SPEEA talks resume, and there's much to do — A quick resolution of the contract talks between the Boeing Co. and the union representing engineers and technical workers could be tough to come by, even as negotiators resume discussions Wednesday. From the union's perspective, the starting point for negotiations is the existing contract, not the offer that members already rejected.
► In today's Washington Post — BAE, EADS calls off merger that would have created aerospace giant to rival Boeing — A deal to create a European defense and aerospace giant to rival Boeing Co. collapsed Wednesday when Britain's BAE Systems and EADS NV called off their merger discussions. The companies said they had "decided to terminate their discussions" over the proposed $45 billion tie-up because of conflicting interests between the British, French and German governments.
---
LOCAL
► In today's Bellingham Herald — Intalco gets long-awaited 10-year power deal for Ferndale-area smelter— After many months of negotiations, Alcoa has announced a new 10-year electric power supply deal with the Bonneville Power Administration that should help maintain 625 jobs at the Alcoa Intalco Works smelter west of Ferndale.
► In today's Spokesman-Review — City budget tightening will come with costs (editorial) — Between 2002 and 2012, membership in the union local representing firefighters has fallen by 37, to 281, a reduction of almost 12%. The four-year contract approved Monday by the Spokane City Council will further reduce that number. Spokane's firefighters are well-trained and well-equipped. But with fewer of them, the community cannot help but be less well-protected.
► In today's Columbian — CRC sets out trade offs on height — The Columbia River Crossing offered a clearer picture Tuesday of what a bridge with up to 110 feet of clearance would be. Meanwhile, Republican legislators show up (again) to urge removal of light rail from the project.
---
NATIONAL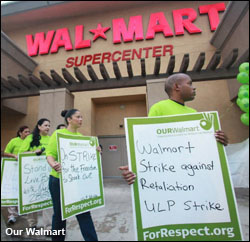 ► At Salon.com — Walmart strikes spread to more states — For the second time in five days — and also the second time in Walmart's five decades — workers at multiple U.S. Walmart stores have walked out on strike. Tuesday morning, workers walked off the job at stores in Seattle, Dallas, Miami, Laurel, Md.; and in Northern, Central and Southern California. Both walkouts were spearheaded by OUR Walmart, a year-old organization of Walmart workers backed by UFCW. The group is calling for improved staffing and benefits as well as an end to alleged retaliation against its members.
TAKE A STAND — Click here to sign a petition supporting the OUR Walmart workers.
► From AP — To limit health costs, Olive Garden parent keeping more workers on part-time status — The owner of Olive Garden and Red Lobster restaurants is putting more workers on part-time status in four markets in a test aimed at limiting costs from President Obama's health care law. The company says about 75% of its 18,000 employees in the U.S. and Canada are already part-timers.
► At AFL-CIO Now — CWA members at CenturyLink seek fair contract — Their contract was set to expire at midnight on Oct. 6, but workers stayed on the job under a temporary extension while they try to win a fair contract.
► In today's NY Times — Conspiracy world (editorial) — Behind every nonpartisan institution, the right sees the malevolent hand of a liberal cabal. Just look at the latest outrageous charge by the far right that an improvement in the jobs report must have been manipulated.
---
NATIONAL ELECTION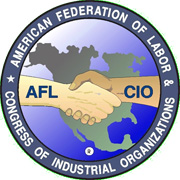 ► In today's Washington Post — Unions widen ground game on Obama's behalf — Best known for opening a new spigot of anonymous corporate giving in elections, the Supreme Court's Citizens United decision in 2010 also allowed labor unions to use their general treasury cash, including dues, to reach out to all voters, not just union members. In Ohio, the list of potential voters whom the AFL-CIO will reach out to in the last month before the election has nearly doubled, from 1.2 million in 2008 to 2 million this year. Union officials hope their new freedom will prove especially potent in Ohio, where a year ago voters repealed a new law pushed by Republican Gov. John Kasich that would have restricted collective bargaining rights for public employees, including police officers, firefighters and teachers.
► At Huffington Post — Romney on 47% comment: "The words that came out were not what I meant" — After previously saying his words were "not elegantly stated," Mitt Romney again tries to distance himself from his infamous 47% comments caught on video at a private fundraiser in May.
EDITOR'S NOTE — Meanwhile, in apparent anticipation of more words he doesn't mean coming out of his mouth, the Romney-Ryan campaign has now banned all recording at fundraisers.
► From AP — What would Obama's Supreme Court look like? — Whoever wins the election this fall may be in a position to radically change the ideological makeup of the Supreme Court, a legacy that far outlasts a four-year term. Obama has already appointed two new justices to the Court and, if he's reelected, he'll most likely get at least one more crack at it. There are currently four justices in their seventies on the aging Supreme Court.
► From AP — California wades into national labor debate with Prop. 32 — California voters are being asked to starve unions of the tens of millions of dollars they use to finance campaigns and political organizing, as the nation's largest state wades into the national debate over labor clout.
---
TODAY'S MUST-READ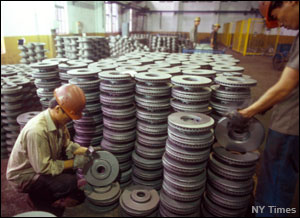 ► In today's NY Times — As Romney repeats trade message, Bain maintains China ties— The tale of Asimco Technologies, an auto parts manufacturer whose plants dot eastern China, would seem to underscore Mitt Romney's campaign-trail complaint that China's manufacturing juggernaut is costing America jobs. Nine years ago, the company bought two camshaft factories that employed about 500 people in Michigan. By 2007 both were shut down. Now Asimco manufactures the same components in China on government-donated land, where companies are eligible for the sort of subsidies Romney says create an unfair trade imbalance.
But there is a twist to the Asimco story that would not fit neatly into a Romney stump speech: Since 2010, it has been owned by Bain Capital, the private equity firm founded by Romney, who has as much as $2.25 million invested in three Bain funds with large stakes in Asimco and at least seven other Chinese businesses.
---
The Stand posts links to Washington state and national news of interest every weekday morning by 9 a.m.
Short URL: https://www.thestand.org/?p=17511
Posted by
David Groves
on Oct 10 2012. Filed under
DAILY LINKS
. You can follow any responses to this entry through the
RSS 2.0
. Both comments and pings are currently closed.