Debate redux, Social Security 'chain,' billionaires on the ballot…
Wednesday, October 17, 2012


---
GUBER-DEBATE
► In today's (Everett) Herald — Inslee, McKenna trade jabs in feisty final debate — Democrat Jay Inslee and Republican Rob McKenna clashed on school funding, women's health care and their plan for creating jobs Tuesday in a feisty final debate before voting begins in one of the nation's most closely watched contests for governor.
MORE coverage in today's News Tribune, Seattle Times, and from the Associated Press.
► In today's Seattle Times — Republican Governor's Association now in for $11.3 million for Rob McKenna — The RGA, a national group funded by party loyalists like the billionaire brothers Charles and David Koch, has now put $11.38 million to support McKenna against his Democratic opponent, Jay Inslee. That dwarfs the $7.9 million raised by Our Washington, a coalition of the Democratic Governor's Association and labor groups supporting Inslee.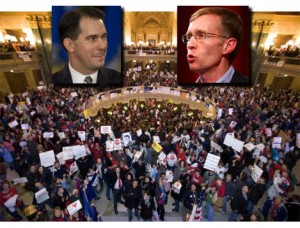 ALSO at The Stand — GOP boss says McKenna will do here what Scott Walker did in Wisconsin — Bob McDonnell, the leader of the Republican Governors Association, told Washington delegates to the RNC in Tampa that Rob McKenna would be a leader much like Scott Walker, the divisive Wisconsin governor who took away public employees' bargaining rights and cut their wages and benefits so he could balance his state's budget while passing more corporate tax cuts.
---
UBER-DEBATE

► At Politico — Instant polls: Obama won
► In today's NY Times — For the president, punch after punch— Obama emerged from the debate having claimed a new chance to frame the weeks until Election Day. He painted Romney as a tool of big oil who is soft on China, hard on immigrants, politically crass on Libya and two-faced on guns and energy. He went after Romney's business record, his personal income taxes and, in the debate's final minutes, his comments about the 47% of Americans he once deemed too dependent on government. "Governor Romney doesn't have a five-point plan," Obama charged. "He has a one-point plan," which is to help the rich, he said.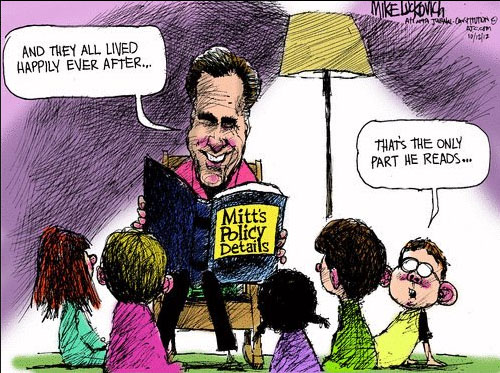 ► At TPM — Romney surrogates dance around equal pay, immigration positions — Top surrogates for Mitt Romney declined after the debate to outline their candidate's position on Arizona's immigration law and the Lily Ledbetter Fair Pay Act. During the debate, President Obama specifically charged Romney with ducking questions about both laws.
► In today's NY Times — Obama comes back (editorial) — The president offers a strong case for his policies, and puts Mitt Romney on the defensive.
► At AFL-CIO Now — Three takeaways from last night's debate
► In The Onion — Millions head to Internet to figure out their own opinions about debate
---
LOCAL
► In today's Seattle Times — Boeing opens Seattle plant to begin building tanker boomers — Boeing this week begins assembling the first refueling boom for the Air Force's new aerial tanker aircraft, the KC-46, which is a modified 767-200ER and will be produced in Everett. It will be built at a new Boom Assembly Center that opened Tuesday at Boeing Field in Seattle.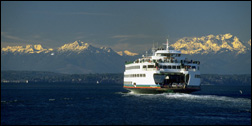 ► From AP — A number of ferries canceled by staffing shortage — A ferry system official told KING-TV they're talking to labor unions to see if disgruntled employees are conducting a work slowdown to pressure management to give back wages and positions lost over the past year. Inlandboatman's Union leader Dennis Conklin told KING there is no work slowdown and the problem is mismanagement.
► In today's Seattle Times — Arena deal finalized, but hurdles remain — Amid a cheering crowd of Sonics fans and community leaders Tuesday, Seattle Mayor Mike McGinn and King County Executive Dow Constantine signed legally binding agreements to move ahead on a new sports and entertainment arena to host professional basketball and hockey.
► In today's Olympian — Olympia city budget proposal would cut 16 jobs, $2.5 million — Five of those positions would be cut from the city's police department, two fire positions would be cut, 2.87 full-time-equivalent positions would be cut from parks, 3.25 from public works and two from the planning department.
► In today's Bellingham Herald — WTA plans to increase bus fares 25% — Whatcom Transportation Authority says the cost of employee health benefits is projected to increase 20% next year. WTA staff is negotiating with union employees on a cost-saving solution — possibly switching to a state insurance pool.
► In today's Kitsap Sun — Harrison plans to join Franciscan Health System — Harrison Medical Center plans to join Franciscan Health System, while Franciscan's parent continues in talks to combine its Northwest operations with PeaceHealth of Vancouver.
---
NATIONAL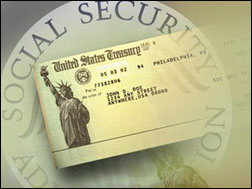 ► At AFL-CIO Now — Social Security COLA at risk with 'chained CPI' proposals — The announcement that Social Security recipients will receive a modest increase (1.7%) in their cost-of-living adjustment (COLA) was a small but welcome boost for seniors who are seeing prices increase on necessities, from health care to food. However, even this modest increase could be jeopardized if proposals floating around in Washington to "tweak" the current COLA formula by tying it to the so-called "chained CPI" are passed.
► From AFL-CIO Now — Palermo's Pizza doesn't deliver — on jobs — Palermo's Pizza, where workers have been on strike since June 1 protesting unfair labor practices, has received some $26 million in local, state and federal funds since 2005. The majority of funds were earmarked for job creation and economic development. But a new report finds little evidence Palermo's has kept its word.
► In today's Buffalo News — NHL hopes new offer can get pucks flying — The league ignited the engine on stalled collective bargaining talks Tuesday, proposing a 50-50 revenue split between owners and players during a meeting in Toronto.
► In today's NY Times — California's ballot initiatives, born in populism, now come from billionaires — Four of California's 11 ballot propositions are initiatives of single rich individuals, while others are being challenged by equally wealthy critics pouring in millions of dollars to defeat them — a sign, in this era of "super PACs" and Citizens United, of the increasingly sophisticated use of the populist tool by the wealthy to influence politics in the nation's most populous state.
EDITOR'S NOTE — Of course, the same is becoming true here in Washington. Last year, Costco successfully purchased a state law privatizing liquor after decades of failed legislation and ballot measures. This year's, a handful of super-rich people like Bill Gates and Alice Walton bought space on our ballots for the I-1240 charter schools measure and are now spending millions on TV ads in support of this thrice rejected idea (1996, 2000 and 2004). The billionaires' money continues rolling in for I-1240 as you read this.
---
TODAY'S MUST-READ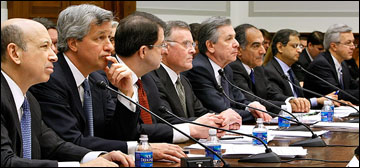 ► In today's Seattle Times — The corruption of the executive class (by Jon Talton) — Vikram Pandit (2nd from the right in this gallery of banking rogues) became chief executive of Citigroup in December 2007. During his tenure, Citi never quite righted itself. Shares are lower than when he took over. Citi never stopped gambling, just did it worse than expected. So poor Pandit was forced to walk the plank today by the board (or "chose to resign"). His penalty: total compensation of $261 million. Think about that: $261 million to fail. While millions of average Americans can't even get a low-paying, abusive "right to work" job. Tell me we're not a corrupt society.
---
The Stand posts links to Washington state and national news of interest every weekday morning by 9 a.m.
Short URL: https://www.thestand.org/?p=17718
Posted by
David Groves
on Oct 17 2012. Filed under
DAILY LINKS
. You can follow any responses to this entry through the
RSS 2.0
. Both comments and pings are currently closed.