Senate king-makers, Hostess bakery closures, what's next for labor…
Tuesday, November 13, 2012
---
STATE ELECTION
► In today's Seattle Times — Charter schools narrowly win approval — By a slim margin, voters have approved I-1240, which will allow up to 40 charter schools to open in Washington over the next five years. Opponents have not conceded. To prevail, they would need about 57% of the remaining 300,000 votes to go their way.
► In today's News Tribune — State Senate power-sharing proposed by 2 Democrats — Democrats will outnumber Republicans next year in a closely divided state Senate, but if Sens. Tim Sheldon and Rodney Tom have their way, the two parties will have to share power. Last winter, the two Democrats and one other, departing Puyallup Sen. Jim Kastama, joined Republicans to form a "philosophical majority" and advance their own budget plan. Now their continued role as king-makers hinges on the re-election of Vancouver Republican Sen. Don Benton, who is down by just 16 votes against Rep. Tim Probst in a race almost certainly headed for a recount. If Benton wins, Sheldon and Tom suggest rejecting the majority party's slate of leaders and choosing some senators from both parties for top positions.
► In today's Seattle Times — Two races remain tight in SW Washington district — Both political parties have turned their attention to Vancouver and the 17th LD, where Democratic Rep. Tim Probst leads incumbent Republican Sen. Don Benton by 16 votes and Democrat Monica Stonier is 81 votes ahead of Republican Julie Olson for a House seat.
► In today's Kitsap Sun — GOP Rep. Jan Angel will seek Senate seat Kilmer is leaving — The candidate who replaces Kilmer's remaining one-year appointment will be decided in a special election in November 2013. The seat is up for re-election the following November for the full four-year Senate term.
► In today's News Tribune — Still waiting for answer on Pierce Transit, 10,000 ballots to be counted — A Pierce Transit proposal to raise the sales tax to pay for bus service was losing by 716 votes Monday.
► In today's Columbian — Rep. Wylie to host talk on state revenue system — State Rep. Sharon Wylie (D-Vancouver) will host a talk about state revenue from 6 to 8 p.m. Thursday at the Vancouver Community Library, 901 C St. The discussion will focus on "how to make the state's revenue system more adequate, fair and stable."
---
LOCAL


► In today's Seattle Times — Hostess closing Seattle bakery, 2 others after strike— Hostess Brands is permanently closing three bakeries in Seattle, St. Louis and Cincinnati after a nationwide strike by its bakers union. A company spokesperson could not be reached for comment on the exact number of workers affected by the Seattle closure. In May, Hostess notified its 250 employees in Washington that they could be laid off in 60 days. At the time, the company said it had 111 employees in Seattle, 17 in Kent, and 56 in Pierce County subject to layoffs. The Bakery, Confectionery, Tobacco Workers and Grain Millers International Union, which represents 5,000 Hostess workers, went on strike Nov. 9 to protest wage and benefit cuts. Officials say the company stopped contributing to workers' pension last year. The union rejected the company's contract offer in September by a 92% vote.
For more info, visit bctgm.org.
► At PubliCola — Longshoremen: Grave concerns about traffic, other impacts from arena — ILWU Local 19, the Port of Seattle union that has sued the city and county over the proposal to build a half-billion-dollar arena in SoDo, outlined its specific grievances in a letter to the city's Department of Planning and Development last week.
► In today's Spokesman-Review — Jobs stymie city budget action — Spokane Mayor David Condon's plan to approve a budget without increasing property taxes is on hold as the City Council struggles with further cuts to police and fire services.
► In today's (Longview) Daily News — Cargo belt chute sparks fire at EGT grain terminal — Workers at the terminal were loading grain onto the Marshall Islands-based Aruna Ece when the cargo belt chute caught fire just after 2 a.m. Sunday.
► In today's (Everett) Herald — Boeing parking overflowing into wetland park's lot — It's no secret that Boeing is adding workers. What it hasn't added is more parking.
► In today's Spokesman-Review — Review musicians' contract (letter) — Support the Spokane Symphony Orchestra musicians. This does not mean we are against management. It does mean that we are urging a contract review. The public should be aware a strike is not all about money. The musicians love what they do. They need freedom that permits additional work. They need assurance and security so their instruments won't live in a pawn shop.
---
FISCAL CLIFF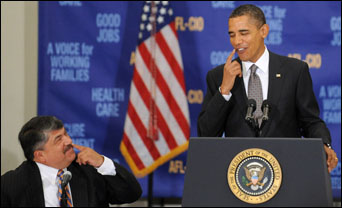 ► In today's Huffington Post — Obama, progressives renew wary embrace — The president will meet with top progressive leaders and organized labor officials at the White House today. But the idea that a legislative fountain will flow smoothly now that the president has no campaign to tend is more than likely misplaced. With high-stakes negotiations set to take place within days on crucial budget items, a delicate political dance is already occurring between the president and his progressive base.
► In today's Washington Post — Liberal groups mobilize for fiscal cliff fight over Social Security, Medicare cuts — Leaders of the nation's labor unions and other liberal groups are planning Tuesday to press Obama at the White House to reject the kind of cuts in Medicare and Social Security that he has previously offered to make. On Thursday, left-leaning lawmakers and seniors groups plan to rally on Capitol Hill against any changes to entitlements.
► In today's Washington Post — 2 million could lose unemployment benefits unless Congress extends program — More than 2 million Americans stand to lose their jobless benefits unless Congress reauthorizes federal emergency unemployment help before the end of the year. "We cannot forget the human cliff looming for more than two million Americans scheduled to lose their economic lifeline during the upcoming holidays," Rep. Sander M. Levin (D-Mich.)
► In The Hill — Oil industry tax breaks face peril in fiscal cliff talks — House Speaker John Boehner (R-Ohio) won't rule out targeting oil-industry deductions in a broad deal to avoid the higher income tax rates and deep automatic spending cuts set to take effect in 2013.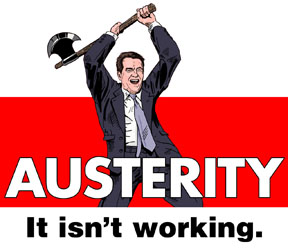 ► In today's Columbian — No more rhetoric; it's time to act on healing economy (by AWB President Don Brunell) — Our problems won't be solved by just heaping more taxes on families and small businesses making more than $250,000 a year.
EDITOR'S NOTE — Nope. But it's a great place to start! The AWB/Chamber's austerity path of cutting services (and public sector jobs) has been a miserable failure at "healing the economy." Instead, it has devastated our schools, universities, public safety and transportation systems, and other important services we expect from our government. The fiscal cliff conversation should BEGIN with ending the historically low tax rates enjoyed by those among us who can afford to pay more.
P.S. Mr. Brunell, your candidates all lost the election.
---
NATIONAL
► In The Hill — Dems short of votes on filibuster reform — Democrats don't have the 51 votes they need in the Senate to change filibuster rules that could make it harder for the GOP minority to wield power in the upper chamber. "I haven't counted 51 just yet, but we're working," said Sen. Tom Udall (D-N.M.)
► In today's NY Times — Democrats like Romney idea on income tax — With both parties positioning for negotiations on tax cuts and spending reductions, Democrats are latching on to an idea to raise taxes on the rich through a cap on deductions.
► In The Hill — Norquist pledge takes an election hit — Republicans might have held the House, but Grover Norquist's majority in Congress is all but gone. Fewer incoming members of the House and Senate have signed the pledge against tax increases run by Norquist's Americans for Tax Reform.
EDITOR'S NOTE — How'd Norquist pledge signers in Washington state do? Almost all of the 11 incumbents are Eastern Washington Republicans who didn't face serious challenges, if they were opposed at all. However, one incumbent signer, Rep. Mike Armstrong (R-12th) lost to his GOP challenger. Of the five challengers who signed Norquist's pledge, just one won: Rep.-elect Drew MacEwen (R-35th). So it's a wash in Washington.
---
TODAY'S MUST-READ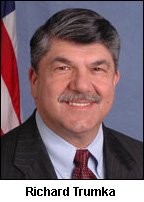 ► At Salon — AFL-CIO chief Richard Trumka "We won't be taken for granted" — The AFL-CIO announced earlier this year that it was rebooting its approach to politics. Trumka says the election results vindicate the first step: investing more cash in an independent infrastructure focused on door-to-door political organizing for pro-labor politicians, rather than in Democratic Party campaigns and committees. Now comes the hard part: making good on labor's promise to hold those politicians accountable. "One thing that we're doing different than we've ever done before," said Trumka, "is we're not dismantling our program today." Instead, he promised, it will move "from electoral politics to advocacy, and from advocacy to accountability."
---
The Stand posts links to Washington state and national news of interest every weekday morning by 9 a.m.
Short URL: https://www.thestand.org/?p=18585
Posted by
David Groves
on Nov 13 2012. Filed under
DAILY LINKS
. You can follow any responses to this entry through the
RSS 2.0
. Both comments and pings are currently closed.