Walmart strikes, Boeing-SPEEA, 'change agents'…
Thursday, November 15, 2012
---
WALMART STRIKES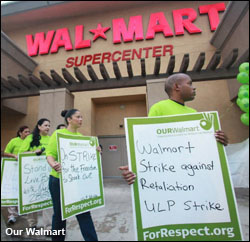 ► In today's News Tribune — Walmart workers in Federal Way to protest work conditions — Walmart workers say they're planning a protest today at a Federal Way Walmart — the first ever in the Puget Sound area — to make public their complaints about scheduling, safety, discrimination and other issues at the world's largest retailer. The Federal Way picketing is part of a nationwide effort by an employee group that calls itself OurWalmart to persuade the chain to make improvements to working conditions at its thousands of stores.
ALSO at The Stand — Walmart workers plan Black Friday strikes; Federal Way event TODAY — Workers from several local Walmart stores will be taking action in a one-day protest strike a week before Thanksgiving to challenge Walmart to stop all retaliation of Walmart workers here and across the nation who speak out about problems in the workplace. Join striking Walmart workers THIS MORNING (Thursday, Nov. 15) from 10:30 a.m. to noon outside the Federal Way Walmart, 1900 S. 314th St. Then get ready to support Walmart workers on Black Friday.
► At Huffington Post — Walmart-contracted warehouse workers strike ahead of Black Friday — Two dozen workers at a Walmart-contracted warehouse in Southern California walked off the job Wednesday morning, calling on the companies that benefit from their work to improve conditions at the facility and to end what workers describe as retaliation for speaking out.
---
BOEING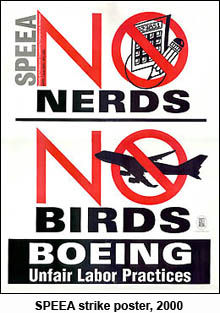 ► In today's Seattle Times — Boeing, SPEEA far apart after top-level talks — In a secret meeting Tuesday, Boeing Commercial Airplanes chief Ray Conner and the executive director of Boeing's white-collar union, Ray Goforth, tried to hammer out the framework of an agreement in ongoing contract talks. But the two sides veered far apart Wednesday, and an impasse is looming. Members of the Society of Professional Engineering Employees in Aerospace , IFPTE 2001 — some 23,000 Boeing engineering and technical staff, almost all in the Puget Sound region — may soon be headed toward a second contract vote with the two sides still at loggerheads.
► In today's (Everett) Herald — Boeing adding on in Everett for Dreamlifter, 787 work — The construction along the Mukilteo Speedway is where an operations center for Boeing's fleet of 747 large-cargo freighters will be. The aircraft, dubbed the Dreamlifter, ferries major sections of Boeing 787s around the world.
---
STATE GOVERNMENT
► From AP — State revenue predictions remain grim — Gov.-elect Jay Inslee will take office in January facing a projected $900 million deficit for the next two-year budget ending in mid-2015, not counting money lawmakers will need to spend to improve funding for education as directed by the state Supreme Court earlier this year.
► In today's Spokesman-Review — Inslee stands by his tax pledge — Gov.-elect Jay Inslee reiterated Wednesday he plans to close the budget hole without a tax increase, a sentiment seconded a few hours later by Republicans on the state's Economic Forecast Council. The Democrat who heads the House budget committee, however, was skeptical.
► In today's Seattle Times — Inslee names transition co-chairs; will be hiring 'change agents' — Gov-elect Jay Inslee announced three co-chairs for his transition committee: Microsoft executive Brad Smith, Renton School Superintendent Mary Alice Heuschel and WSU President Dr. Elson Floyd.. Inslee said he'll be looking for Republicans as well as Democrats and people from business to staff his Cabinet.
---
ELECTIONS
► Latest vote count in the 17th LD — Don Benton (R) leads Tim Probst (D) by 110 votes, and Monica Stonier (D) leads Julie Olson (R) by 43 votes. Next Clark County tally due today at 5 p.m.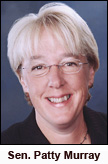 ► Today at TPM — Patty Murray to chair Senate Budget Committee — U.S. Sen. Patty Murray (D-WA) is set to become the next chairman of the Senate Budget Committee, her office confirmed to TPM on Thursday. "Senator Murray has confirmed that she expects to be the next chairman of the Senate Budget Committee," her spokesman Eli Zupnick said. "She is going to use all of her committee and leadership positions to continue fighting for veterans, as she has done over her entire career. She plans to continue working to reduce the deficit and pay down the debt in a balanced way that is fair for seniors and the middle class and calls on the wealthiest Americans to pay their fair share."
► In today's Spokesman-Review — McMorris Rodgers makes conference chair — U.S Rep. Cathy McMorris Rodgers (R-Spokane) was chosen by her colleagues to serve as chairwoman of the House Republican Conference, the fourth-highest-ranking position in the congressional chamber.
---
FISCAL CLIFF

► At Huffington Post — AFL-CIO's Trumka calls out 'manufactured crisis' — Digging in for the looming battle over deficit-reduction, AFL-CIO President Richard Trumka will make organized labor's case Thursday against cuts to Social Security, Medicare and Medicaid, declaring the doomsday debt talk in Washington a "manufactured crisis."
"There is no fiscal cliff," Trumka says in prepared remarks to the National Mediation Board Conference in Washington on Thursday. "What we're facing is an obstacle course within a manufactured crisis that was hastily thrown together in response to inflated rhetoric about our federal deficit."
► In today's Washington Post — Obama lays out second term — Over the course of an hourlong press conference, he struck an unabashedly populist tone in characterizing his second-term "mandate" to help the poor and the middle class, and he warned his partisan rivals that voters had sided with his approach to the economy during the long campaign.
► In today's NY Times — Obama meets CEOs as fiscal reckoning nears — While Obama did not present a detailed plan or reveal what he would propose in terms of new corporate taxes, he strongly reiterated that he would not allow tax cuts for the middle class to expire. The president, according to attendees and aides, said he was committed to a balanced approach of reductions in entitlements and other government spending and increases in revenue.
► At Politico — Senate liberals to Obama: 'Don't buckle'— Liberal Democrats in the Senate are warning President Barack Obama not to cave on taxes and entitlements in deficit talks set to begin this week, a move that could complicate efforts by the White House to win the backing of GOP leaders. West Virginia's Jay Rockefeller and Tom Harkin of Iowa are circulating a letter among their Democratic colleagues that calls on the president to stand firm on revenue, entitlement programs and spending cuts. They're hoping to get as many as 30 Senate Democrats to sign on.
EDITOR'S NOTE to Sens. Murray and Cantwell: You signed the last letter opposing Social Security cuts as part of fiscal cliff talks… sign this one, too!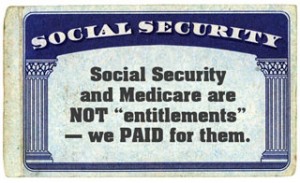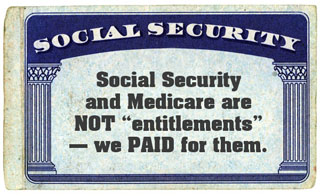 ► At AFL-CIO Now — 'Proudly taking your money' — The so-called "entitlements" are Social Security and Medicare — the ropes in the social safety net. But working people have a perfectly sound reason for feeling entitled to them: We've paid for our benefits since the first hour we worked.
► At Huffington Post — John Boehner: No tax rate to avert fiscal cliff — House Speaker John Boehner says Republicans want to cooperate with Obama on reducing federal deficits, but not by raising income tax rates.
► In today's NY Times — Standing tougher (editorial) — After a few days of public dancing around by members of Congress on the fiscal-cliff talks, the most important, immediate thing Obama did was to be unequivocal about his bottom-line position: the Bush tax cuts for the middle class should be extended right now, with the rest allowed to expire, and then he is willing to talk about closing tax loopholes, and tax reform and spending cuts.
► At AFL-CIO Now — 350 economists reject austerity measures — A group of 350 prominent economists issued a joint statement warning that the type of austerity measures favored by Republicans and suggested by the bipartisan commission, led by Erskine Bowles and Alan Simpson, would further harm the economy and weaken the social safety net that millions of working families rely upon.
---
LOCAL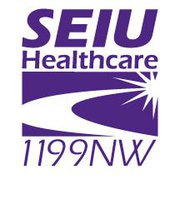 ► In today's Seattle Times — Nurses, others picket Harborview Medical Center over staffing levels — More than 300 union nurses, technicians and other health-care workers marched in front of Harborview Medical Center Wednesday, saying they need higher staffing levels to adequately care for patients and more money to recruit and retain staff. Members of SEIU Healthcare 1199NW, at a loud, spirited rally, said nurses are forced to either forgo breaks in their 12-hour shifts or leave colleagues with a double load of patients — an unsafe situation.
► In today's Yakima H-R — Immigration reform advocates say time is now — Rich Stolz, the recently appointed executive director of the immigrant rights group OneAmerica of Seattle, will be back in Washington, D.C., early next month for a meeting of interest groups to craft a strategy they hope will finally put immigration reform over the top.
► In today's Wenatchee World — $20 vehicle tab approved in East Wenatchee — On a 6-1 vote, City Councilmembers approved a $20 car tab that will be used to repair mostly residential streets.
---
NATIONAL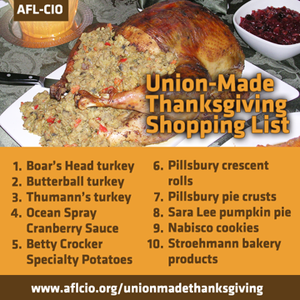 ► At AFL-CIO Now — Union-made Thanksgiving list — As you prepare to head to the grocery store to pick up your Thanksgiving dinner ingredients, double check your shopping list to make sure your Turkey Day fixin's are all union made in America.
► In today's NY Times — Changing times (by Linda Greenhouse) — What impact will this election, beyond the presidential vote itself, have on the nine Supreme Court justices? I have two developments in mind: the vote in four states in support of same-sex marriage, and the run-up to Election Day that saw both Democrats and federal judges pushing back against Republican strategies devised to selectively minimize voter turnout. Both are directly relevant to cases on the Supreme Court's current docket, and it's worth at least considering whether either or both are potential game changers.
► At Politico — Romney: Obama won because of 'gifts' to blacks, Hispanics, women— The "gifts," according to Romney, included forgiving college loan interest, free contraceptive coverage and the part of Obamacare that allows people 26 and younger to be covered under their parents' health care plans.
---
THIS HAPPENED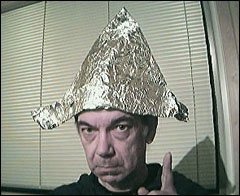 ► At Huffington Post — Top Georgia GOP lawmakers host briefing on secret Obama mind-control plot — President Obama is using a Cold War-era mind-control technique known as "Delphi" to coerce Americans into accepting his plan for a United Nations-run communist dictatorship in which suburbanites will be forcibly relocated to cities. That's according to a four-hour briefing delivered to Republican state senators at the Georgia state Capitol last month.
---
The Stand posts links to Washington state and national news of interest every weekday morning by 9 a.m.
WASHINGTON IS A UNION STATE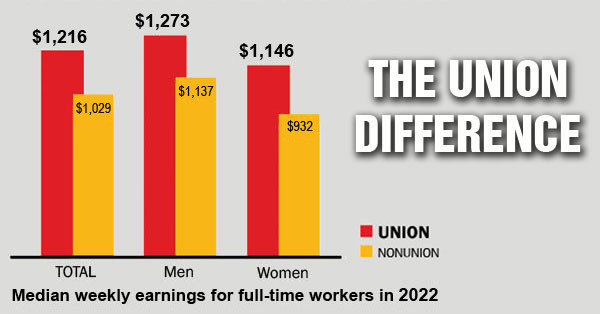 CHECK OUT THE UNION DIFFERENCE in Washington state: higher wages, affordable health and dental care, job and retirement security.
FIND OUT HOW TO JOIN TOGETHER with your co-workers to negotiate for better working conditions and respect on the job. Or go ahead and contact a union organizer today!