SPEEA meets today, transportation plan, our progressive president…
Tuesday, January 22, 2013

---
BOEING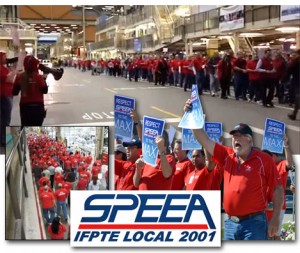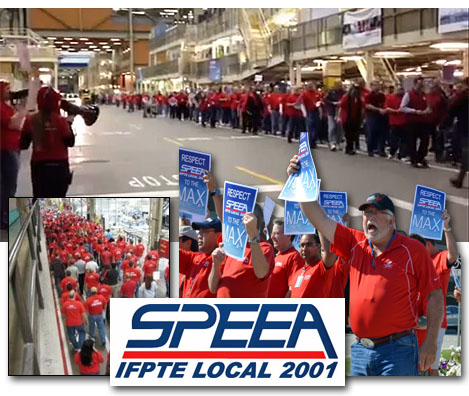 ► In today's Renton Reporter — SPEEA council to meet Tuesday on sending contract, strike to a vote — The Bargaining Unit Council of the union representing Boeing's engineers and technical workers will meet Tuesday to decide whether to formally issue ballots to vote on a company contract offer — and to authorize a strike. The council also will vote on its recommendations to the membership.
ALSO at The Stand — Boeing rejects SPEEA 'status-quo' contract offer, insists on taking away pensions
► In The Stranger — Boeing agrees to provide equal pension benefits to married gay couples — The company has finally agreed to grant pension survivor benefits to same-sex married couples equal to their straight counterparts, according to SPEEA. That's a retreat for the aerospace giant, which is still locked in sour labor negotiations with the union.
► In the Seattle Times — At Boeing, pushback on 787 grounding — Boeing's leadership privately believes the government's grounding of the company's flagship 787 was an unnecessarily drastic step, but its defensive attitude isn't sitting well with some customers and risks alienating regulators.
► In today's Seattle Times — Japanese regulators widen probe of battery maker — The transport ministry said it will conduct a second probe of the GS Yuasa Corp.'s headquarters in Kyoto and add a British supplier to an investigation into faults that have grounded Boeing's 787 fleet.
► In today's LA Times — FAA steps up investigation of 787 — The investigation into battery problems on the much-heralded Dreamliner expanded to the plane's Japanese battery manufacturer and the Arizona makers of other electronic components.
---
STATE GOVERNMENT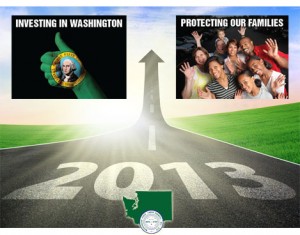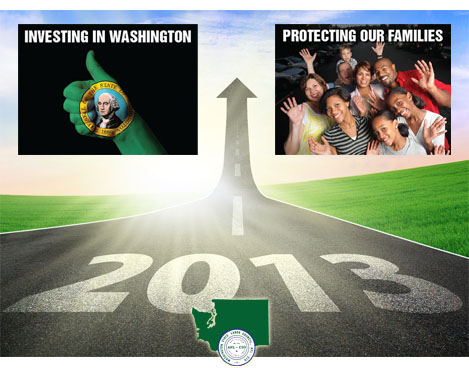 ► In the News Tribune —  Groups hope to pave the way to better roads — A wide array of interest groups — from labor to business to environmentalists — appears committed to finding agreement on a plan to funnel billions of new dollars into roads, transit, ferries and even storm water projects. The groups — which include the Washington State Labor Council, AGC, AWB, the Washington Roundtable, and top environmental and public-transportation groups — have been talking since last fall.
ALSO at The Stand — WSLC outlines economic recovery agenda
► In today's News Tribune — 167 extension to Port of Tacoma back on table — The engine is revving again on the long-stalled effort to find money to connect state Route 167 from Puyallup to the Port of Tacoma. The extension is included in a proposal developing in the Legislature to raise transportation taxes, says House Transportation Committee Chairwoman Judy Clibborn.
► In the (Aberdeen) Daily World — Public works funds hanging in the balance — The City of Aberdeen has been ordered to fix its sewer plant by the state. Yet, as a separate state agency was preparing to make a loan available to the city to do those repairs, the process was undercut by a proposed state budget released earlier this month that would eliminate the funds.
► In the (Everett) Herald — Lawmakers want audit of spending on latest ferries — More than a dozen lawmakers call for a state audit to determine the full cost of designing, building and maintaining the three newest vessels in the WSF fleet.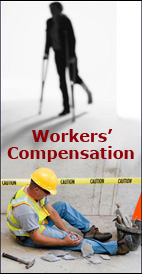 ► In the Seattle Times — More changes needed to workers' comp system (by Reps. Chris Hurst and Cathy Dahlquist) — The Legislature needs to make more cost-saving improvements to the workers' compensation system to address a $1.1-billion shortfall in the coming decade.
EDITOR'S NOTE — Major changes to the system, many of which were supported by both business and labor, were just approved in 2011. They are not yet fully implemented but are already beating expectations on cost savings, with the state now projecting to save $1.5 billion over four years, $300 million higher than originally estimated. Injured workers are returning to work faster and as a result, employers' premiums have not gone up for two straight years. Plus, the state will be able to put an estimated $82 million into reserves to start rebuilding the State Fund this year. We should fully implement these changes before passing more legislation, especially like the benefit-cutting bills that have been introduced so far in 2013.
► In the Seattle Times — McKenna donors rush to 'make good' with Inslee — Many business groups, lobbyists and trade associations bet their money on Republican Rob McKenna over Democrat Jay Inslee. But over the past couple of months, dozens of those McKenna donors have sought to make things right with the winner, sending a stampede of what might be called "kiss the ring" contributions to Inslee.
---
SENATE GOP+2

► In the News Tribune — Roach's return shows caucus values power at any cost — Sen. Pam Roach got a get-out-of-jail-free card last week because without her, the Majority Coalition Caucus would not have a majority of votes in the Senate. She is back because she is the 25th vote. Now that coalition members can taste power, their previous distaste for Roach's behavior has dissipated. They have become the Immoral Majority.
---
LOCAL
► From AP — Coal terminal proposal draws 14,000 comments — After seven public meetings across Washington about a proposed coal export terminal near Bellingham, more than 14,000 comments have been collected. The comments will determine issues to be examined in an environmental study. Today at 5 p.m. is the deadline for commenting online here.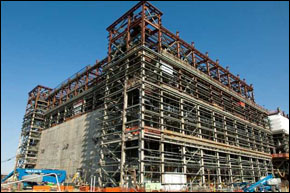 ► In the Spokesman-Review — GAO slams Hanford vit plant project — A strongly worded new report from a congressional watchdog agency questions whether an often-delayed and increasingly expensive waste treatment plant at the nation's most contaminated nuclear site can be built and operated successfully.
► In today's Seattle Times — Deal to buy Kings confirmed, but Sonics rebirth won't be simple — While there was a celebratory feel in the formal announcement of the team's sale, as well as city and county officials, there was also caution that a few significant hurdles remain. Specifically, the sale of the team must be approved in April by the NBA Board of Governors, an environmental-impact study on the proposed new arena must be completed, and there are two lawsuits attempting to block the arena.
► In the Ellensburg Daily Record — Pay a sticking point in contract talks for KVCH nurses — The Washington State Nurses Association, which represents more than 100 nurses at KVCH, has been negotiating a new contract with the hospital for more than a year, and it organized an informational picket last Thursday to raise awareness of the negotiations.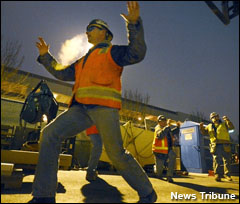 ► In the News Tribune — At first reluctant, construction workers see results by starting shifts with ergonomic stretches — The Sellen Construction Company began encouraging its sub-contractors to begin each shift with a few minutes of … well … stretching. "Were workers reluctant? Oh, yeah — me, included," said ironworker Bret Miller. "But I've seen the results. We get fewer strains and sprains. It minimizes injuries."
► In today's (Longview) Daily News — Eyman issues apologies for I-517 emails — Tim Eyman issued a rare apology Monday to former Longview Mayor Kurt Anagnostou and the Longview City Council for the "disrespectful and uncivil" emails he sent them last week about voter initiatives.
---
OBAMA INAUGURATION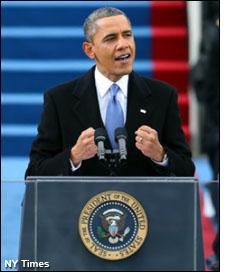 ► In today's NY Times — A call for progressive values: Evolved, unapologetic and urgent — Gone were the vision of a new kind of high-minded politics, the constraint of a future re-election campaign and the weight of unrealistic expectations. In their place was an unapologetic argument that modern liberalism was perfectly consistent with the spirit of the founders and a notice that, with no immediate crisis facing the nation, Obama intended to use the full powers of his office for progressive values.
► In today's NY Times — President Barack Obama (editorial) — With this speech, he has made a forceful argument for a progressive agenda that meets the nation's needs. We hope he has the political will and tactical instincts to carry it out.
► At Politico — Obama dodges 'hard choices' on Social Security, Medicare — "The commitments we make to each other — through Medicare and Medicaid and Social Security — these things do not sap our initiative; they strengthen us," Obama told the cheering crowd as he launched his second term. "They do not make us a nation of takers; they free us to take the risks that make this country great."
► In today's Washington Post — Federal employees face crucial question in Obama's 2nd term — Obama's civilian staff of more than 2 million certainly faces "an uncertain future" in the very near future as discussions during the next two months on raising the nation's borrowing limit, deficit reduction and the budget could have a direct effect on their pocketbooks and workplaces. Unpaid furloughs are a real possibility, and the potential for layoffs has workers worried.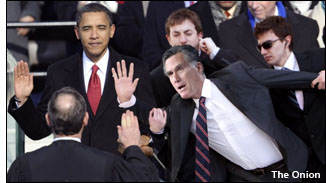 ► In The Onion — Romney makes desperate, last-ditch bid for presidency — "My fellow Americans, I come to you at this late hour to plead with you to reconsider my candidacy for president of this great nation," a panting Romney said as multiple Secret Service agents attempted to physically drag him away from the podium. "Please, if you'll just give me a second chance– Wait! No! Get your hands off me! IdosolemnlyswearthatIwillfaithfn—"
---
CONGRESS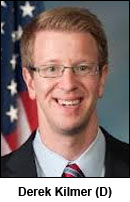 ► In the Kitsap Sun — Kilmer focuses on jobs, Congress not doing its job — This week the Navy announced it was freezing hiring, putting on hold more than 500 jobs that were supposed to be offered at PSNS. Said U.S. Rep Derek Kilmer: "The most recent episode of budget uncertainty at Puget Sound Naval Shipyard is a prime example of what's wrong with Congress. Even though we have the work and the workers, the shipyard career fair had to be postponed because Congress won't do its job."
► In The Hill — Reid to lay out plans for filibuster reform — Senate Majority Leader Harry Reid (D-Nev.) will present colleagues with options for reforming the Senate's filibuster rules in a Democratic caucus meeting Tuesday.
► At Huffington Post — Another senator backs filibuster reform — Sen. Tammy Baldwin (D-Wis.) is joining the fight to reform the filibuster, arguing that change is needed to move beyond "political obstructionism."
► In today's NY Times — A chance to fix the Senate (editorial) — A faster-moving Senate would be useful, but that should not be the only goal. The best way to end the Senate's sorry history of inaction is to end the silent filibuster, forcing lawmakers to explain themselves if they want to block legislation supported by the majority.
ALSO at The Stand — Momentum grows to 'Fix the Senate Now!'
---
NATIONAL

► In today's NY Times — Even if it enrages your boss, social net speech is protected — As Facebook and Twitter become as central to workplace conversation as the company cafeteria, federal regulators are ordering employers to scale back policies that limit what workers can say online.
► At AFL-CIO Now — Unions honor MLK with community service
---
The Stand posts links to Washington state and national news of interest every weekday morning by 9 a.m.
Short URL: https://www.thestand.org/?p=20002
Posted by
David Groves
on Jan 22 2013. Filed under
DAILY LINKS
. You can follow any responses to this entry through the
RSS 2.0
. Both comments and pings are currently closed.