Transportation proposal, SPEEA's next steps, poor Wal-Mart…
Thursday, February 21, 2013
---
STATE GOVERNMENT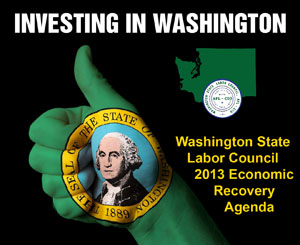 ► In today's Seattle Times — Gas, car-tab taxes drive House Democrats' transportation plan — The proposal would increase the state gas tax by 10 cents over five years, eventually reaching a total of 47.5 cents per gallon. Washington currently has the nation's ninth-highest gas tax. In addition, it would create a car-tab tax equal to 0.7% of a vehicle's value — $140 for a $20,000 car. Overall, the package — likely to be debated for much of the legislative session — would plow billions of dollars into highway projects such as extensions of Hwys. 167 and 509, as well as I-405 lanes, and ferry operations and terminals. It also would provide money to help build a new Columbia River bridge to Portland, widen Interstate 90 at Snoqualmie Pass and reduce I-5 congestion around Joint Base Lewis-McChord.
ALSO at The Stand — State's transportation system urgently needs an upgrade (by WSLC's Jeff Johnson, Transportation Choices Coalition's Rob Johnson, and Washington Roundtable's Steve Mullin)
► In today's (Everett) Herald — Democrats propose 10-cent gas tax increase to pay for roads — Leaders of business, labor and environmental groups stood behind Rep. Judy Clibborn as she laid out the plan's details. They're united in wanting lawmakers to support new revenue for transportation though they didn't endorse this plan outright. Jeff Johnson, president of the Washington State Labor Council, said, "We just want to see how we can put out the most balanced package and make the most investment possible."
► In today's Spokesman-Review — Roads bill a good start, but schools are priority (editorial) — This state lives on trade. If goods cannot get to or from the docks, or airports, or across the Columbia River, or down from or up to Canada, Washington becomes an economic island. The roads and bridges that carry freight today are worn out, or overwhelmed by a volume of traffic they were never intended to carry. The biggest defect in Clibborn's plan might be the timing. Education must come first.
MORE LOCAL COVERAGE of the transportation proposal from AP and in today's Tri-City Herald, (Vancouver) Columbian, and Yakima H-R.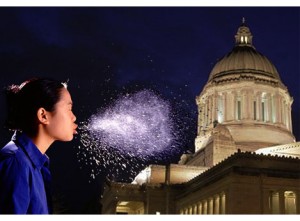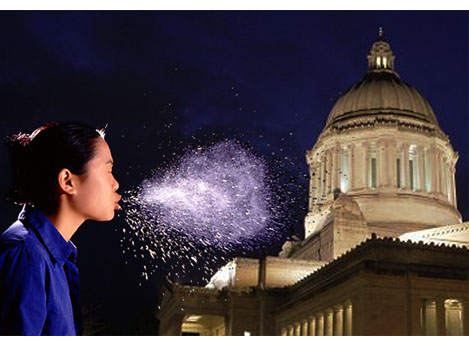 ► At PubliCola — The unwelcome mat — George Allen of the Seattle Metropolitan Chamber of Commerce testified for a bill in Olympia yesterday that would undo Seattle's own paid sick leave ordinance. For the day's best defense of Seattle's bill watch UFCW spokeswoman Sarah Cherin: "Workers who are sick shouldn't have to make the choice of staying home to take care of themselves or a loved one or foregoing part of their wages to do so." And she called on the legislature to pass a separate bill to "keep moving forward not backwards, cover more people and not less" by extending Seattle's law statewide to the more than one million workers who don't have paid sick leave.
► At Stateline — Pay boost on horizon for some state workers — State employees who stayed put through years of pay freezes, furloughs and layoffs could find good news in their paychecks this year. Modest pay increases have been promised at the bargaining table or are being considered in at least half the states.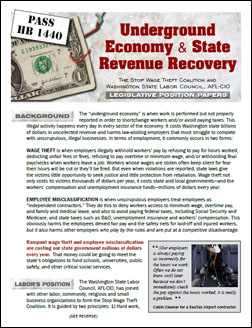 ► In today's NY Times — A 'go local' focus is used to resolve unpaid wages — Advocates for worker rights in Florida — a state not necessarily hospitable to such efforts — have a new strategy: Go local. They have persuaded the state's two most populous counties to pass ordinances making it easier for workers to recover unpaid wages from employers. The issue — which advocates call "wage theft" — has proved to be potent, putting businesses and lawmakers on the defensive in county-by-county battles throughout Florida. The issue, and the "go local" strategy, is also being pushed nationally.
YESTERDAY at The Stand — Recover underground revenue! (WSLC Legislative Update) — The underground economy is fueled by misclassification of workers as "independent contractors" and the shockingly common practice of wage theft where businesses simply refuse to pay for hours worked. Businesses that engage in these practices do so to avoid paying wages and taxes they should be paying. But ultimately they do so to undercut their honest competitors.
► In today's News Tribune — Senate punts high-interest loan bill — Controversial legislation proposing a new type of ultra high-interest loan was fast tracked to the Senate floor today. In an unusual twist, one of the bill's cosponsors, Sen. Nick Harper (D-Everett) even voted against it. It passed anyway, 30-to-18.
---
BOEING
► In today's (Everett) Herald — SPEEA technical workers seek more talks with Boeing — SPEEA reached out to federal mediators Wednesday to request a new round of contract talks with Boeing. The move came a day after technical workers voted down the company's contract by a margin of 3,203 to 2,868. The technical workers also gave the OK for SPEEA negotiators to call a strike, if necessary. For the moment, though, union leaders are focused on resuming negotiations with Boeing rather than striking, Bill Dugovich, SPEEA's communications director, said Wednesday. Talks aren't likely to be scheduled until next week.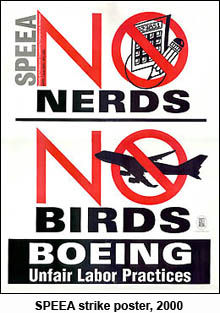 ► In today's Seattle Times — Hangfire at SPEEA (by Jon Talton) — Count on Boeing to try to leverage the division among the union ranks. It would be smarter for Boeing to be conciliatory and present a better offer. This is anathema to the Jack Welch-style management ethos in Chicago, but it needs to happen. The Dreamliner is sitting on the ground, taking up parking space at Everett, and there's still no clear answer about the electrical problems that have set this much-troubled program back. No nerds, no birds. Now, solve the problem.
► In today's Seattle Times — SPEEA contract talks should focus on Boeing's future (editorial) — Most American workers have not seen significant pay raises, if any, in a decade, and fewer and fewer have any pension coverage.
EDITOR'S NOTE — What about the future of Boeing's employees?! Aside from and despite executives' self-inflicted 787 outsourcing debacle, the company's future has never looked better. Boeing is experiencing record profits and record order backlogs, and should be sharing that success with the employees who created it. Instead, Boeing is devaluing its engineers and insisting that new employees give up their pensions and their retirement security. And Boeing Machinists, like the ones cleaning up the 787 mess, will be next. The reason that fewer and fewer American workers have that security is because politicians and pundits (like the corporate sycophants at the Times) have either quietly assented — or actively abetted — the loss of Americans' collective bargaining rights. And they have done so in the name of "corporate competitiveness," cheering a race to the bottom that continues to lower Americans' living standards.
So, please, spare us the patronizing you're-lucky-to-even-have-such-a-good-job nonsense, Times editors. We hear enough of that at the bargaining table from your golfing buddies. We remember why these are good jobs with good health and retirement benefits: because we stand together and fight to make them good jobs.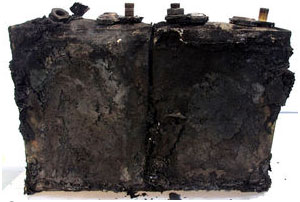 ► In today's Seattle Times — Boeing seeks FAA's OK for permanent 787 battery fix — A small team of top machinists at Boeing's Auburn plant is building high-strength containment boxes for the lithium-ion batteries on the 787 as part of a redesign to get the planes flying again as soon as April.
---
SEQUESTRATION
► In today's Seattle Times — Furloughs loom for civilian Defense Dept. workers in Northwest — The furloughs could affect some 16,200 civilian employees at Joint Base Lewis-McChord, a combined Army and Air Force installation. It would also hit some 16,000 Northwest civilian Navy employees, the majority of whom work in Washington.
► In today's Washington Post — Budget cuts could result in up to 20% pay cut for federal workers (by Joe Davidson) — About 800,000 Defense Department civilians could face 22 unpaid leave days, spread out over as many weeks, amounting to a 20% pay cut over that period.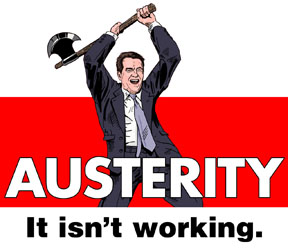 ► At AFL-CIO Now — Across the nation, working families say 'Stop Sequestration!' — More than 100 events in a national day of action urged Congress to avert the $85 billion in arbitrary, across-the-board sequestration cuts in everything from mental health services to public safety, scheduled to take effect March 1. The sequestration is another Republican-manufactured fiscal crisis and Republicans have indicated they want to use the sequester as leverage to demand benefit cuts to Social Security, Medicare and Medicaid.
► In today's NY Times — GOP resisting Obama pressure on tax increase — House Republicans, shrugging off rising pressure from President Obama, are resolutely opposing new tax increases to head off $85 billion in across-the-board spending reductions, all but ensuring the cuts will go into force March 1 and probably remain in place for months, if not longer.
► At Huffington Post — Sequester THIS — President Obama has a public opinion edge on the GOP as he delves into yet another fiscal showdown, a Pew/USA Today poll released Thursday finds. Obama's post-election bounce in job approval has largely held, but a near-record two-thirds of Americans disapprove of Republican leaders.
---
MEDICAID EXPANSION
► In today's NY Times — In reversal, Florida to take health law's Medicaid expansion — Gov. Rick Scott of Florida reversed himself and announced that he would expand his state's Medicaid program to cover the poor, becoming the latest — and, perhaps, most prominent — Republican critic of President Obama's health care law to decide to put it into effect.
► In today's Washington Post — Why GOP governors are saying yes to Medicaid expansion, no to exchanges — It likely has to do with the big consequences for a governor who chooses not to expand Medicaid — versus the tiny reward with setting up a very complex insurance marketplace.
---
LOCAL
► In today's Columbian — Commissioners consider advisory vote on CRC — Clark County commissioners say they might put a nonbinding advisory vote on November's ballot regarding the Columbia River Crossing. But Chief Civil Deputy Prosecutor Bronson Potter reiterates that they can not have an advisory vote on a matter over which they lack the authority to decide.
► In today's (Everett) Herald — Students push hard for immigration reform — A handful of college students with undocumented immigration status and big career goals gathered Wednesday at the Bothell campus of the University of Washington to urge 1st Congressional District Rep. Suzan DelBene to work for immigration reform and in particular, the passage of the DREAM Act.
► In today's (Everett) Herald — Reardon announces resignation, effective the end of May — The county executive said the timeframe gives the Democratic party enough time to pick a replacement. Reardon, whose third term ends in January 2016, is embroiled in controversy over a campaign by his staff members that appears to have been intended to harass Reardon's political rivals.
---
NATIONAL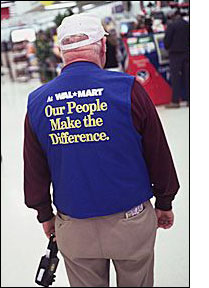 ► From Business Insider — A scary reality about Wal-Mart's customers: They're broke — Wal-Mart shares are tanking after the company's executives called February sales a "total disaster." Writes one exec: "Where are all the customers? And where's their money?"
EDITOR'S NOTE — In this article, the company blames the expiration of the 2% payroll tax break for its poor performance, an explanation that fits its pathologically anti-government worldview. But at some point, Wal-Mart is going to have to admit that stagnant wages in America — a trend this company has aggressively pursued for its own employees — bode poorly not only for the company's sales growth, but also for the future of America's consumer-based economy.
► At Huffington Post — Panera bakers battle for union in union-free world — Kathleen VonEitzen, who has worked at her Panera franchise for two years, said she earns $10.45 per hour, or about $21,000 per year. But the cost of VonEitzen's employer health insurance plan for a couple would swallow nearly half her earnings, so she and her husband, who's had two heart attacks, go without it. Her paycheck brings in just enough to cover the mortgage payment and utilities, but the money is so tight that they often have to forgo her husband's costly heart medications, she said. "We are skilled bakers, and they advertise us as artisan bakers," said VonEitzen. "I've been in the restaurant industry most of my life. … This is less money than I worked for 10 or 20 years ago."
---
TODAY'S MUST-READ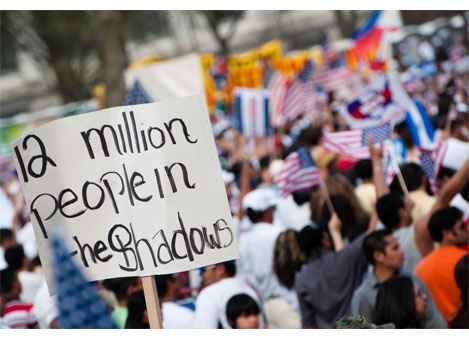 ► In today's NY Times — Immigration reform and workers' rights (editorial) — In all the talk of providing a path to citizenship for millions of undocumented workers while tightening border security, one important issue has, so far, received only passing mention: stronger protections for immigrant workers against exploitation and abuse. Such protections, essential to any reform plan, would help rid the system of bottom-feeding employers who hire and underpay and otherwise exploit cheap immigrant labor, dragging down wages and workplace standards for everyone.
Such abuses are easily visited on immigrant workers by unscrupulous employers who use the threat of deportation to force their victims into silence. This imbalance of power harms workers who toil in the shadows. But the system that recruits legal temporary workers is also a mess. In the event that an immigration overhaul greatly expands the number of guest workers — even hard-line Republicans have been talking about adding temporary visas in agriculture and in high-tech industries — it is crucial to avoid making the mess even bigger.
ALSO at The Stand — More than 300 launch campaign for immigration reform in Seattle — Check out the video coverage of this event!
---
The Stand posts links to Washington state and national news of interest every weekday morning by 10 a.m.
WASHINGTON IS A UNION STATE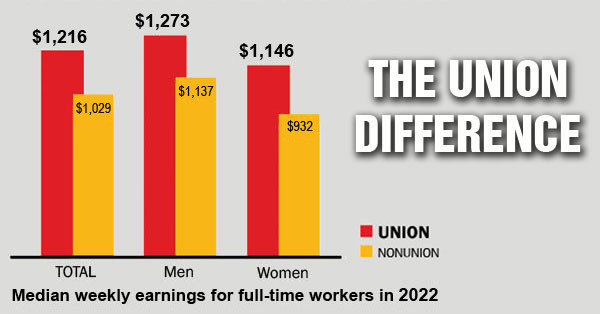 CHECK OUT THE UNION DIFFERENCE in Washington state: higher wages, affordable health and dental care, job and retirement security.
FIND OUT HOW TO JOIN TOGETHER with your co-workers to negotiate for better working conditions and respect on the job. Or go ahead and contact a union organizer today!