Nippon strike, sequestration, McNerney's sweet pension…
Thursday, March 21, 2013
---
LOCAL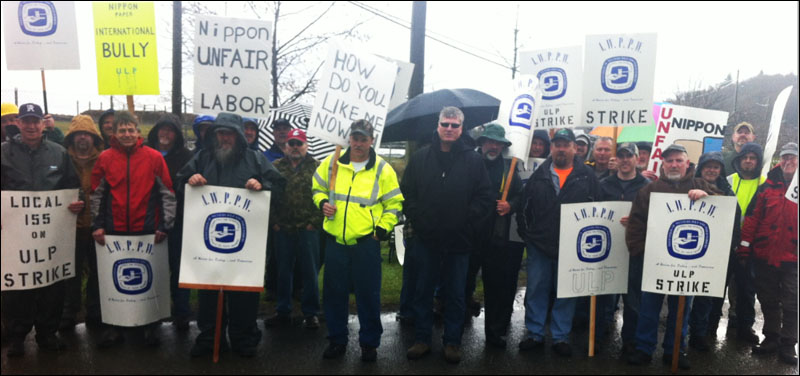 ► In today's Peninsula Daily News — Nisson workers say they'll picket around the clock; paper mill shut down — Some of the 130 Nippon Paper Industries USA employees who walked off the job late Wednesday morning will picket around the clock on a sidewalk near the closed plant, a top union official said. AWPPW Vice President Greg Pallesen said about 130 workers in Local 155 voted unanimously to go on strike Wednesday, two days after Nippon imposed a contract that union members already had rejected.
ALSO at The Stand — Nisson Paper, federal workers fighting back (by WSLC President Jeff Johnson)
► From AP — State jobless rate still at 7.5% — Washington gained 4,000 jobs in February and unemployment rate remained unchanged at 7.5%, new numbers released Wednesday show.
► In today's Seattle Times — Seattle hiring heats up; rest of state shivers — Outside the metro Seattle area, unemployment actually edged up last month, but this corner of Washington state saw its rate fall further, thanks to brisk hiring in aerospace and other manufacturing.
---
SEQUESTRATION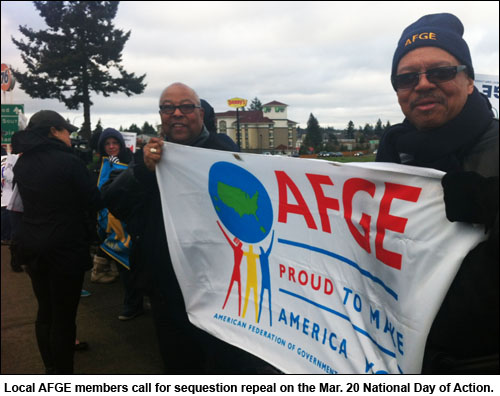 ► In today's News Tribune — Federal workers rally on overpass to highlight effects of sequester — About 50 federal workers and their supporters stood waving signs and chanting slogans on a freeway overpass late Wednesday afternoon in protest against government sequester plans. Organized by AFGE Local 1501, the Lakewood area protest was one of up to a hundred others nationwide as workers sought to make the public aware of the consequences of the coming government cutbacks. The proposal by the federal government to "sequester" funds will mean that some federal employees face furloughs causing a 20% reduction in pay.
► In today's Seattle Times — Madigan civilian workers protest upcoming furloughs — Cate Sumner is a surgical nurse who spends 12 hours a day tending to soldiers, their family members and retirees at Madigan Army Medical Center. In late April, she is scheduled to begin furloughs, losing 20% of her pay through September as a result of the sequestration budget cuts approved by Congress.
► In today's Tri-City Herald — State AG Ferguson to take 'aggressive' stance with DOE — The Department of Energy must meet its legal obligations for environmental cleanup at Hanford, despite federal budget issues, said Ferguson. Six underground Hanford tanks have been discovered to be leaking radioactive waste. Meanwhile, DOE told 237 employees Monday they were being laid off and about 2,500 additional workers must take furloughs, or time off, because of forced federal budget cuts called sequestration.
► In today's News Tribune — Pierce County family support centers could close — Nearly half of the family support centers in Pierce County that connect low-income people with parenting services and home nurse visits could be closed due to a cut in federal funds.
► In today's NY Times — The sequester hits the reservation (editorial) — The budget cuts known as the sequester now threaten basic health care for two million American Indians.
SO WHAT IS CONGRESS DOING ABOUT IT? …

► At TPM — House Republicans pass another radical Ryan budget — For the third year in a row House Republicans coalesced around a budget blueprint that calls for converting Medicare into a subsidized private insurance market; dramatically slashing all manner of domestic spending, and devolving programs for the poor like Medicaid and food stamps to the states. The final vote was 221-207.
EDITOR'S NOTE — Washington's Congressional delegation voted along strict party lines. So Reps. Jaime Herrera Beutler, Dave Reichert, Doc Hastings and Cathy McMorris Rodgers once again have all supported another Ryan budget that turns Medicare into a private voucher program and lowers taxes for corporations and the wealthiest 2% while slashing federal programs that middle-class and low-income families depend on.
► In The Hill — House passes funding bill, avoids government shutdown — The House on Thursday averted a looming government shutdown by approving legislation that will keep the government funded through the end of the fiscal year.
EDITOR'S NOTE — Congratulations, Congress!
---
STATE GOVERNMENT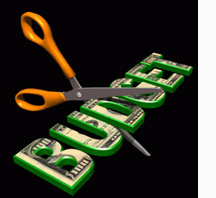 ► In today's (Everett) Herald — State budget shortfall expected to be $1.2 billion — Washington's economy is going to generate $2 billion more in taxes and fees for the next state budget than it is for the current one, state lawmakers learned Wednesday. But whether it's enough to erase a projected billion-dollar-plus budget shortfall, satisfy a Supreme Court order to beef up public school funding, and create a reserve are questions House and Senate leaders and Gov. Jay Inslee will answer soon when they roll out their respective spending proposals.
► In today's Seattle Times — Budget battle lines take shape in Olympia — The debate over the coming weeks, and possibly months, will be whether the state can close the shortfall and boost education funding without increasing taxes.
► In today's Olympian — Payday loan bill hurts vulnerable, helps lenders (editorial) — A bipartisan group of state senators is trying to undo the restrictions placed on high interest-rate payday lending four years ago. If passed, Senate Bill 5312 would once again permit payday lenders to prey on our state's poorest and most vulnerable citizens.
► A related story in today's Washington Post — Big banks engaging in payday lending — Some of the nation's largest banks are providing short-term loans with interest rates of up to 300%, driving borrowers into a cycle of debt, according to a new report.
---
BOEING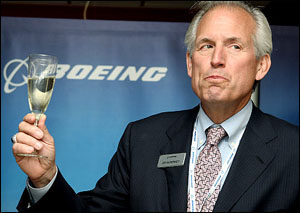 ► From the Business Journal — Boeing CEO's sweet pension deal — Beyond the healthy 20% increase in his 2012 compensation to $27.48 million, Boeing CEO James McNerney saw big gains in his pension, with millions more in retirement benefits to come. It tacks on quite a bit more to retirement income once he officially steps down, probably this year or next, when he reaches Boeing's mandatory retirement age of 65.
EDITOR'S NOTE — In the context of Boeing's costly 787 outsourcing debacle during his tenure and the company's demand to take away pensions from new engineering and technical hires, this is difficult to swallow. Unless you are one of the CEO-cophants on the editorial board of The Seattle Times…
► In today's Seattle Times — Boeing lands a strong tech vote, renewed focus (editorial) — The move from a defined-benefit retirement plan to a 401(k) defined-contribution plan for new hires fits a pattern extending across private and public labor contracts.
---
IMMIGRATION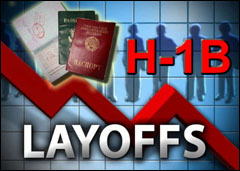 ► In today's Washington Post — Visas for high-skilled workers could double under immigration plan — The agreement would be a major victory for the tech industry, which has backed an intense lobbying campaign on Capitol Hill in recent months arguing that Google, Facebook, Microsoft and other companies are having trouble finding qualified workers because of visa limits.
► At AFL-CIO Now — Abuse of temporary workers shows need for legal protections — While the White House, Congress and outside groups debate the details of what the exact shape of the country's immigration system will be, ABC-Univision details three shocking examples that make clear any legislation addressing the topic must include protections for temporary workers brought to the United States.
---
NATIONAL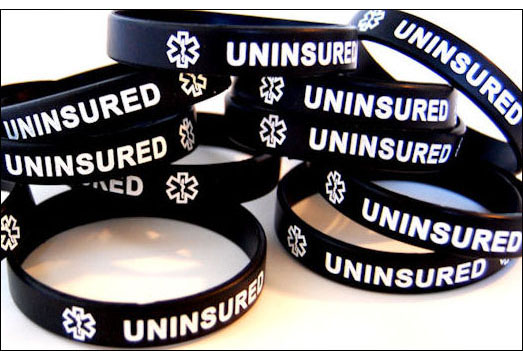 ► At Huffington Post — More than 45 million Americans lacked heath insurance last year, CDC reports — More than 45 million U.S. residents didn't have health insurance during the first nine months of last year, according to survey findings released Thursday by the Centers for Disease Control and Prevention. Even more people, 57.5 million, were uninsured for at least part of the 12 months before being polled.
► At AFL-CIO Now — New report card on nation's infrastructure: D+ — The American Society of Civil Engineers (ASCE) warns that, without a major commitment and investment, the roads, bridges, drinking water systems, mass transit systems, schools and systems for delivering energy that we depend on "may soon fail to meet society's needs."
► In today's NY Times — Financial windfalls for Wall St. executives taking government jobs — Big banks accelerated the vesting of stock so top executives could cash in before leaving, creating a debate on Wall Street over whether that is a conflict of interest
► At AFL-CIO Now — MLB owners' foul ball on pensions — They've got shiny new tax-payer-subsidized baseball stadiums with $300 luxury VIP seating and sell $10 beers and $8 hot dogs to those of us in the bleachers. And now, club owners are considering eliminating pensions for the everyday, regular folk employees who work behind the scenes to keep the glitter dome running — club employees from office workers to trainers to minor league coaches and staff to scouts.
---
TODAY'S MUST-READ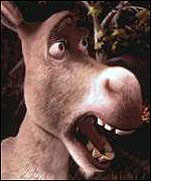 ► At Huffington Post — Selling the store: Why Democrats shouldn't put Social Security, Medicare on the table (by Robert Reich) — If there was ever a time for the Democratic Party to champion working Americans and reverse the nation's troubling trends, it is now — forging an alliance between the frustrated middle and the working poor. This need not be "class warfare" because a healthy economy is in everyone's interest. The rich would do far better with a smaller share of a rapidly-growing economy than a ballooning share of one that's growing at a snail's pace and a stock market that's turning into a bubble. But instead, prominent Democrats are making pre-concessions on Social Security and Medicare.
Social Security and Medicare are the most popular programs ever devised by the federal government, which is why Republicans hate them so much. If average Americans have trusted the Democratic Party to do one thing it has been to guard these programs from the depredations of the GOP.
---
The Stand posts links to Washington state and national news of interest every weekday morning by 10 a.m.
WASHINGTON IS A UNION STATE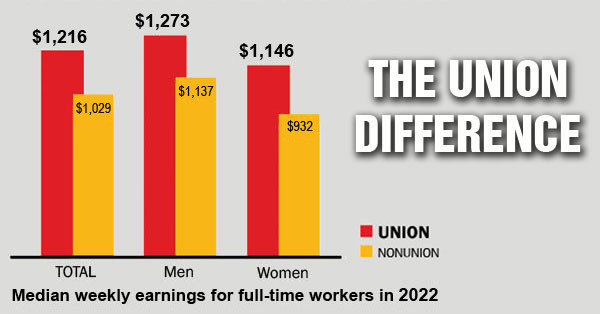 CHECK OUT THE UNION DIFFERENCE in Washington state: higher wages, affordable health and dental care, job and retirement security.
FIND OUT HOW TO JOIN TOGETHER with your co-workers to negotiate for better working conditions and respect on the job. Or go ahead and contact a union organizer today!