ILWU grain talks, Nippon seeks scabs, furloughs delayed, Sulley's last laugh…
Friday, March 22, 2013
---
LOCAL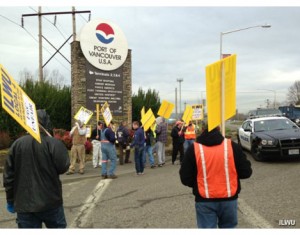 ► In today's Columbian — Union: Grain companies agree to resume talks — Union dockworkers, locked out for more than three weeks in a contract dispute with United Grain Corp. at the Port of Vancouver, say the company and two other operators of Northwest grain-export terminals have agreed to return to the bargaining table. A spokesman for the Grain Handlers Association confirmed the three grain-terminal operators "will be meeting Friday and Saturday with representatives of ILWU and mediators from the Federal Mediation and Conciliation Service."
ALSO at The Stand — Charge: Mitsui-United Grain lockout is illegal (Mar. 5) and ILWU: Mitsui planned lockout in Vancouver (Feb. 28)
► In today's Peninsula Daily News — Nippon Paper seeks scab workers while union continues strike — Nippon Paper Industries USA is seeking replacement workers while its 130 hourly employees remained on strike Thursday. The unionists walked off the job at 11 a.m. Wednesday, shutting down production at the mill. Contract talks broke down Monday after Nippon imposed a contract that AWPPW Local 155 members had unanimously rejected.
► In today's (Everett) Herald — Everett wins court battle with firefighters' union — A state labor-management agency has ruled in the city of Everett's favor in a long, drawn-out battle with the firefighters union about overtime and staffing issues.
► In today's News Tribune — Port of Tacoma saw a huge increase in container business last month — The 50% increase in February is attributed to Asian manufacturers' increased exports before the mid-February Lunar New Year holiday and the arrival of the Grand Alliance shipping consortium in Tacoma from Seattle.
► In today's Peninsula Daily News — Port Angeles City Council OKs raises to 90 city workers — Employees (AFSCME 1619) working in four city departments will receive a 2% raise for 2013 and 2014 but will have to pay a bigger share of their medical insurance.
► In today's Columbian — C-Tran approves new union contract — The C-Tran board approved a four-year employment contract for its represented supervisors and analysts that gives the newly formed union group wage increases for at least the next two years.
---
CONGRESS
► In today's Washington Post — Saturday mail still in question under Congress's funding plan — Congress has required six-day delivery by the Postal Service since 1987, and the passage of the continuing resolution funding bill Thursday maintains that status quo. Or so some lawmakers assert. Others disagree, saying the Postal Service is in its right to eliminate first-class mail delivery on Saturdays.
ALSO at The Stand — Save 6-day: Rally Sunday in Seattle, Spokane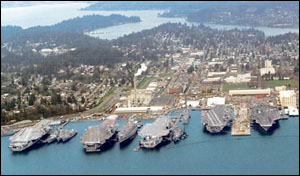 ► In today's Kitsap Sun — Shipyard furlough notifications delayed two weeks — Furlough notices planned to be delivered to thousands of Puget Sound Naval Shipyard workers Friday have been postponed at least two weeks while the Department of Defense determines the effects of a $984 billion spending bill Congress passed Thursday.
► In The Hill — Pentagon delays civilian furloughs — The Defense Department had been planning to furlough most of its nearly 700,000 civilian employee for up to 22 days before September in order to deal with budget reductions. But the continuing resolution that Congress sent to President Obama on Thursday provides the Pentagon with an additional $10 billion. The Pentagon still says no decisions have been made about whether the number of furlough days in fiscal 2013 will be changed.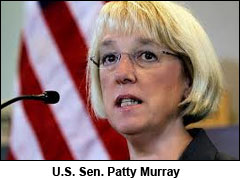 ► In The Hill — Ryan's budget rejected in Senate on 40-59 vote — Senate Budget Committee Chairwoman Patty Murray (D-Wash.) forced Senate Republicans to vote on Paul's plan through an amendment she offered, which failed on a 40-59 vote. GOP Sens. Susan Collins (Maine), Dean Heller (Nev.), Mike Lee (Utah), Rand Paul (Ky.) and Ted Cruz (Texas) voted with Democrats against Ryan's plan.
► In The Hill — Senate poised to pass budget — The Democrat-controlled Senate appears set to approve its first budget resolution in four years. Votes on amendments to the budget began Thursday night, with a final vote set for late Friday or early Saturday.
---
STATE GOVERNMENT
► From AP — Inslee: Transportation package a must for 2013 — The governor says he is concerned that legislative momentum for passing such a plan has been dissipating. "We're heading for a cliff on the condition our roads and bridges," Inslee said. "They're reaching the end of their useful life." House Democrats last month unveiled a $9.8 billion transportation funding package that included a 10-cent bump in the gas tax and more than $3 billion in new bonds.
► From AP — Inslee says new I-5 CRC bridge must have light rail
► In the News Tribune — Is Washington becoming a low-tax state? — The Washington, D.C.-based Tax Foundation reports that Washington is a below-average state for taxes. The Evergreen State landed No. 28 highest out of 50 states for taxes, with state-local taxes accounting for about 9.3% of incomes in 2010. Washington ranked even lower (36th) in a state Department of Revenue report that relies on Census data.
► At PubliCola — Leaving something out of the equation — With a $1.3 billion shortfall on the table, Republicans like to point out that government revenues have actually increased by $2.5 billion. However, they're leaving something out of that equation: The last budget came with $986 million in one-time savings by temporarily suspending programs and cutting salaries. Nearly 40% of the 2013-15 budget increase comes from restoring temporary cuts from the last budget.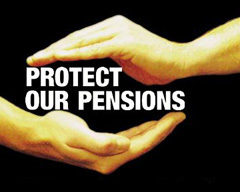 ► In today's Seattle Times — State pension plan works, does not need fixing (by State Treasurer Jim McIntire) — Washington has a highly successful investment fund that pays for 84% of pension benefits and returns $2 billion each year to the state. We provide modest and predictable benefits for public employees that the Legislature has helped keep in check over the years. This works well for public employees and for taxpayers, so why make an expensive mess by trying to fix a problem that doesn't exist?
---
BOEING
► From Bloomberg — NTSB scolds Boeing over 787 comments — U.S. officials rebuked Boeing Co. for comments its executives made at a media briefing on plans to get the grounded 787 Dreamliner flying again.
---
IMMIGRATION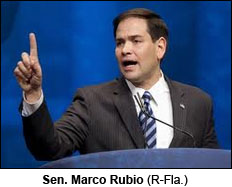 ► In The Hill — Republicans: Unions to blame if immigration reform fails — The GOP offensive taps into long-simmering disagreement between the business community and unions over how to handle visas for low-skilled workers, which was one key reason why comprehensive immigration reform failed in 2007, the last time the issue was debated seriously in Washington. AFL-CIO's Ana Avendaño said that Republicans trying to cast unions as the reason for immigration reform to fail "reek of desperation."
► In today's NY Times — Path to citizenship for immigrants draws support across party lines — Support for an earned path to citizenship for those immigrants came from 71% of Democrats and also a majority, 53%, of Republicans, the poll found.
---
NATIONAL
► From AP — 98 arrested in union protest at Las Vegas Strip — Throngs of workers blocked traffic on the Las Vegas Strip on Wednesday in a demonstration against the Cosmopolitan casino that ended with the arrest of nearly 100 protesters. Las Vegas' largest and most powerful union (Culinary Workers Local 226) has been in contract talks with Cosmopolitan Las Vegas owner Deutsche Bank for two years.
► In today's NY Times — States urged to expand Medicaid with private insurance — The White House is encouraging skeptical state officials to expand Medicaid by subsidizing the purchase of private insurance for low-income people, even though that approach might be somewhat more expensive, federal and state officials say.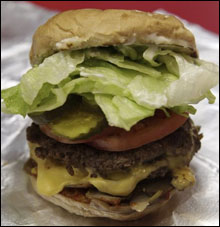 ► In today's NY Times — Burgers, fries, and lies (by Timothy Egan) — Five Guys franchise owner Mike Ruffer complained last week about the new law requiring him to offer his employees health care next year. Here's a guy selling something that is a leading contributor to the major health breakdowns in America (a bacon cheeseburger that delivers two days' worth of saturated fat and nearly 1,000 calories), a product that may ultimately hasten an early death. He won't offer insurance to the poorly paid workers who make said time bombs. But now that he's forced to, and plans to raise prices to cover the care, he thinks this is an awful thing. In the burger master's view, the government is forcing him to "pass on the costs to customers," he said. But he already passes on considerable costs to customers who may never sniff a Five Guys fry. Because he doesn't give his employees health care, they show up as charity cases at the hospital emergency room when something goes wrong. Last year, the uninsured cost the system $39.3 billion. Guess whom the expenses are passed on to?
---
T.G.I.F.
► Today, the entire staff of The Stand wishes a Happy 50th Birthday to Susanne Sulley. Spotted in 1980 by Philip Oakey, the leader of the band Human League, as she danced in a club, 17-year-old Sulley and a friend were invited to join the band as dancers and occasional singers. Audiences were unhappy with the formerly all-male band's new lineup and heckled the girls mercilessly. But Sulley got the last laugh. She was invited to sing the female part in a song Oakey considered filler and the weakest song on the 1981 album Dare. Against Oakey's wishes, "Don't You Want Me" was released as the 4th single from that album and, with a boost from what was considered an expensive and elaborate video at the time, it quickly became an international No. 1 single and the band's signature hit. Enjoy!
---
The Stand posts links to Washington state and national news of interest every weekday morning by 10 a.m.
WASHINGTON IS A UNION STATE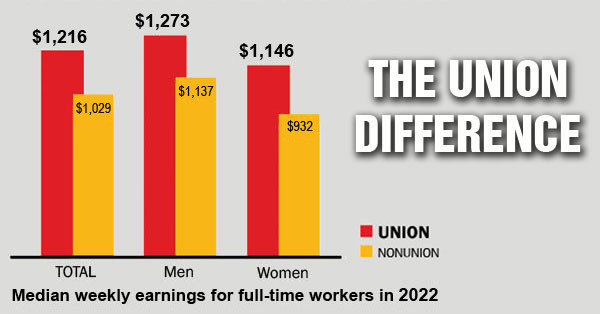 CHECK OUT THE UNION DIFFERENCE in Washington state: higher wages, affordable health and dental care, job and retirement security.
FIND OUT HOW TO JOIN TOGETHER with your co-workers to negotiate for better working conditions and respect on the job. Or go ahead and contact a union organizer today!