WSLC Legislative Update: Enough to make you sick
Following is today's edition of the WSLC Legislative Update newsletter (PDF version):
---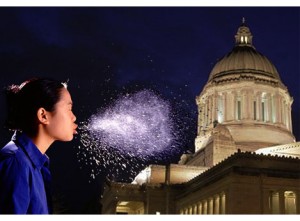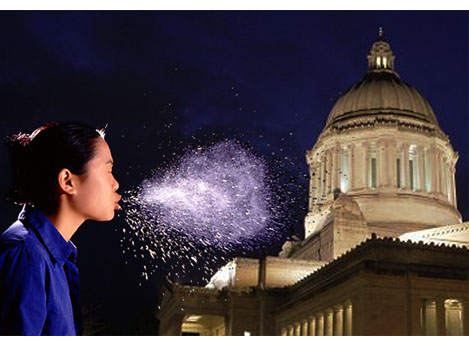 OLYMPIA (Mar. 14, 2013) — When it comes to policy bills, the story of the 2013 legislative session may wind up being neatly summarized by the fates of bills regarding whether people who work in this state should be able to stay home from work when they're sick.
The Republican-controlled Senate this week approved SB 5726 to undermine Seattle paid sick leave ordinance by exempting employers that aren't headquartered within its city limits. It passed 29-20, with the GOP+2 Caucus plus Democratic Sens. Tracey Eide, Jim Hargrove, Brian Hatfield and Steve Hobbs all voting in favor. The corporate lobbying groups pushing the bill portray it as a "compromise" between legislators who supported SB 5728, which would have completely banned cities from passing any sick-leave ordinances, and… we suppose… those who think the Senate should mind its own business.
As The Seattle Times reported, SB 5726 "is unlikely to gain traction" in the House, where Democratic leaders "are instead focusing on expanding sick leave." Unfortunately, that House effort, in the form of HB 1313 to establish a minimum statewide standard for safe and sick leave, died without a floor vote with Wednesday's cutoff. Admittedly, HB 1313 was an ambitious proposal, but a righteous one. And it has helped to demonstrate the absolute gulf between the priorities of the two legislative chambers.
In the House, working families come first. Right now, one million workers in Washington state don't get any paid sick leave. These folks — working in restaurants, retail, and even health care — must choose between working sick and putting co-workers and the public at risk, or forgoing family income they can't afford to lose. Though HB 1313 failed to get a floor vote in the House, the bill's supporters, which included organized labor, public health advocates, community groups and small business owners, will be back in the future to put this issue before legislators — or perhaps voters.
In the Senate, corporate interests come first.  Conservatives, usually averse to heavy-handed government intervention in local issues, proved perfectly willing to do just that when business lobbying groups requested it. In doing so, the senators who voted for SB 5726 — none of whom reside in Seattle — hope to undermine an ordinance that passed on a 8-1 vote of the Seattle City Council.
---
Senate GOP+2 also promotes lower wages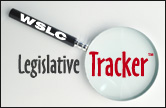 The Republican-controlled Senate didn't stop there. Although they seized power promising bipartisanship, they rammed through several controversial bills — essentially on party-line votes if you count erstwhile Democratic Sens. Rodney Tom and Tim Sheldon among the GOP ranks with whom they caucus. The following labor-related bills were all opposed by organized labor and supported by corporate lobbying groups, and they all tend to promote lower wages:
SB 5107 (Sen. Mike Padden) — Applying lower prevailing wage rates to certain projects by expanding what is considered "residential construction." Passed 26-23 with the GOP+2 Caucus joined by Sen. Mark Mullet (D-Issaquah).

SB 5158 (Sen. John Braun) — Creating a "good-faith" defense for employers that fail to pay minimum or overtime wages. Passed 25-24 with the GOP+2 Caucus voting "yes," and all Democrats voting "no."

SB 5686 (Sen. Curtis King) — Adding to L&I's administrative burden re: prevailing wage surveys. Passed 27-22 with the GOP+2 Caucus joined by Sens. Mullet and Paull Shin (D-Edmonds).

SB 5811 (Sen. Rodney Tom) — Restricting state employee collective bargaining over health care issues so the state can impose employee "wellness" programs. Passed 28-21 with the GOP+2 Caucus joined by Sens. Eide, Hargrove, Mullet, and Karen Keiser (D-Des Moines). 
File the following Senate attacks on middle-class families that missed Wednesday's cutoff deadline under either "It Could Have Been Worse" or "It Never Should Have Happened in the First Place:"
SB 5159 (Sen. John Braun) — Repealing the Family and Medical Leave Act. Missed cutoff.

SB 5275 (Sen. Janéa Holmquist Newbry) — Creating a sub-minimum wage for new employees. Although dubbed a "training wage," the sub-minimum wage could apply to any new employee. Missed cutoff.
Two GOP+2 state pension-killing bills missed cutoff. But SB 5851 (Sen. Barbara Bailey) and SB 5856 (Sen. Rodney Tom), both of which create a 401(k)-type savings plan to replace the defined-benefit pensions for new state employees, remain alive. That's because both are fiscal bills that could be deemed necessary to implement the budget.
---
House passes some good bills, passes on many
Meanwhile in the Democrat-controlled House, a few pro-working family bills passed before cutoff, including:
HB 1348 (Rep. Chris Reykdal) — The "Step Up for Faculty" bill creating a framework to fund step increases for community and technical college faculty. Passed the House 61-36.

HB 1413 (Rep. Luis Moscoso) — The Washington Voting Rights Act empowering local governments to voluntarily change their voting systems to district-based elections. Passed the House 53-44.

HB 1536 (Rep. Larry Seaquist) — Including a labor member on community college boards. Passed the House 58-40.

HB 1753 (Rep. Laurie Jinkins) — Extending cost-saving reforms of how state agencies contract for interpreter services. Passed the House 55-42.
Unfortunately though, as was the case with the Paid Safe and Sick Days bill that received lots of strong support from a core group of Democrats, many good bills died without floor votes in the House. This makes it that much more difficult for voters to determine which State Representatives support or oppose them on important bread-and-butter issues.
The pro-working family bills that died include:
HB 1023 (Rep. Jim Moeller) — Creates family-wage training slots by applying apprenticeship utilization standards to publicly subsidized projects that cost $5 million or more.

HB 1095 (Rep. Tami Green) — Protects patient safety by establishing safe nurse staffing levels at hospitals.

HB 1152 (Rep. Dawn Morrell) — Addressing meal and rest breaks for hospital employees.

HB 1153 (Rep. Chris Reykdal) — Regulating mandatory overtime for hospital employees.

HB 1440 (Rep. John McCoy) — On the underground economy, wage theft & employee misclassification.

HB 1490 (Rep. Mike Sells) — Granting interest arbitration for Dept. of Corrections workers.
For many more bills that failed to survive Wednesday's cutoff in the House and Senate, see the WSLC Legislative Tracker™.
---
And now, the budgets…

The Washington State Labor Council, AFL-CIO held its 2013 Legislative Conference a week ago today under the theme "Invest in Washington." Speaker after speaker — from Gov. Jay Inslee to legislative leaders, from WSLC President Jeff Johnson to various union lobbyists — stressed the need to end the era of all-cuts austerity budgets and to make substantial investments in Washington's transportation and education systems.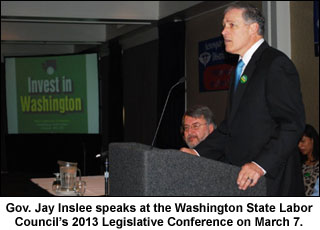 "We (in Washington) recognize the power of investing in our state… we need to invest in ourselves again," Inslee said. "We need to invest in our schools so every single kid has a shot at a job in the 21st Century. And at the same time, we need to invest in our transportation infrastructure, which may be the single most important thing we can do to create jobs in the state of Washington."
Among the news items from the event: the governor will soon recommend closure of a set of tax loopholes to help raise revenue; Rep. Mike Sells, chair of the House labor committee, said he does not intend to hear the labor-opposed workers' compensation bills approved by the Senate and pointed out that the governor also opposes them; Inslee expressed optimism that the expansion of Medicaid under the Affordable Care Act will be approved in 2013 with bipartisan support; and Rep. Judy Clibborn, who chairs the House Transportation Committee, vowed to defend the Build in Washington laws for ferry construction.
For much more coverage of the WSLC Legislative Conference, right here at The Stand.
WASHINGTON IS A UNION STATE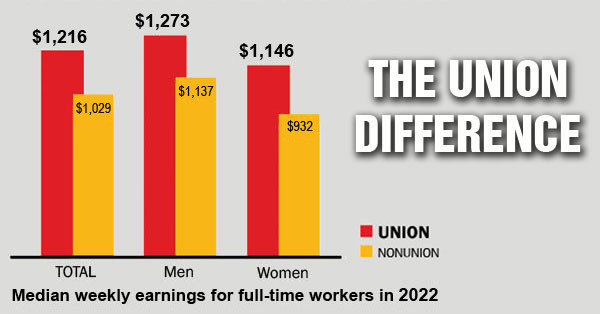 CHECK OUT THE UNION DIFFERENCE in Washington state: higher wages, affordable health and dental care, job and retirement security.
FIND OUT HOW TO JOIN TOGETHER with your co-workers to negotiate for better working conditions and respect on the job. Or go ahead and contact a union organizer today!