State leaders urge investment in Washington
By DAVID GROVES
The Stand
---
OLYMPIA (Mar. 8, 2013) — The time for all-cuts austerity budgets has passed. Now Washington state must begin investing in its economy and its future.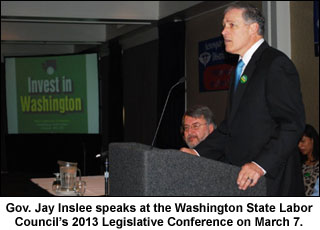 That was one of the consistent themes that hundreds of union leaders and rank-and-file members heard from Gov. Jay Inslee and state lawmakers at the Washington State Labor Council's 2013 Legislative Conference on Thursday. In particular, elected officials discussed the need to raise revenue for the education and transportation systems.
"We (in Washington) recognize the power of investing in our state… we need to invest in ourselves again," Inslee said. "We need to invest in our schools so every single kid has a shot at a job in the 21st Century. And at the same time, we need to invest in our transportation infrastructure, which may be the single most important thing we can do to create jobs in the state of Washington."
It was a sentiment echoed by WSLC President Jeff Johnson in his opening remarks and was also in synch with the conference 's "Invest in Washington" theme.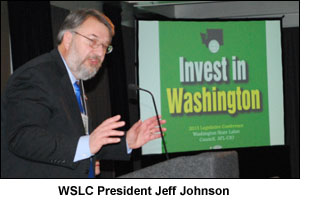 "Investments in education and transportation will not only enhance much-needed public services, but also create tens of thousands of jobs," he said.
Naturally, if you ask people whether they want to pay higher taxes, they tend to say "no." A recent Elway Poll suggested this was the case on gas taxes and motor vehicle fees. But several of Thursday's speakers pointed out that once people understand what that revenue will pay for and the importance 0f those investments in our state's jobs, economy and future, they have proven time and again that they are willing to pay their fair share.
"That (Elway Poll) was not a shock, nobody wants to pay higher taxes," said Rep. Judy Clibborn (D-Mercer Island), the chair of the House Transportation Committee who is sponsoring the revenue package that has begun the discussion in Olympia. "But if we explain that this will protect people's jobs and create new ones, they will. … You can't fund projects just with efficiencies, you need revenue."
Johnson warned against "distraction" bills coming out of the Republican-controlled Senate, such as legislation to replace state employees' defined-benefit pensions with 401(k)-style savings plans and bills to lower workers' compensation benefits and give employers more control over injured workers' treatment. He said that it's past time for the Senate to set aside these distraction bills and step up to the important challenges Washington voters are waiting for them to tackle: funding our schools and our transportation infrastructure.
Here is a summary of some of the key issues discussed at Thursday's conference:
State revenue — A panel featuring Senate Democratic Leader Ed Murray (D-Seattle), House Majority Leader Pat Sullivan (D-Covington), House Republican Leader Richard DeBolt (R-Chehalis) and Ted Sturdevant, the Governor's Legislative Affairs Director, discussed the issue in detail. (Senate Republican leadership declined the WSLC's invitation to participate.)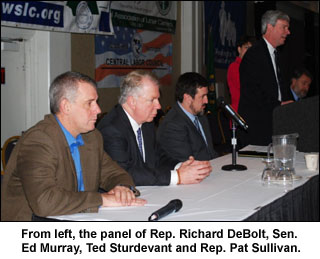 Sturdevant said "in the next few days" the governor would be releasing a package of tax loopholes that he will recommend closing to help raise revenue.
Sullivan estimated that once the negative impact of federal sequestration cuts are factored into the next revenue forecast, the state's biennial budget hole could be as high as $3 billion. He then reminded all that when you eliminate aspects of the budget that can't be cut, such as basic education, debt service, pensions and other federally mandated obligations, you're left with about $9 billion in discretionary spending.
"Are we really going to cut $3 billion from that?" he asked. Ticking of budget items that have already been "cut to the bone," including corrections, services for the developmentally disabled and higher education, Sullivan added, "I agree with the governor. The first thing we have to look at is tax exemptions. Is a tax exemption for a particular business more important than K-12 education?"
Republican DeBolt said that after decades of "one-party control of state government," regulatory issues such as the backlog of environmental permits, are costing our state the jobs needed to increase economic activity and revenue without raising taxes. He specifically cited the state's Growth Management Act as hampering the economy and adding to transportation woes because people are forced to commute so far to work rather than have good jobs in their own communities. (DeBolt later thanked the WSLC for inviting him to represent the Republican perspective and got a laugh from labor delegates when he quipped, "I'm actually nervous. I'm never nervous.")
Sullivan was quick to respond to DeBolt: "Gutting the GMA is not going to solve our transportation challenges."
Sen. Murray said he had proposed a 5% state capital gains tax that would affect only the top 3% of Washingtonians with the highest incomes but would raise some $600-700 million per year to fund education. He acknowledged that his idea has a slim chance of passing this year, but he said that won't stop him from proposing it and waiting for other legislators to gradually come around, as they have on other issues.
Workers' compensation — Rep. Mike Sells (D-Everett) confirmed that the aforementioned labor-opposed workers' compensation bills that have already passed the Senate, will go nowhere in the Democratic-controlled House.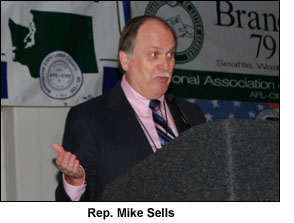 "It's pretty clear on the workers' compensation bills, the governor's with us (in opposing them) so why bother?" Sells said. "We're not going to be hearing those bills."
Later, a frustrated Sen. Steve Conway (D-Tacoma) said that if employers keep trying to absolve themselves of their responsibility to maintain a strong safety net for workers injured on the job, that perhaps it's time to revisit the compromise of 1912, and put forward an initiative that restores the right of workers to sue their employers over their injuries suffered at work.
Medicaid expansion — WSLC President Johnson said that expanding Medicare under the federal health care law this session will cover 350,000 low-income Washington residents, save the state $225 million in this biennium, and create some 10,000 jobs.
Gov. Inslee expressed optimism that this will happen in a bipartisan fashion in 2013, saying, "We are going to celebrate this year when both Republicans and Democrats fully finance the expansion of Medicaid in this state."
When the legislative panel was asked to respond with a simple "yes" or "no" on the question of whether they support Medicaid expansion, all answered in the affirmative, including the GOP's DeBolt.
Wage Theft and Employee Misclassification — Delegates were urged to meet with their legislators in the afternoon after the conference and urge State Representatives to support a floor vote on HB 1440, sponsored by Rep. John McCoy (D-Tulalip). This underground economy legislation would address wage theft and employee misclassification by cracking down on businesses that cheat workers — and state and local governments — out of the money they are owed.
Delegates watched this video produced by WSLC Communications Director Kathy Cummings:
Build in Washington laws for ferry construction — Acknowledging a recent state audit that found our state is paying more to build Washington State Ferries vessels than they would out of state, Clibborn stressed that apprenticeship standards and the Build in Washington laws are working exactly as planned to maintain good jobs and a vibrant shipbuilding industry in this state.
"We did that on purpose," she said, blaming change orders and the rush job required to replace the Steel Electric ferries for higher than normal costs. "I will stand up to any auditor and any legislator who wants to criticize Build in Washington."
Delegates also got updates from WSLC and various unions' legislative staff on the many other issues on labor's agenda — many of which are listed in the most recent WSLC Legislative Update, "A Tale of Two Chambers." In addition, they got to meet and ask questions of new Labor & Industries Director Joel Sacks and Employment Security Commissioner Dale Peinecke.
TVW recorded the entire conference, and when it becomes available online, it will be embedded here in this story.
WASHINGTON IS A UNION STATE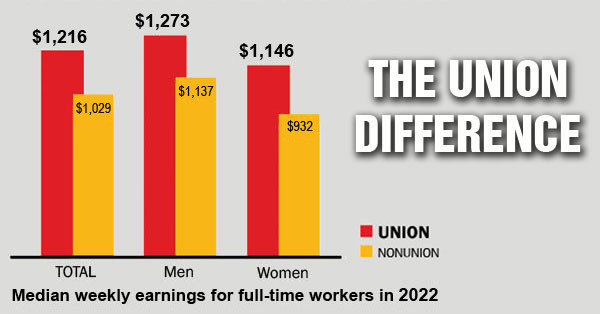 CHECK OUT THE UNION DIFFERENCE in Washington state: higher wages, affordable health and dental care, job and retirement security.
FIND OUT HOW TO JOIN TOGETHER with your co-workers to negotiate for better working conditions and respect on the job. Or go ahead and contact a union organizer today!