Washington's injured workers lose, 25-24, in GOP Senate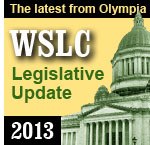 Following is today's edition of the Washington State Labor Council's Legislative Update newsletter (download PDF version):
---
OLYMPIA (Feb. 5, 2013) — That didn't take long.
The Republicans-Plus-Two Coalition, which seized control of the State Senate amid promises of bipartisanship and moderation just a few short weeks ago, moved forward Monday with a clearly partisan attack on benefits for injured workers and their families. They passed three labor-opposed workers' compensation bills, two of which were in direct conflict with each other, and two of which passed on 25-24 votes with only the Republican senators and erstwhile Democratic Sens. Rodney Tom and Tim Sheldon in support. The bills approved were:
SB 5112 allowing Retrospective Rating groups to claim larger rebates by rushing injured workers through the medical examination and vocational assessment processes. It passed 25-24 with united opposition from Senate Democrats in the minority.

SB 5128 removes all age restrictions on settlement buyouts of injured workers' claims, which are now limited to workers 55 and older. It also passed 25-24.

SB 5127 lowers the age restriction on settlement buyouts from 55 to 40 years of age. It was amended on the floor and passed 30-19 with Democratic Sens. Tracey Eide, Jim Hargrove, Brian Hatfield, Steve Hobbs, and Mark Mullet joining the GOP+2 in support.
"With this set of injured worker safety net bills, the new majority has defined itself as anti-worker. With their votes for SB 5127, Sens. Hargrove, Eide, Mullet, Hatfield and Hobbs have weakened the Senate Democratic caucus," said Washington State Labor Council President Jeff Johnson. "And the kicker is not one new job will result from these bills. The only additional choice injured workers will get is the right to choose fewer benefits. It's shameful."
Two more labor-opposed workers' compensation bills, SB 5124 and 5126, remain on the Senate floor calendar and could be voted on later this week. Learn more about these bills here.
---
GOP+2 also fighting for lower wages
The GOP+2 Coalition and business lobbying groups are using high unemployment rates among teenagers — a national problem exacerbated by the recession and not unique to Washington state — as an excuse to push a new sub-minimum "training wage" for all workers, regardless of age. SB 5275 would allow businesses with fewer than 50 workers to pay new employees 75% of the state minimum wage or the federal minimum wage during their first 680 hours at a new job. It was heard last week in the Senate labor committee chaired by the bill's sponsor, Sen. Janéa Holmquist Newbry (R-Moses Lake).
Although she didn't have time for several speakers who opposed to the bill, Sen. Holmquist Newbry did invite the head of the Community Forums Network, a "public engagement" foundation set up by the owner of Dick's Drive-In restaurants, to share the results of its online survey on youth unemployment. CFN reported that 69% of survey respondents supported the idea of a training wage.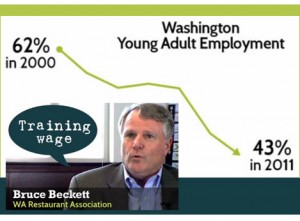 CFN's survey was far from scientific. It was posted online for anyone to take, but you wouldn't know it was there unless you'd been directed to it. CFN's survey questions are submitted by its organization "partners," which include the Association of Washington Business, Washington Restaurant Association and the Washington Policy Center, all of which advocate for a lower minimum wage. It stands to reason that these organizations urged their member business owners to take the survey.
Before answering the survey questions, CFN asked potential respondents to watch a video about youth unemployment that prominently featured Rep. Cary Condotta (R-East Wenatchee), prime-sponsor of three unsuccessful 2012 bills to lower the state minimum wage, including through the creation of a training wage. In the video, he complains that the minimum wage is to blame for youth unemployment. The video also features Bruce Beckett, a lobbyist for the Washington Restaurant Association, specifically advocating for a sub-minimum training wage.
Instead of pretending this 69% figure has any meaning at all, we propose lawmakers stick with a more reliable figure: 66%. That was the majority of voters who approved our state's indexed minimum wage law because they believe full-time workers shouldn't live in poverty and because they wanted to take the politics out of this issue with small automatic annual increases. With the ascension of the Republicans-Plus-Two into power in the Senate, it appears they are eager to put the politics right back in.
---
Recovering 'underground' revenue
Last Thursday, legislators heard about a proposal that would raise desperately needed state revenue — without raising taxes. It would also protect employers from being undercut by competitors who cheat and break the law. Plus, it would protect Washington workers from being illegally denied their rightfully earned wages and benefits.
HB 1440, sponsored by Rep. John McCoy (D-Tulalip), aims to address our state's underground economy, wage theft and employee misclassification, and it should be considered a win-win proposal for labor, business and all levels of government. The bill would:
Create a clear and more consistent definition of employee as compared with an independent contractor;
Still allow legitimate independent contractors to maintain their independence;
Ensure that employees can collect after they win cases for unpaid wages against their employers;
Ensure victims of retaliation are protected under the law and have recourse; and
Bring in the revenue owed to the state by catching employers who are cheating the system and their workers.
For example, the Department of Labor and Industries recently reported that for every $1 that its Fraud Prevention & Compliance Division spent in 2012 investigating employers who cheat our state workers' compensation system, it brought in $9.30. That recovered money keeps responsible employers' rates lower and ensures they are competing on a level playing field.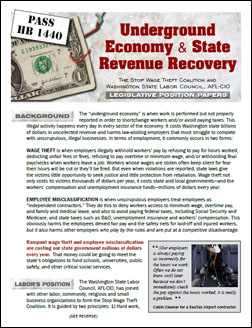 The WSLC has joined with other labor, community, religious and small business organizations to form the Stop Wage Theft Coalition. See this Underground Economy & State Revenue Recovery position paper for more information about the prevalence of wage theft and employee misclassification, and the coalition's proposed solutions.
Some business lobbying groups are misrepresenting HB 1440 as an attempt to ban the use of legitimate independent contractors. We would think their members would prefer a clear, more consistent definition of what one is and that they'd see the importance of keeping their competitors from cheating to gain an unfair advantage.
---
HB 1085: Truly, health care for all
Washington state is well under way with the implementation of the Affordable Care Act, the federal health care reform law. However, even when the ACA is fully implemented, thousands will be left uninsured.
If our goal is to provide truly accessible and affordable health coverage to all Washingtonians — and it should be — then something must be done regarding the hundreds of thousands of people who will be ineligible for coverage or who can't afford coverage even with ACA subsidies.
HB 1085, sponsored by Rep. Sherry Appleton (D-Poulsbo), would achieve that goal by establishing a single-payer system called the Washington Health Security Trust. In 2011, the state of Vermont established Green Mountain Care, a single-payer system that will be available to all of that state's residents. As in Vermont, HB 1085 would allow Washington to seek an "innovation waiver" under the ACA to provide universal coverage for specific health services for all of our state's residents.
In 2012, union delegates from across the state at the Washington State Labor Council's Legislative Conference approved a resolution supporting legislation for universal single-payer health care.
Last Friday, WSLC President Jeff Johnson testified in support of HB 1085 at a House Health Care & Wellness Committee hearing. He quoted from a previous WSLC resolution approved in 2009.
"Whatever the outcome of the current debate over health care reform in the 111th Congress, the task of establishing health care as a human right and not as a privilege will still lay before us. We continue to believe that the social insurance model should be our goal and we'll continue to fight for reforms that take us in that direction."
As this bill moves forward, labor will seek to add language that ensures proper transfer from the Health Care Authority to this new agency in a way that respects the rights of workers and maintains their bargaining status.
---
Legislative Reception/Conference is Mar. 6-7
The Washington State Labor Council's 2013 Legislative Reception and Legislative Conference will be March 6-7 at the Olympia Red Lion Hotel.
The Legislative Reception is Wednesday, March 6 from 6:30 to 8:30 p.m. at the Olympia Red Lion Hotel. This is a great opportunity to talk informally with legislators, state officials and other trade unionists.
The Legislative Conference starts at 8:30 a.m. on Thursday, March 7 and will feature updates from union lobbyists about bills affecting working families. Legislative leaders will discuss the prospects for passing bills and budgets that invest in our state, create good jobs and protect our families. In the afternoon, plan to head to the Capitol to talk with your legislators.
The registration fee for both events is $75 per person, which includes two drinks and hors d'oeuvres at the reception and lunch and materials at the conference. If you want to bring additional guests to the reception, there is a $15 per person fee. Register in advance by downloading and returning this form. A block of rooms are being held at the Olympia Red Lion Hotel (360-943-4000 or 1-800-325-4000) until Feb. 19 at a special group rate. Reserve your room and register today!
Short URL: https://www.thestand.org/?p=20569
Posted by
David Groves
on Feb 5 2013. Filed under
STATE GOVERNMENT
. You can follow any responses to this entry through the
RSS 2.0
. Both comments and pings are currently closed.