Inslee's a playa, outsourced testing, Congress can't be bothered…
Thursday, April 25, 2013
---
STATE GOVERNMENT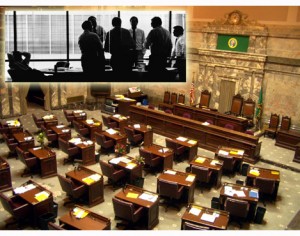 ► At Huffington Post — Washington State may push workers into health exchanges, costing federal government millions — In a quest to save money, political leaders in Washington state are exploring a proposal that would shift some government workers out of their current health plans and into the insurance exchange developed under President Barack Obama's health care law.
ALSO at the Stand — State Senate targets health coverage for part-timers
► From AP — House Democrats approve tax package — Democrats in the Washington state House moved ahead Wednesday with a plan that would increase tax revenue by $900 million over the next two years, staking out their position for the Legislature's final budget negotiations.
► In today's News Tribune — Republicans lob barbs at Gov. Inslee, long for days of Gregoire — After eight years that often put them at odds with Gov. Chris Gregoire, Republican state lawmakers praised her to reporters Wednesday as they drew an unflattering comparison with her successor, Jay Inslee, in the two Democratic governors' approach to end-of-legislative-session negotiations.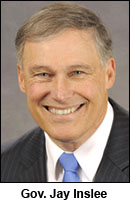 EDITOR'S NOTE — Read: Gov. Inslee is participating in the process and showing some toughness. As PubliCola reports, Republicans are upset because Inslee congratulated House Dems on passing their budget and thus was taking sides, rather than being the objective Gregoire-like deal maker. Noting the Republican's gripe, Inslee reportedly said: "Hey, I'm not wearing a striped ref jersey, I'm on the field."
► At PubliCola — What each side wants as likely special session looms — As for the GOP "Go Home" issues, I talked to a couple of Republican leaders, and while there are several bills in play, among those that emerged were a workers' compensation reform bill they passed earlier this session.
EDITOR'S NOTE — Despite opposition from the Governor and the House, Senate Republicans won't give up on efforts to cut benefits for injured workers. They have enlisted conservative Democrats to work their caucus and try to crack the opposition, but as mentioned in the latest WSLC Legislative Update, the responsible course is to allow the 2011 changes to be fully implemented, measure the impact on system costs and outcomes for injured workers, and then reassess the need for further changes.
► In today's (Everett) Herald — Duration of special session is anyone's guess — It's a good bet once the overtime period begins it will last for most or all of the 30 days allowed by law. Twenty-two times since 1980 legislators could not finish without at least one extra session and, on average, those ran 18 days.
► In today's Columbian — Oregon governor: Removal of light rail will kill CRC project — Oregon officials won't support a Columbia River Crossing alternative that excludes light rail, Oregon Gov. John Kitzhaber's spokesman said Wednesday, adding that removing light rail will kill the project.
► In today's Seattle Times — Go carefully on gas tax increase (editorial) — No one wants to pay more at the gas pump, but a state House proposal to gradually increase Washington's fuel tax by 10 cents per gallon over the next four years is an option that deserves cautious consideration. (As lawmakers reconcile competing proposals) they should keep the overall discussion about new projects going, but focus first on fixing the roads in front of them.
► In today's Seattle Times — State House GOP could choose leader May 10; Kristiansen seen as favorite
► In today's NY Times — States push to get most out of marijuana taxes — In Washington State, taxes will be levied in three tiers of 25% each on producers, processors and retailers. Those taxes were laid out in the initiative that voters approved, and will result in an effective rate for consumers of 44%.
---
LOCAL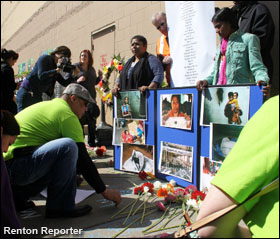 ► In the Renton Reporter — Protesters at Walmart increased worker safety at foreign garment factories — Approximately 100 protesters gathered Wednesday at the Renton Walmart to remember fire victims and demand the company and others like it take better care of overseas workers. On hand for the protest were Kalpona Akter from the Banladesh Center for Worker Solidarity, who tearfully called for Walmart and other companies to sign on for increased fire safety for workers in her home country and a survivor of a factory fire in that country.
ALSO at AFL-CIO Now — At least 194 dead in latest Bangladesh garment disaster
---
BOEING
► In today's Seattle Times — FAA, Boeing delegated much of 787 testing — The second day of a National Transportation and Safety Board hearing shed new light on how regulators delegated to Boeing — and Boeing in turn delegated to its hierarchy of suppliers — much of the responsibility for testing and certifying the plane's design.
---
CONGRESS
► From McClatchy — Economists: Long-term joblessness is a national emergency — Seemingly intractable long-term unemployment has become a national emergency that requires new and creative steps if it's to be reversed before it does permanent damage, several high-profile economists warned Congress on Wednesday.

► In the National Journal — The poorly attended hearing on one of U,S, economy's toughest problems — It stands to reason that lawmakers who often decry the high jobless rate would want to be seen publicly trying to tackle the problem, right? Well, apparently not. When a hearing to explore how to get the long-term unemployed back to work kicked off on Wednesday morning, only one lawmaker was in attendance. Eventually three more showed up. All four were Democrats.
► At Huffington Post — Deportations continue as Congress seeks immigration reform — The Obama administration has disrupted a record number of lives in the name of proving to Republicans that it is tough when it comes to enforcement, promising the immigrant community a better future while it infuses their present lives with fear, uncertainty and heartbreak. For many of those whose lives have become currency in the political exchange, there will be no redemption.
► At AFL-CIO Now — Tell Obama: Halt deportations now — Some employers, because they know that a change is coming to the country's immigration system, are taking advantage of the current broken system and denying workers' rights while they still can.
► At Politico — 70+ votes for immigration reform? — The two lead negotiators in the Senate's Gang of Eight said on Thursday that they believe their immigration reform bill will not just have a filibuster proof majority in the Senate — but majority support from both parties.
► In today's NY Times — On beyond fear (editorial) — The secretary of homeland security explained how immigration reform would strengthen security at the borders and expand enforcement of the laws.
► In today's LA Times — Republican effort to rebrand party takes a hit — Conservative lawmakers reject a GOP bill to help Americans with preexisting health conditions, part of Rep. Eric Cantor's effort that recalls the 'compassionate conservatism' of the past.
---
NATIONAL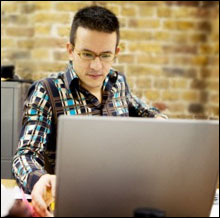 ► In today's Washington Post — There's no shortage of American STEM graduates after all, study finds — A Economic Policy Institute study released Wednesday reinforces what a number of researchers have come to believe: that the STEM worker shortage is a myth. Basic dynamics of supply and demand would dictate that if there were a domestic labor shortage, wages should have risen. Instead, researchers found, they've been flat, with many Americans holding STEM degrees unable to enter the field and a sharply higher share of foreign workers taking jobs in the information technology industry. (See the EPI study.)
► In the Chicago Tribune — Retail, fast-food workers rally for higher pay in Chicago — Fast-food and retail workers flocked to downtown Chicago on Wednesday to make a public pitch for higher wages. Their "Fight for $15 campaign" seeks $15 an hour for employees. It is supported by a coalition of local community, labor and faith-based organizations
► In today's Washington Post — Chemical use likely to grow at chicken plants — As part of an effort to speed chicken processing lines by 25%, proposed new federal rules say all birds, contaminated or not, would be treated with antimicrobial chemicals which have created fatal health problems for inspectors. Government has not studied possible effects on consumers. The USDA said where plants have already accelerated line speeds, workers have been exposed to larger amounts of cleaning agents.
► In today's NY Times — The Shadow Lobbyist (by Thomas Edsall) — Corporate America is relying on new tactics to shape the legislative outcomes it wants. The adoption of innovative practices by the influence industry, combined with legal reporting requirements that are full of loopholes, have created misleading indicators which suggest that there has been a decline in the clout of the lobbying sector. There hasn't. More than $3 billion is still spent annually, more of which is not being publicly disclosed.
---
TODAY'S MUST-READ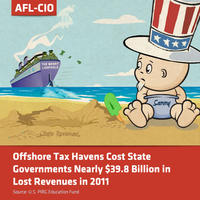 ► At AFL-CIO Now — How corporations use offshore tax havens to avoid paying taxes — Corporate tax revenues as a share of GDP are at near historically low levels. Why? Current laws in the United States allow corporations to use offshore havens to avoid paying their taxes and, if it's up to many in Washington, the problem will only grow larger, particularly if the so-called "territorial" tax system is passed.
---
The Stand posts links to Washington state and national news of interest every weekday morning by 10 a.m.
Short URL: https://www.thestand.org/?p=23056
Posted by
David Groves
on Apr 25 2013. Filed under
DAILY LINKS
. You can follow any responses to this entry through the
RSS 2.0
. Both comments and pings are currently closed.