Jive Tricklin', Clark cronyism, May Day redux, Pete is 94…
Friday, May 3, 2013
---
JIVE TRICKLIN'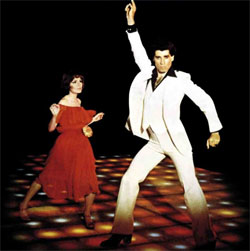 ► At Huffington Post — We decide how to share gains (by SPEEA's Stan Sorscher) — Our slow economic recovery is the result of policy choices we have made as a country. For a generation after World War II, prosperity was shared broadly. But in the mid-1970s, wages abruptly de-coupled from gains in productivity. If workers had continued to share in gains from productivity for the last 40 years, then wages would be at least twice what they are now, adjusted for inflation. In the mid-'70s, wages began to decline as a share of total economic activity. If wages had followed the post-war trend, households would have a trillion dollars more to spend on health care and education.
In the mid-'70s our business values shifted. We put shareholder interests first. Greed was good. Policies since then have reduced bargaining power for workers, while increasing economic leverage for the top 1%. We have been very intent on "making business succeed," and less intent on sharing gains with workers, families and communities.
► From Reuters — The systemic plight of labor (by Felix Salmon) — We're in a vicious cycle, where low incomes create low demand which in turn means that there's no appetite to hire workers, who in turn become discouraged and drop out of the labor force.
---
ECONOMY

► At Huffington Post — U.S. economy added 165,000 jobs; unemployment rate drops to 7.5% — Employers added 165,000 workers to nonfarm payrolls in April and unemployment fell to 7.5% from 7.6%, the lowest since December 2008. But after years of sluggish job growth, there are nearly 12 million people unemployed in the U.S. The number of workers on nonfarm payrolls remains nearly 2.6 million shy of the number at the job market's peak, in January 2008, making this the slowest job-market recovery since World War II.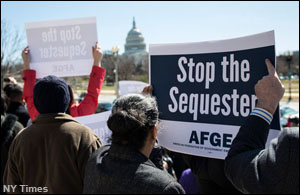 ► In today's NY Times — Government spending cuts seen as key in slowing growth — After a strong start to the year, several economic indicators beginning in March have pointed to much slower growth, largely because of the fiscal headwinds from Washington, D.C., economists say.
► At AFL-CIO Now — Sen. Warren co-sponsors legislation to end job-killing sequester — Sen. Elizabeth Warren (D-Mass.) is inviting supporters to become "citizen cosponsors" of the Job Preservation and Sequester Replacement Act, which would repeal the sequester's across-the-board spending cuts and ask the wealthiest 2% and corporations to pay their fair share. Sign the petition from Warren to stop the job-killing sequester.
► In today's Washington Post — Obama goes wobbly (by Eugene Robinson) — President Obama had the opportunity this week to make an irresponsible Congress face the consequences of its own dumb actions. But rather than use the veto pen, he signed legislation that cushions air travelers from the effects of the crude, cruel budget cuts known as the "sequester."
---
LOCAL
► In today's Columbian — United Grain, union trade charges — As union dockworkers and United Grain Corp. square off at the Port of Vancouver, both parties also are lobbing unfair labor practice charges at each other to the National Labor Relations Board. A total of six charges were filed in March and April, including two last week. Four of the charges were filed against United Grain by the International Longshore and Warehouse Union. Two of them were filed by the company against the ILWU.
---
STATE GOVERNMENT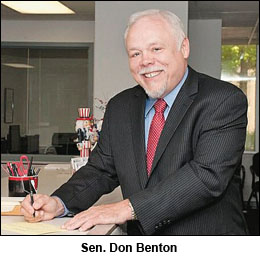 ► In the Columbian — County shocker: Sen. Benton tapped for top environmental job — State Sen. Don Benton (R-Vancouver)  tapped Wednesday to become Clark County's director of environmental services in a surprise and controversial move by Republican Commissioners David Madore and Tom Mielke. Democratic Commissioner Steve Stuart angrily objected, calling the action "political cronyism."
► In today's Seattle Times — State senator lands good county job; only one interviewed — Republican state Sen. Don Benton was picked by two GOP Clark County commissioners for a well-paying government job Wednesday, in a controversial move that Democrats say smacks of cronyism. The job pays anywhere from $96,936 to $136,956 a year. Benton earns $42,106 annually as a state senator.
► In the Columbian — Benton doesn't appear to meet minimum requirements for county job — Don Benton's work history does not appear to match up with the minimum qualifications for the county job bestowed on him Wednesday.
► In the Columbian — Benton selection fuels anger among public — "It always amazes me how the 'big government' haters always want to collect a government check and provide the same for their political friends," wrote one citizen.
► In today's Spokesman-Review — Washington needs properly balanced budget (editorial) — Washington Treasurer James McIntire last week cautioned legislators in both houses and both parties against balancing the state budget with phantom savings and raids on reserves and capital funds. They may fool themselves. They may fool voters. They will not fool Wall Street.
---
IMMIGRATION REFORM
► From AP — Farm season arrives amid immigration debate — Several Washington farm leaders joined three immigrants at a forum Thursday before Democratic Sen. Patty Murray to stress the importance of ensuring a stable labor force and reuniting families torn apart by deportations.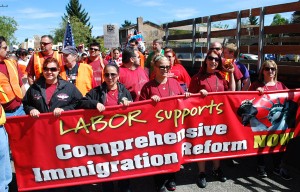 ► In The Hill — In Mexico, Obama says now is time for immigration reform — Mexico's booming economy and its growing ties with the United States make this the right time to pass immigration reform, President Obama said Thursday during his fourth trip south of the border.
ALSO at The Stand — Scenes from Seattle's peaceful May Day rally, march for immigration reform
► In today's Seattle Times — May Day's muddled messages (editorial) — Some messages and values do carry forth from May Day 2013: fair wages and treatment for all workers, and passage of federal immigration reform. Thank police who laid it on the line, again, to help others get their message out. Protesters hidden behind masks lobbing glass bottles at police made their cowardly vacuousness most evident.
► In today's News Tribune – Westboro Baptists, meet May Day 'anarchists' (editorial) — The street thugs claim to be anarchists. But they are best compared with the Westboro Baptist Church, another collection of vicious ranters who leverage their minuscule numbers by parasitizing high-profile events organized by serious people. Say this for the Westboro Baptists, though: They don't throw actual rocks at human beings.
► In the Yakima H-R — Rallying cry for immigration reform in Yakima — Sensing the tide turning in their favor, people from across Central Washington marched through downtown Yakima on Wednesday, calling for Congress to pass comprehensive immigration reform. Estimates from police and crowd organizers ranged from 1,500 to 5,000.
► In the Columbian — Immigration reform advocates rally in Vancouver — The march, organized by the group One America, was one of several taking place in cities across Washington, including Seattle, Spokane, Walla Walla, Wenatchee and Yakima.
---
NATIONAL
► At AFL-CIO Now — 'Fix the Debt' corporations take at least $953 million in taxpayer subsidies — A new report shows the CEOs who run the 90 corporations in the '"Fix the Debt" coalition, which advocates for cuts to earned benefits like Social Security while reducing tax rates for, well, themselves, accept massive subsidies from the U.S. government.
► In today's NY Times — Bangladesh fears exodus of apparel firms — A day after the Walt Disney Co. disclosed that it was ending apparel production in Bangladesh, that country's garment manufacturers expressed alarm that other Western corporations might follow Disney's lead.
► In today's NY Times — House of Un-Representatives (by Timothy Egan) — This Republican House is almost like a parallel government, sitting in for some fantasy nation created in talk-radio land.
---
T.G.I.F.
► Yesterday, Pete Seeger turned 94 years old. This legendary folk singer and labor/peace/civil rights activist has recorded hundreds of amazing songs over his remarkable career, and written dozens more that became hits for others. Here he is in Australia 50 years ago, singing "If I Had a Hammer," which became a hit for Peter, Paul & Mary. Happy birthday, Pete!
---
The Stand posts links to Washington state and national news of interest every weekday morning by 10 a.m.
Short URL: https://www.thestand.org/?p=23339
Posted by
David Groves
on May 3 2013. Filed under
DAILY LINKS
. You can follow any responses to this entry through the
RSS 2.0
. Both comments and pings are currently closed.