Darth McNerney, immigration and NLRB updates, we Heart 'Stairway'…
Thursday, May 23, 2013
---
AEROSPACE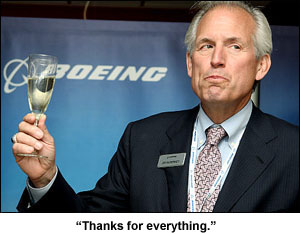 ► In today's Seattle Times — McNerney: Boeing will squeeze suppliers and cut jobs — Boeing Chief Executive Jim McNerney, acknowledging that "I'm sounding like Darth Vader here," touted plans Wednesday to reduce costs by squeezing suppliers hard and cutting jobs across the company. He praising how Dennis Muilenburg, head of Boeing's defense and space division, has cut $3 billion from his budget in the past two years by shedding "double-digit thousands" of jobs, and added that the commercial-airplane unit is "beginning to do that right now." In recent months, Boeing Commercial Airplanes announced it will shed as many as 4,000 engineering and production jobs this year through layoffs and attrition, citing a stabilization of plane-assembly work and a reduction in re-work on the 787s and 747-8s. Muilenburg's staffing cuts were spurred on by the specter of Pentagon cuts, but now it's commercial chief Ray Conner's turn to look for ways to reduce costs. "Ray is getting after it now," McNerney said.
► In the P.S. Business Journal — Suppliers won't be following Boeing to the South — Moving to the South or opening facilities there is not on the radar for Washington aerospace suppliers — at least not for three supplier executives who made up a panel at a Tacoma aerospace event Wednesday.
---
LOCAL

► In today's Columbian — Rep. Herrera Beutler sends legislative message about CRC to Coast Guard — U.S. Rep. Jaime Herrera Beutler, a critic of the Columbia River Crossing project, moved legislation on Wednesday cautioning the U.S. Coast Guard to think twice about granting a permit for a new bridge if it restricts river traffic.
► In today's (Longview) Daily News — Environmental groups formally petition for coal terminal study — A coalition of 11 conservation groups Wednesday formally requested the federal government to conduct a massive, region-wide environmental study of three proposed Pacific Northwest coal terminals.
► In today's Spokesman-Review — Fairchild loses bid for new tankers — Sources insist it wasn't a matter of political clout that made McConnell the preferred location and Fairchild a "reasonable alternative" — a backup position akin to being runner-up in the Miss America pageant, possibly moving to the forefront if McConnell for some reason is unable to fulfill its role.
---
STATE GOVERNMENT
► In today's Olympian — No raise for Inslee and legislators, commission decides — Gov. Jay Inslee isn't getting a pay raise this year, nor in 2014. The same pay freeze is in store for legislators. The House speaker (Frank Chopp) and Senate majority leader (Rodney Tom) will continue to earn $50,106, while rank-and-file legislators and minority leaders continue to be paid $46,106 plus daily per diems during legislative sessions and other expenses.
---
IMMIGRATION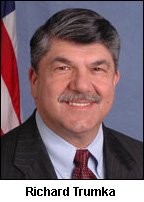 ► At AFL-CIO now — Trumka: Senate committee's immigration bill an 'enormous step toward healing an injustice — The AFL-CIO President says: "We appreciate the work done by the Gang of Eight, as well as all those senators — both Democrats and Republicans — who engaged in good faith in the arduous job of advancing this bill. We applaud the progress by the Judiciary Committee, but we will still work to make a good bill even better. We will continue to pursue constructive amendments where needed — whether on family reunification, skilled-worker visas, worker protections or the Uniting American Families Act. "
► In today's NY Times — Allies of immigration bill aim for added support — After its solid bipartisan approval in committee, broad legislation to overhaul the nation's immigration laws was headed Wednesday to the Senate floor, where supporters of the plan were already mobilizing to bring more Republicans on board by focusing on strengthening border security provisions in the bill.
► At AFL-CIO Now — Black workers flock to STEM fields, but business lobby pushes for more temporary visas — Business interests are pushing hard in Congress to import temporary workers to do computer-based jobs. This while there are still 20,000-plus fewer blacks employed as computer programmers and systems analysts since their employment peaked in 2008.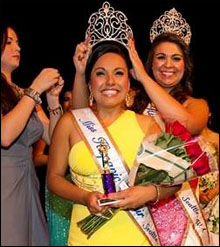 ► In today's Seattle Times — Immigrant to compete for Miss Seafair crown — For the first time in 63 years, a pageant contestant who lacks legal immigration status in the U.S. will compete for the title of Miss Seafair.
---
N.L.R.B.
► At AFL-CIO Now — NLRB nominees head to Senate floor… filibuster next? — The fight over President Obama's five nominees to the National Labor Relations Board is headed to the U.S. Senate floor after the Health, Education, Labor and Pension Committee voted today to send the five to the full Senate. Now the question is, will Senate Republicans filibuster?
► In today's Ft. Worth Star-Telegram — Delaying votes on NLRB nominees hurts workers (by Richard Trumka and Becky Moeller) — Without a functioning NLRB, many workers have lost long-standing legal recourse. It is past time for the U.S. Senate to carry out its duty and provide an up-or-down vote that restores the NLRB and allows oversight of labor relations to resume.
► At Politico — Harry Reid mulling filibuster overhaul — It's clear the Senate Majority Leader wants to get something done and find 51 Democrats to support an unprecedented move to employ the so-called nuclear option — changing the rules so executive branch nominees can no longer be blocked by filibusters requiring 60 votes to break.
---
AUSTERITY
► At Think Progress — Woman raped by ex-boyfriend because police didn't have enough funding to send help — Because the Josephine County sheriff's department recently lost millions in federal funds, it laid off 23 of its 29 deputies and limited their availability to eight hours on Mondays through Fridays. The woman's call to 911 took place on a Saturday.
---
NATIONAL
► In today's NY Times — U.S. retailers see big risk in safety plan for factories in Bangladesh — American retailers remain sharply opposed to joining an international plan to improve safety conditions at garment factories in Bangladesh as their European counterparts and consumer and labor groups dismiss the companies' concerns about legal liability.
EDITOR'S NOTE — Translation: We don't want to pay any damages to victims' families the next time a factory collapses or burns to the ground. There is "substantial risk" because it's almost sure to happen again.
► In today's NY Times — Wal-Mart hires former Bush aide as chief image maker
EDITORS' NOTE — 'Nuff said.
---
T.G.I.T.
► The entire staff of The Stand is taking the day off Friday to lengthen our Memorial Day weekend. Join us as we get a head-start on the MayWorks-related festivities at the Seattle Folklife Festival! In the meantime, we leave you with this…
Watch as Seattle's own Ann and Nancy Wilson of Heart move the surviving members of Led Zeppelin to tears with their cover of "Stairway to Heaven," with a big assist from the late John Bonham's son, Jason, on the drums wearing John's bowler hat and a giant choir wearing same.
---
The Stand posts links to Washington state and national news of interest every weekday morning by 10 a.m.
Short URL: https://www.thestand.org/?p=24050
Posted by
David Groves
on May 23 2013. Filed under
DAILY LINKS
. You can follow any responses to this entry through the
RSS 2.0
. Both comments and pings are currently closed.